Licensing laws: Extended pub opening times come into effect in NI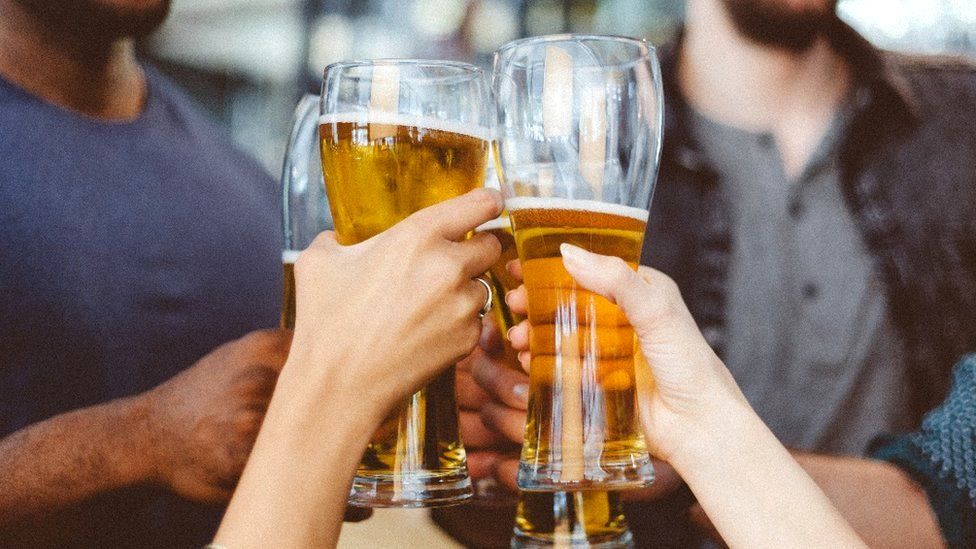 Pubs and nightclubs in Northern Ireland will be able to stay open longer after changes to liquor licensing laws came into effect on Friday.
The changes mean pubs and clubs can apply to serve alcohol for an extra hour, until 02:00 BST.
Drinking-up time will also be extended to one hour, meaning pubs and clubs can stay open to 03:00.
Easter drinking restrictions have also been removed in the first changes to NI licensing laws in 25 years.
Restrictions on late opening on Sundays have also been removed.
The Department for Communities (DfC) said it will be some time before businesses can take advantage of the new laws as applications could take about three weeks to process.
Some of the changes happening from today include:
Pubs and hotels can apply to open until 02:00 up to 104 nights per year
Smaller pubs will be able to open to 01:00 up to 104 nights per year
Drinking-up time will be increased to one hour
All additional restrictions on opening hours over Easter weekend will be removed
Removal of restrictions on late opening on Sunday
Licensed race tracks will be allowed to sell alcohol on Sundays
It is hoped the extended hours will see a boost for the hospitality sector in the lead up to the Christmas period.
Micro breweries and gin distilleries must wait for the introduction of secondary legislation on 1 April before they can apply for licences to sell their own produce in tap rooms, off sales and online, according to the DfC.
Alcohol licences for cinemas will also be available from 1 April 2022, bringing them into the same category as theatres, ballrooms and race tracks.
'Been a long time coming'
Petra Wolsey, of the Beannchor Group which owns a number of hotels, bars, and restaurants, said it was a "really positive step in the right direction"
"I'm delighted to see it," she added.
"It's been a long time coming, there's been a lot of work behind the scenes to get us to this point."
She added: "The timing is unfortunate [with the pandemic], but we'll make it work.
"By virtue that all of us are going to take a little bit of time to get through the process of acquiring the new licences, that's going to take a matter of weeks and I would be hopeful that by that stage we'll be out the other end of all the social distancing requirements and so forth."
Connaire McGreevy is the founder of Mourne Mountains Brewery and has had applied to build a tap room at his premises.
"Delighted that we are now seeing the modernisation of licensing in Northern Ireland," he said.
"We are waiting until April of next year before the changes will impact us fully, but that is welcome too because it gives us time to prepare what those changes mean to us such as the tap room."
He added: "We've turned people away, we've turned busloads of people away - American tourists in particular have turned up here over the past six years of operation and we've had to say 'sorry, no can do'.
"So April next year we'll get the licence, we're now going to push on and get this built so we're ready to go."
Communities Minister Deirdre Hargey said the changes will give "more flexibility" to pub and hotel licence holders "particularly in the lead up to Christmas and the New Year".
She added that the increased drinking-up time - the period which customers have to finish their final drinks and leave the pub - will support a "more gradual dispersal of people from licensed premises".
The chief executive of Hospitality Ulster said the new rules will give a much needed boost to the industry.
"We are still in restrictions so it will limit use of the new laws maybe for the next few months but there's a real appetite for business," Colin Neill told BBC News NI.
"They see the opportunities here and indeed, coming out of a period where we've done nothing but gather debt, this will give us an opportunity to actually make businesses more viable and bring down debt."
However, Jerry Maguire, a bar worker and trade union representative, said the majority of his union's membership were opposed to extended opening hours.
"What we want to see is the premises' duty of care being extended to staff," he said.
"We're seeing back-up of taxis and a lot of pub-goers would be waiting on the streets for hours.
"We don't want to see our staff and workers being put at risk by having to wait longer to get transport home."
Gary McMichael of the alcohol and drug campaign group ASCERT said the move increased the need for pub and club owners to be responsible so that they were not "selling drink hand over fist and ignoring the harms to the customers".
Changes to the Licensing and Registration of Clubs (Amendment) Bill brings many of Northern Ireland's rules around alcohol sales in line with the rest of the UK and the Republic of Ireland.
It marks a significant liberalisation of Northern Ireland's laws on alcohol that has been in the making for nine years.