Brexit: Unionist leaders unite in NI Protocol opposition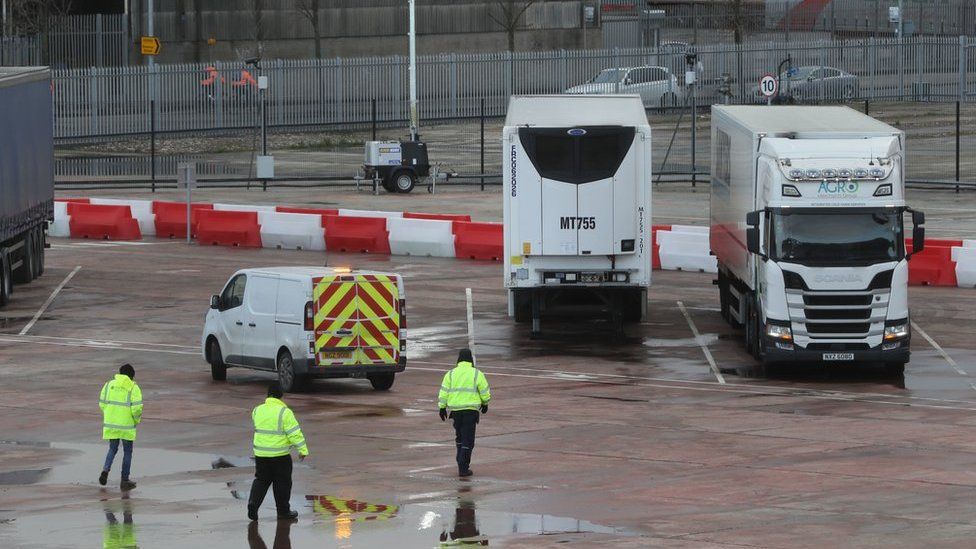 The leaders of Northern Ireland's four main unionist parties have signed a joint declaration affirming their opposition to the Northern Ireland Protocol.
The UK and EU agreed the protocol in 2019, as part of the Brexit withdrawal agreement.
It prevents a hard border in Ireland by keeping Northern Ireland in the EU single market for goods.
Unionist parties have previously voiced strong opposition to the protocol.
Now the leaders of the Democratic Unionist Party (DUP), Ulster Unionist Party (UUP), Traditional Unionist Voice (TUV) and Progressive Unionist Party (PUP) have shared a platform to reinforce that opposition for the first time.
The declaration states: "We, the undersigned unionist political leaders, affirm our opposition to the Northern Ireland Protocol, its mechanisms and structures and reaffirm our unalterable position that the protocol must be rejected and replaced by arrangements which fully respect Northern Ireland's position as a constituent and integral part of the United Kingdom."
The leaders also appear together in a video.
In response, Taoiseach (Irish prime minister) Mícheál Martin said there "cannot be unilateralism" with threats to invoke Article 16 of the protocol.
Article 16 is a safeguard that allows either side to take action if applying the protocol "leads to serious economic, societal or environmental difficulties that are liable to persist".
Mr Martin said this would be against the Good Friday Agreement and stressed "there is a route to getting this resolved".
"What's extremely important is that we don't do anything to further destabilise the situation," he told the Dáil (lower house of the Irish parliament).
This five line declaration contains no surprises, nor does it say anything new about how the protocol should be fought.
Instead it's meant to affirm that while they disagree on much else the leaders of the DUP, the UUP, the TUV and the PUP are united in opposition to it.
In a much longer explanatory note they say the union is both economic and political.
Any agreement, they say, which fails to ensure a proportionate and equitable solution respecting the sovereignty of the UK and restoring its unfettered place within the internal market cannot command the support of the unionist community.
There has been much talk this week of a unionist pact to fight the forthcoming assembly election but it gets no mention here.
The UK has said the protocol's implementation has been "unbalanced" and is "unsustainable" in its current form and wants fundamental changes to it.
European Commission Vice-President Maros Sefcovic has said the EU is looking for further flexibilities but will not renegotiate.
Earlier in September, DUP leader Sir Jeffrey Donaldson said his party may quit Stormont "within weeks" if its demands over the Northern Ireland Protocol are not met.