Covid-19: Close-contact pupils 'should not be sent home from school'
By Robbie Meredith
BBC News NI Education Correspondent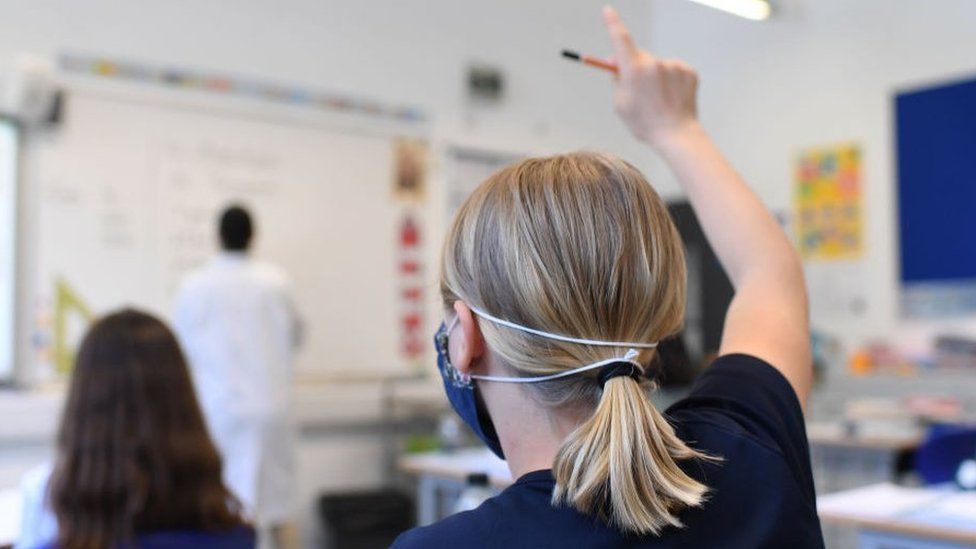 Schools should not send pupils home as close contacts or ask them to self-isolate, according to guidance to principals from the Department of Education (DE).
It said schools should not identify close contacts unless asked to do so by the Public Health Agency (PHA).
The move brings Northern Ireland into line with the approach taken in England, Scotland and Wales.
The bulk of the responsibility for identifying close contacts in schools until Friday had been with school leaders.
In their letter to principals, the department said the "new, more focused approach to contact tracing in schools means fewer, and in many cases no, close contacts will be identified in the case's class".
The department acknowledged this "different approach" may cause "anxiety among the school community".
But they said the "previous approach resulted in many pupil close contacts self-isolating unnecessarily and is therefore no longer justifiable".
The department said 88.9% of pupils were in school during the week from 6 September to 10 September.
In their guidance to principals, the department said the PHA's contact tracing would "reduce the potential for large numbers of pupils being required to self-isolate".
They also wrote that it would "reduce the amount of time spent by schools on contact tracing, while still helping to protect pupils and staff".
The department said the contact tracing service may contact schools if they had difficulty identifying close contacts with parents and children.
They also said that in some cases schools would be notified of a positive case before the PHA had contacted the family involved.
However, that was because it could take until the next day for the contact tracing service to receive information about a positive PCR test result.