Coronavirus: Schools overwhelmed by 'tsunami' of Covid absences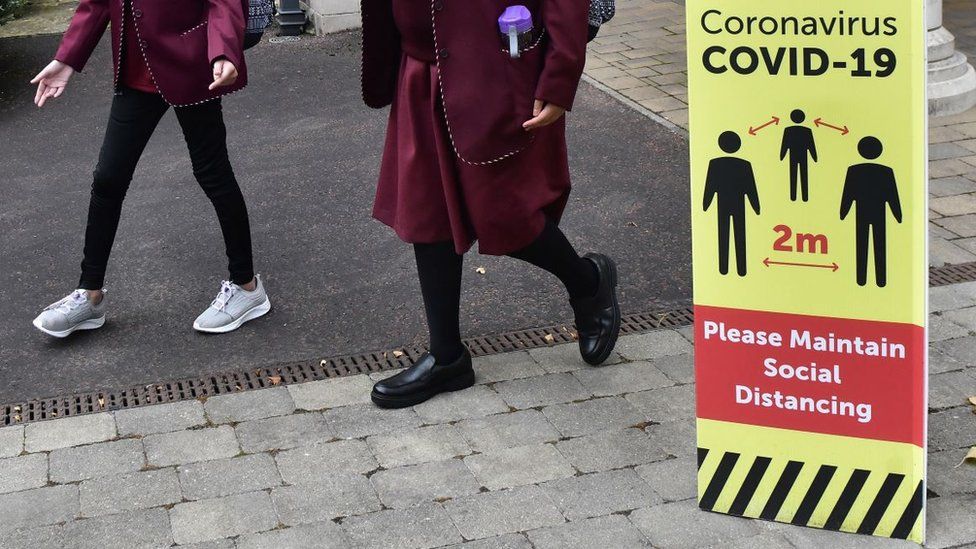 Schools in Northern Ireland have faced a "tsunami" of Covid-19 cases and related absences in recent days, the Ulster Teachers' Union (UTU) has said.
Some principals have criticised the guidance for self-isolation and the availability of tests.
UTU General Secretary Jacquie White said the system had been "overwhelmed".
On Tuesday, First Minister Paul Givan suggested that lateral flow testing could be used to prevent many pupils needing to self-isolate.
The current guidance, issued by the Public Health Agency last month, advised that pupils who are close contacts of a positive case can avoid self-isolation if they had recently tested positive themselves with a polymerase chain reaction (PCR) test and present no symptoms.
Otherwise, if a pupil is a close contact and has no symptoms, but has not had a positive PCR in the previous 90 days, they are advised to self-isolate until they have taken a test.
Ms White said there may be a need for schools to "look at a longer self-isolation" period and dismissed Mr Givan's alternative as "there isn't confidence in the system with lateral flow testing".
The first minister said lateral flow tests are used for attendance at mass gathering events, however, the UTU general secretary claimed they are only "indicative tests".
"In order to actually be satisfied in terms of a diagnosis, you have to have a PCR test," she told BBC News NI's Good Morning Ulster.
Caroline McCarthy from the Irish National Teachers' Organisation (INTO) said there was either "an incredible capacity for demand or a lack of capacity to deliver".
"Track and trace has to be removed from our schools, our principals simply cannot manage where they are getting cases within the schools," she told BBC Radio Foyle.
"It's causing issues with regards to a breakdown of relationships between some parents because there are confusing messages."
Jacquie White said there is not the "capacity to maintain" the mitigations that schools have in place.
"What we may have to do is just stop, take a breath, strengthen some of the mitigations in school until we get a handle on this situation," she added.
MLAs are to return to Stormont to debate the measures on Thursday after a successful recall petition put forward by Sinn Féin MLA Pat Sheehan.
Education Minister Michelle McIlveen has said proposals for dealing with the high absence rates are being finalised and will be discussed with the education sector this week.
On Tuesday, SDLP education spokesperson Daniel McCrossan said there was a need to "revert" to previous isolation periods.
He accused Paul Givan of making comments about lateral flow testing "off the cuff" and said he had been "flippant" in making the suggestion.
Caroline McCarthy from INTO called for Michelle McIlveen "to come forward to send a direct message to the executive and to the public to say that the safety within schools is a whole community issue".
On Monday, Larne High School said more than half of its pupils were absent, while the principal of Regent House in Newtownards, Michael Carville, told BBC News NI that all of his work so far this term had been focused on contact tracing.