Public Health Agency to take over contact tracing in schools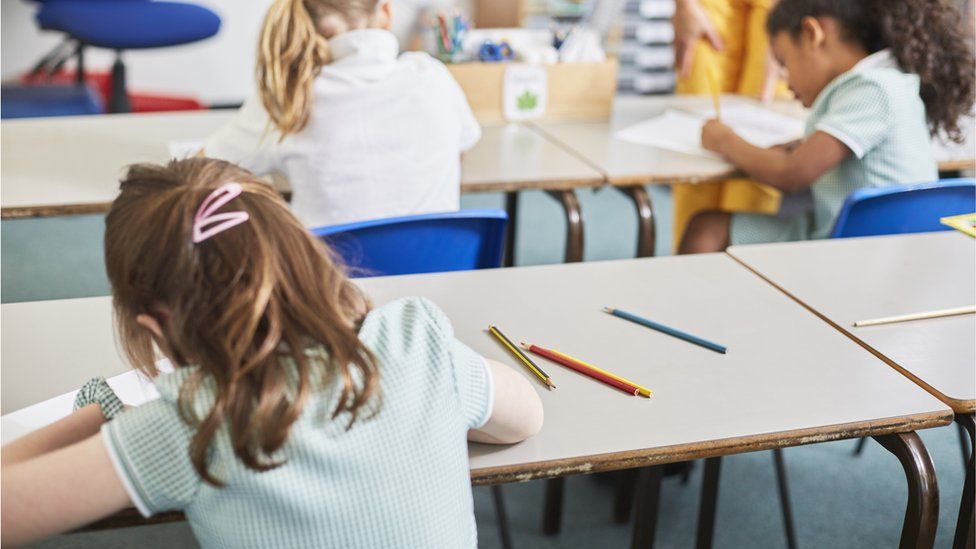 The Public Health Agency (PHA) is set to take over responsibility for the contact tracing of close contacts of Covid-19 cases in schools, BBC News NI understands.
If approved, the move is expected to reduce the number of pupils who have to self-isolate and miss time in school.
It is also expected to ease demand for polymerase chain reaction (PCR) tests.
Schools will be urged to encourage pupils to take twice-weekly lateral flow device (LFD) tests.
The aim is also to ease the burden placed on principals and school leaders to trace close contacts.
Principals' representatives and teaching unions are expected to be consulted on the plans later.
They are similar to arrangements for schools currently in place in England, Scotland and Wales.
The change will certainly improve things for school principals and senior school staff who have had to take on the bulk of contact tracing at the minute, when there has been a positive case.
They could contact the PHA for advice, but many principals reported it could take a while for them to get that advice.
Really it has been down to principals and schools to do the bulk of contact tracing when there is a positive case in school.
I think sometimes they have perhaps been erring on the side of caution, and sending whole year groups home if there has been a positive case, or whole classes.
I think the PHA might be able to be a bit more forensic in identifying exactly who was a close contact.
That means the surge in demand for PCR tests in some parts of Northern Ireland would be somewhat reduced.
It changed previous guidance for close contacts to isolate for 10 days and aimed to reduce the time children spent out of school.
But the logistical burden of tracing asymptomatic close contacts has, in the main, been the responsibility of school principals and staff.
Any child with symptoms is still expected to stay off school and get a PCR test.
If that is positive they must self-isolate for 10 days.
If the move is approved by principals' representatives and unions, guidance on how the new arrangements will operate will be provided to schools.
A number of teaching unions in Northern Ireland have called for the PHA to take responsibility for identifying close contacts of pupils in schools.
Principal from Maghaberry Primary School and President of National Association of Headteachers NI (NAHTni) Graham Gault said the development was a "significant step".
He said contact tracing should never have fallen to school leaders.
Chris Donnelly, principal of St John The Baptist Primary School in Finaghy, said that while schools "will welcome the easing of any type of administrative burden associated with contact tracing" it was the case that "the devil will be in the detail".
'PHA may not have the capacity'
Justin McCamphill from teachers' union NASUWT said that while taking the job of contact tracing "away from school principals" was welcome, the union was urging caution around the proposals.
"We do worry that the PHA may not have the capacity to identify close cases as quickly as school principals did," Mr McCamphill told BBC Radio Ulster's Evening Extra programme.
"The experience of our leaders over the past few weeks has been that they have difficulty getting through to the PHA advice line.
"We think now if parents and pupils are making direct contact we don't know if the capacity is going to be there.
"The other issue of course is that if a six or seven-year-old is a close contact and gives their friend's name, how are the PHA going to make contact with that friend without going back through the school?"
Mr McCamphill added that the union did not see the plan as "something that's going to fix everything straight away".
In England, Scotland and Wales public health authorities take on the responsibility for tracing close contacts of school pupils.
Children under 16 are spoken to alongside a parent or guardian.
The public health authorities, rather than schools, then advise close contacts whether they have to self-isolate or seek a PCR test.