Coronavirus: More than half of Larne High School pupils out of class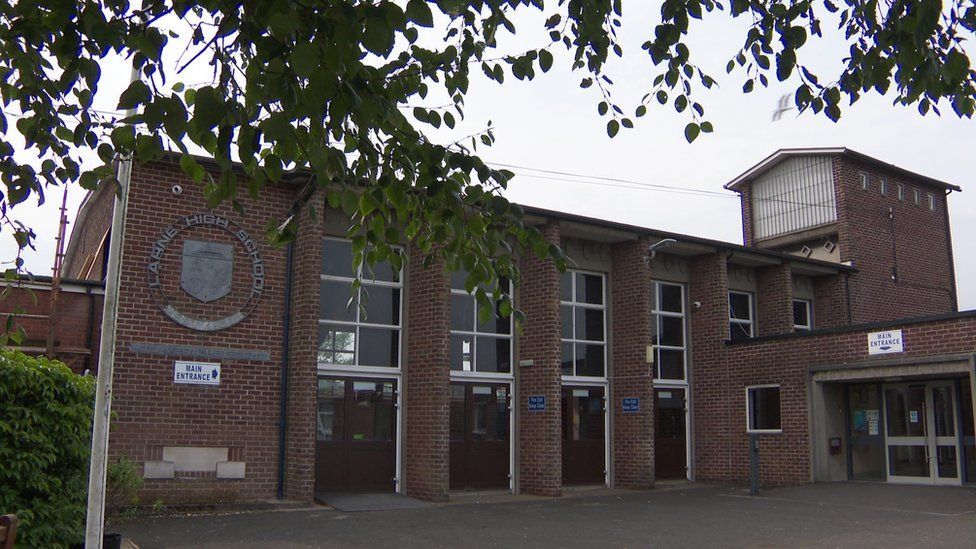 More than half of pupils at a Northern Ireland school could not come to class on Monday because they were in close contact with someone with Covid-19.
At least 400 pupils from Larne High School in County Antrim were told to remain at home.
Some principals have voiced concern at the number of children who are already missing classes.
Stormont's education minister has acknowledged schools face "pressure" from Covid cases and contact tracing.
In the Republic of Ireland, the Health Service Executive (HSE) has estimated that about 10,000 to 12,000 children are restricting their movements after being flagged as a close-contact of a Covid-19 case.
The calculation is based on about 700 primary schools and 500 secondary schools reporting a Covid-19 case, Irish broadcaster RTÉ has reported.
'Going to be a challenge'
Most pupils returned to schools across Northern Ireland last week after the summer holidays, but the high number of positive cases has interrupted many classes at the start of term.
"This is going to be a challenge and we recognise that," said the education minister.
"I've spoken to the health minister this morning and I plan to do that again as we go through the day, just to see what we can do in order to try to assist schools.
"Our main focus is about ensuring that our young people remain in education and that we don't have prolonged lengths of time when they are away from school," she added.
Larne High School principal Stephen Reid told the BBC's Good Morning Ulster programme the current situation "isn't what we had envisaged" for the beginning of the new academic year.
He said there were "quite a few positive cases coming through to us now, quite regularly".
The principal said they had worked over the weekend to trace pupils who may have been in contact with positive cases, and to inform their families they should not come into school.
"We have a dedicated mobile phone for parents to report Covid cases outside of school hours, and at twenty past ten last night we got our last notification on that," he said.
"In one year group we had two pupils who tested positive, but when we looked at the different classes those pupils had been through, between the two of them that meant most of the year group were close contacts and need to be tested."
Asked if he was frustrated, Mr Reid replied: "I wouldn't necessarily say frustrated, because we are in the middle of a pandemic and we've got to accept there's a virus out there that none of us have control over.
"The other side of it is, we can't continue forever in a lockdown situation where children don't come to school."
However, the principal said he would like to see "clear contingency plans" from the Department of Education for the coming academic years, in terms of exams and school inspections.
Meanwhile, a mobile Covid-19 testing centre will be set up at Larne Leisure Centre from Tuesday.
Concerns had previously been raised about the lack of testing site in the town, with Alliance Party MLA Stewart Dickson saying it was causing "serious problems" for schools in the area.
The testing centre will operate from 09:00 BST to 15:00, the Department of Health has said.
What are the rules on close contacts in schools?
It was aimed at preventing large numbers of pupils and staff having to repeatedly self-isolate for 10 days if they were identified as a close contact of a positive case.
The new guidance advised that pupils and staff who are identified as close contacts of a positive case, but have no symptoms themselves, do not have to self-isolate if they have recently tested positive for the virus.
Other close contacts, who have not received a positive test within the previous 90 days, do have to self-isolate, but they can reduce their 10-day period of self-isolation if they have a negative PCR test result.
On Sunday, the National Association of Head Teachers (NAHT) said some schools had decided not to follow the PHA guidance because they feared it could lead to greater infection rates.
The union said said some principals would like pupils to have longer self-isolation periods to reduce the risk of transmitting the virus to their classmates.
The task of tracing asymptomatic close contacts has fallen mainly on school principals and staff.
Graham Gault, president of the NAHT in Northern Ireland, said the contract tracing burden on some schools was "absolutely immense".
He said the principals could not concentrate on their "core duties" because they could not "lift their head from managing the Covid response".
"It's our view that the contact tracing requirement on some principals is just simply not sustainable - the scale of what we're dealing with at the moment is just incredible," he added.
Sinn Féin seeks assembly recall
Sinn Féin MLA Pat Sheehan appealed for the assembly to be recalled over the "lack of clear Covid-19 guidance for schools".
"The education minister needs to give clear guidance and put in place the necessary resources to support our school staff in keeping schools open," said Mr Sheehan in a statement.
"I have initiated a recall petition to ensure that the education minister comes to the assembly and sets out exactly what the Department of Education will do to support schools.
"Schools have been clear on the need for department staff to help with contact tracing and better access to the Covid-19 helplines.
"Keeping our schools open and ensuring the safety of pupils and staff must be a priority," he added.
Speaking on BBC Newsline, First Minister Paul Givan said schools were undoubtedly under pressure.
He said that the assembly would meet again next Monday and that the education minister had been meeting with the health minister and Public Health Agency about what support could be provided to schools
"It's critical that our schools get the right support, but it's also critical that our children are in school," he said.
"I don't agree with 10 days outside of school, I think we have the right system in terms of having people getting people testing and we have 24 hours of disruption rather than two weeks for some children and I don't think that would be acceptable."
The chair of the assembly's education committee, Chris Lyttle, said there was an open invitation to the education minister to attend the education committee as soon as possible.
"I think it would be helpful that we hear from the chief medical officer as well to understand the rationale for this eased isolation policy and also to hear the data as to whether or not it is working," he said.
"We need urgent reflection on whether or not this policy is working and at the very least clear communication with all school leaders to ensure a consistent approach to getting our children back into school."