Pat Hume: Peacemaker was pure of heart, mourners told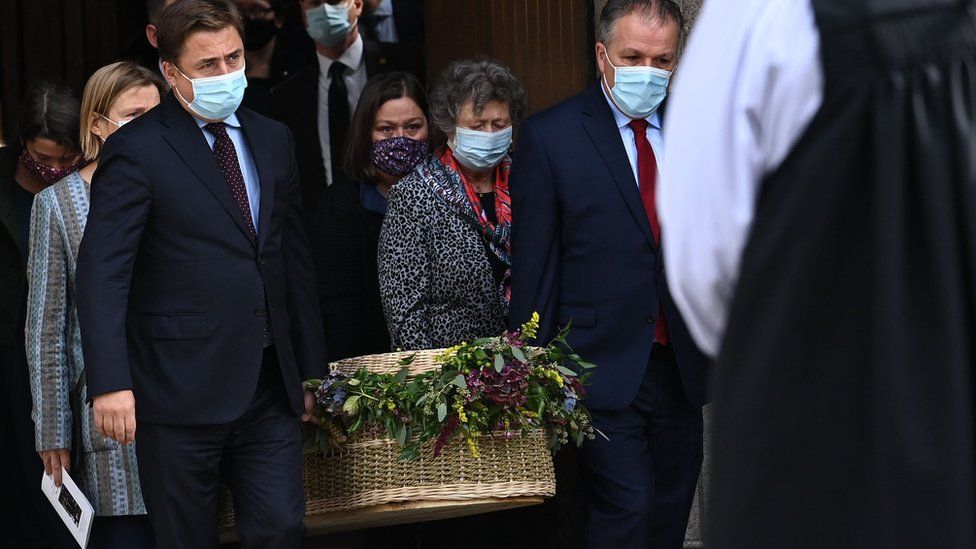 Peace campaigner Pat Hume was "pure of heart", a priest has told mourners at her funeral.
The widow of the late SDLP leader and Nobel prize winner John Hume died last Thursday. She was 83.
Fr Farren spoke of her empathy for Troubles victims, saying she found it "abhorrent" that anybody "would believe that a line could be drawn under the pain and suffering of people".
'Your problem became hers'
Fr Farren, who gave the homily at the Mass at St Eugene's Cathedral on Monday, said: "If John brought the brilliant mind to the peace-making then Pat brought the pure heart".
He believed Mrs Hume's pure heart was formed by two things - "her faith and by her call to be a mother".
"If you went to Pat with a problem, your suffering became her suffering and your pain became her pain," he said.
"Your problem became hers to find a solution to and she found solutions in her astute, wise, compassionate and quiet way that always avoided any type of fuss or focus on herself."
"She lived the vocation of motherhood in her home, in her community here in Derry and on the world stage.
"Pat mothered us all, from those she taught many years ago to every one of us, looking at our faces, detecting tiredness, telling us to rest.
"Her greatest example of mothering came in how she cared for John in his long illness in the last years of his life."
Fr Farren described her as "forever patient, forever loving, forever gentle" in her care for her husband, saying she was "an example to us all".
Political dignitaries at the funeral included Irish President Michael D Higgins, SDLP leader Colum Eastwood, Infrastructure Minister Nichola Mallon and former Ulster Unionist leader Lord Trimble.
Mrs Hume' son Aidan told mourners that she was "unflappable" and he described her as a "constant" by his father's side.
He said the greatest gift she bestowed on her family was unconditional love, which "sustained us when the world was full of uncertainties".
Aidan said his mother "loved people and they loved her", describing a trip to the supermarket with her as like a "half-day event".
"Human connection was fundamental to mum's existence - she had an incredible ability to establish a special connection," he said.
"The only person who could beat John Hume in an election was Pat," he joked.
He said that his father wouldn't mind admitting that she "was the more glamorous side of the partnership".
Mrs Hume worked alongside her husband from the beginning of the civil rights movement in Derry in the 1960s and is considered a key influence on his work in the Northern Ireland peace process.
Former US President Bill Clinton, ex-US Secretary of State Hilary Clinton and Mary McAleese, the former Irish president have joined political figures across Northern Ireland in paying tribute to Mrs Hume in the past few days.
Baroness Paisley, the wife of the late Ian Paisley, told BBC Radio Ulster's Sunday Sequence programme that Mr Hume "would have been lost without her".
"I know I miss Ian an awful lot and I know Pat must have missed John too because they were, like us, pretty closely united in their work as well as their marriage," she said.
A book of condolence has been opened in Derry's Guildhall for the public to express their sympathy.
It was opened by Derry and Strabane District Mayor Graham Warke, who said the legacy of Pat Hume and her husband will live on for many years to come.
He also noted the ongoing work of the John and Pat Hume Foundation, challenging injustice and campaigning for peaceful change.
Interment will take place afterwards in the City Cemetery.