Covid-19: Testing term ahead as pupils returned to school
By Robbie Meredith
BBC News NI Education Correspondent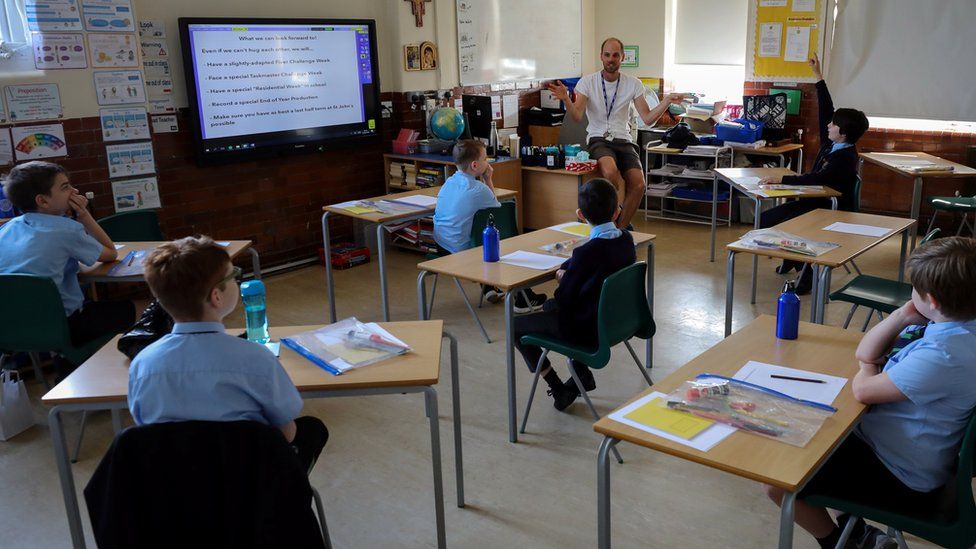 Smiling, eager children and school staff happy to see them back after the summer.
After two disrupted years when pupils spent months being taught remotely, the hope is for a full year in school.
But concerns have already been raised about new self-isolation guidance and how the return of schools, colleges and universities may affect case numbers.
The pandemic has highlighted just how much schools provide for their pupils, not just in terms of their education but for their overall health and wellbeing.
They said that being out of school had an impact on children from lower-income backgrounds especially.
A review for the UK government's Scientific Advisory Group for Emergencies (Sage) on the effect of school closures on the physical and mental health of children raised similar concerns.
It found that school closures were "associated with considerable harms to children and young people's health and wellbeing".
As well as teaching and learning, schools enable children to see friends, play sport, take up new interests and hobbies and also provide a safe place for children who are vulnerable or at-risk.
Many teachers go the extra mile to run a startling range of clubs and activities for children outside the classroom, for example.
Special schools often provide essential therapies and support for their pupils.
The children I saw this week at Cregagh Primary in Belfast, Seaview Integrated Primary in Glenarm, County Antrim, and Harberton North Special School in Belfast seemed delighted to be back.
John-Joe from Harberton described his school as "awesome".
There have been some changes in guidance for the schools they have returned to but many safety measures will be familiar.
Post-primary pupils are also expected to wear face coverings in class until at least early October.
While experts have said that schools themselves are not "drivers" of Covid infections, some have suggested a surge in cases in Scotland - where pupils returned in mid-August - could be linked to schools.
But the Joint Committee on Vaccination and Immunisation (JCVI) said on Friday that the government could consider wider issues, including disruption to schools.
The new guidance from the Public Health Agency (PHA) is based on Department of Health policy guidance.
It is aimed at preventing large numbers of pupils and staff having repeatedly to self-isolate for 10 days if they are identified as a close contact of a positive case.
If they have not received a positive test within the previous 90 days then they can cut their period of self-isolation with a negative PCR test.
Those aged four and under do not have to self-isolate if they are a close contact if they stay symptom-free.
They do not have to take PCR test but it is encouraged before returning to childcare and usual activities
But the logistical burden of tracing asymptomatic close contacts is falling on school principals and staff, and for many that has dominated their week.
One principal who contacted BBC News NI said he felt "on my knees" already.
Teaching unions have highlighted the stress that contact-tracing is causing many school leaders and teachers only days into the new term.
At Stormont's education committee on Wednesday, MLAs called for more support from the PHA and Education Authority.
The situation is not easy to manage for pupils identified as close contacts and their parents either as they still face days out of school and disruption, albeit for less time than the previous 10 days, if they get a negative test.
The system also works on "trust", according to the guidance, and not on regulations.
"Principals may not know whether pupils have or have not taken the recommended PCR test and they may not know the vaccination status of their staff," it said.
"If there is strong reason to believe that compliance with advice to get tested will not be taken, or staff vaccination status is unknown, then the 10-day self-isolation period should apply."
That, though, places more demands on school leaders and their judgement.
Unions also want more measures to improve ventilation in schools.
Everyone agrees that it is best that children and young people are in school but the new term is already shaping up to be a testing one.