NI Covid-19 vaccine roll-out for over 16s under way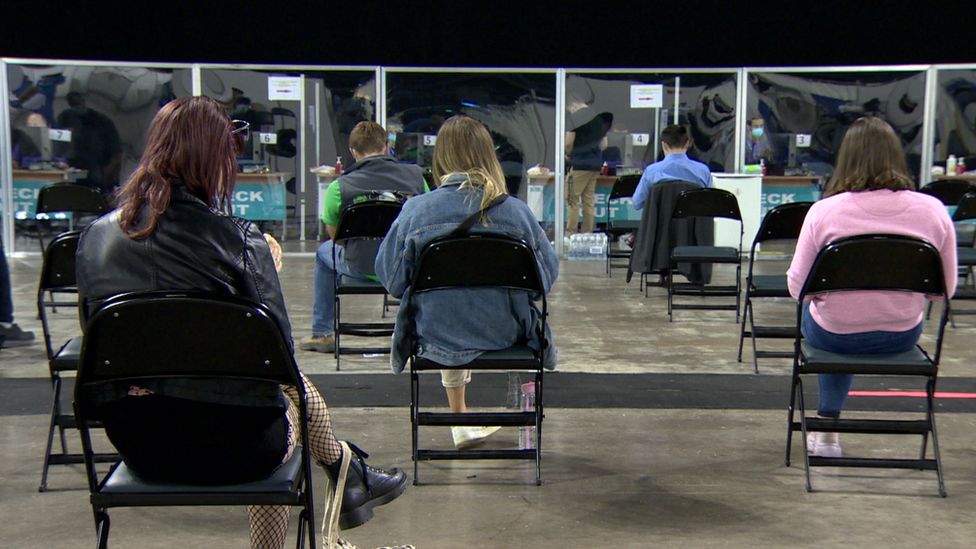 It is the first part of the UK to give jabs to teenagers in this age group with no underlying health conditions.
The move follows a recommendation by the Joint Committee on Vaccination and Immunisation (JCVI).
More than 180 vaccinations were administered to 16 and 17-year-olds at the SSE arena in Belfast on Friday morning.
Confirming the number, lead nurse at the regional vaccination centre Pauline Wilson said there was a sense of excitement among young people in line for their jab.
"The general feedback is that they're pleased to be here and they're looking forward to things opening up again," she said.
"It's their turn and they are keen to get their vaccinations."
Bethany Holden, 16, was among those to receive the vaccine at the SSE Arena in Belfast on Friday.
She said she "just wanted to get it done really".
"I'm glad to get it done to get back to school, just so I'm more protected and protecting other people as well," she added.
Regional vaccination centres in Northern Ireland are providing a walk-in service for first doses of Pfizer vaccines for those aged 16 and 17.
For those who prefer to book, an online booking platform will be available in the coming days.
The first vaccination will also be available at pop-up walk-in clinics across Northern Ireland.
ID and proof of date of birth are required when attending either a regional vaccination centre or walk-in vaccination clinic.
Some examples of ID include exam and birth certificates, school bus passes, work ID and provisional driving licences.
BBC News NI understands that staff want young people to receive their jab and will be flexible about what type of ID is brought.
One dose will provide some protection for young people as they return to school in September.
Health authorities are encouraging an early take up so that it is more effective when the new term starts.
Signalling the move to extend the vaccination programme, Health Minister Robin Swann welcomed the latest advice.
"When formulating advice in relation to childhood immunisations, JCVI has consistently held that the main focus of its decision should be the benefit to children and young people themselves, weighed against any potential harms from vaccination to children and young people," he said.
Queen's University Belfast virologist Connor Bamford said a high vaccine uptake among 16 and 17 year-olds was key to making "the winter safer for all of us".
"Upwards of 80% is what we would like, that is realistic," he told BBC Radio Foyle.
"For their own health it is very good for them to get the vaccine, it is certainly safer than getting Covid.
"And on the other hand it will help stop and slow down transmission, particularly for that older group who are socialising more. If we slow transmission down it will stop it creeping up into more vulnerable groups."
Dr Tom Black, chairman of the British Medical Association (BMA) in Northern Ireland, said young people "take a very small risk for a huge benefit" by getting the vaccine and will not only protect themselves but "protect others" too.
He said they should "take the example" of older generations who have experience of vaccinations helping to prevent the spread of other health concerns.
"It's just so important that we keep the pressure on here, we keep persuading and convincing people that they need to get their vaccination," he told BBC News NI's Good Morning Ulster.
The regional vaccination centres are:
•SSE Arena, 2 Queens Quay, Belfast
•Royal Victoria Hospital, Belfast
•Seven Towers Leisure Centre, Trostan Avenue, Ballymena
•South Lake Leisure Centre, 1 Lake Road, Craigavon
•The Foyle Arena, 2 Limavady Road, Londonderry
•Omagh Leisure Centre, Old Mountfield Road, Omagh
•Lakeland Forum, Broadmeadow, Enniskillen