Covid-19: 16-17 year olds in NI to be offered jab
By Marie-Louise Connolly
BBC News NI Health Correspondent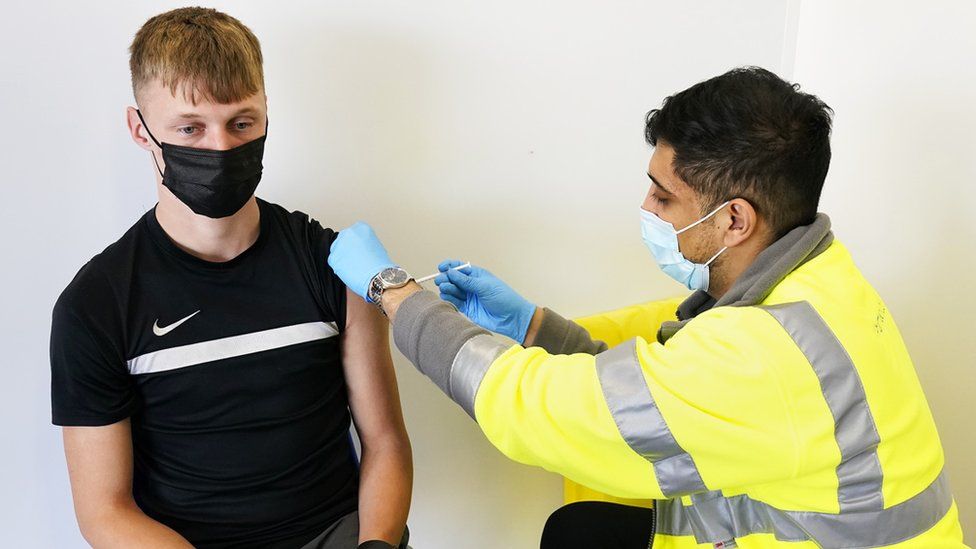 All 16 and 17-year-olds in Northern Ireland are to be offered a Covid-19 vaccine from Friday.
The move follows approval from the Joint Committee on Vaccination and Immunisation (JCVI), the independent regulator advising the UK government.
There are approximately 45,000 16 and 17-year-olds in Northern Ireland.
Initially one jab of the Pfizer-BioNTech vaccine will be offered with the aim of giving the second dose at a later date.
At the moment, it is offered only to those over-12s who have underlying conditions or live with others who are at risk.
As of Sunday 8 August, fully-vaccinated people arriving into Northern Ireland from France will no longer have to quarantine, the Department of Health has said.
More countries have also been added to the green list, including Germany, Austria and Norway.
Regional vaccination centres and pop-up vaccination clinics across Northern Ireland will be providing walk-in first jabs for 16 and 17-year-olds from Friday.
An online booking platform will also be available in the coming days for those who wish to book ahead.
ID and proof of date of birth will be required when attending either a regional vaccination centre or walk-in vaccination clinic.
Health Minister Robin Swann welcomed the latest advice from JCVI and said he had asked officials to ensure it was fully implemented in Northern Ireland as quickly as possible.
He said the JCVI was an independent, expert committee which had "thoroughly assessed a wide range of evidence" and it was important to follow their advice.
'Benefits outweigh risks'
Colm Gildernew, chairman of Stormont's health committee, said the roll-out of the vaccine, together with an effective test, trace, isolate and support system, was "our best fightback against Covid".
According to the experts, after reviewing the data, the overall benefits of giving the vaccine to this age group continue to outweigh the risks.
In July, the JCVI said it could not extend the vaccine offer to 16 and 17-year-olds as it was examining reports of rare adverse events such as inflammation of heart muscles among young adults.
It now says it has had time to review the data which reveals that fewer than one in 100,000 are at risk, which is extremely rare.
'Really, really delighted'
Martine Mulhern, principal of St Cecilia's College in Londonderry, said she believed most 16 and 17-year-olds wanted the vaccine.
Speaking to the BBC's Evening Extra programme, she said young people she had spoken to since the announcement had been "really, really delighted".
"They're just so excited at the thought of going back to school and not having to drop in and out like yo-yos," she said.
It is thought young people should not need their parents' consent so long as they understand the risks and benefits around receiving the vaccine.
The Secondary Students' Union of Northern Ireland, which represents up to 35,000 pupils, has also welcomed the announcement.
President Morgan Shuttleworth said the organisation was hoping "all young people will take the vaccine".
Seventeen-year-old Kitty agrees and said she wanted to be vaccinated "as soon as possible".
She told BBC News NI she hoped the move would restore some sense of normality for school pupils.
"Whether it means having tables closer together again or not having to be so careful about wearing a mask - any bit of normality it could bring back to the classroom would be amazing," she said.
The regional vaccination centres are at the SSE Arena in Belfast, the Royal Victoria Hospital in Belfast, the Seven Towers Leisure Centre in Ballymena, the South Lake Leisure Centre in Craigavon, the Foyle Arena in Londonderry, Omagh Leisure Centre and the Lakeland Forum in Enniskillen.