Belfast Harbour 'benefitting' from NI Protocol grace periods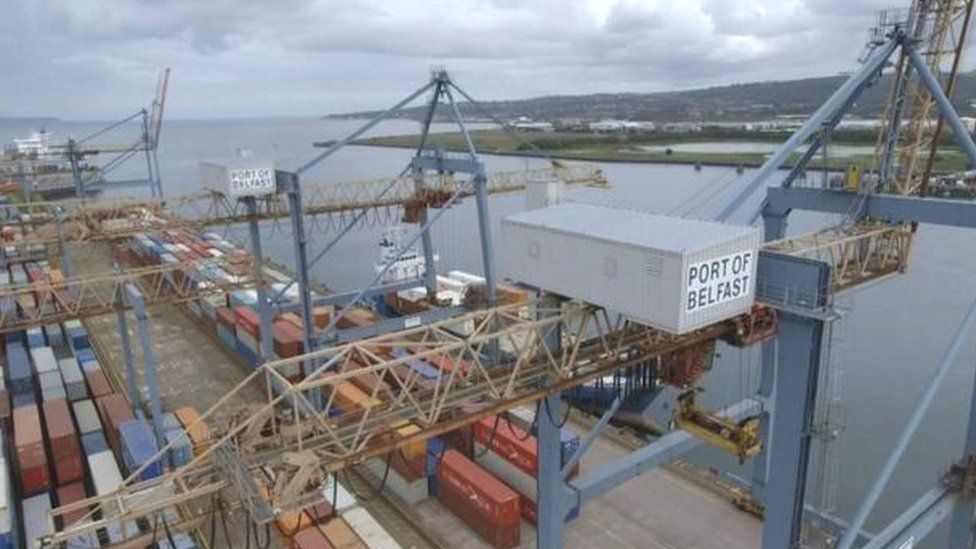 Trading at Belfast Harbour has benefitted from grace periods on some goods being sent across the Irish Sea from Great Britain under the Northern Ireland Protocol, the port has said.
It said the ending of the grace periods meant there remained "significant risks and uncertainties" to trade.
The comments came as the port published its annual results.
Belfast Harbour said it had a strong year, despite the impact of the global pandemic.
It reported a turnover of more than £62m - down almost 5% on the previous year, with a pre-tax profit of £30m.
It keeps Northern Ireland in the European Union single market for goods.
However, the EU does not generally permit chilled meat products such as mince and sausages to be imported from non-member states.
'One of the most challenging years'
Grace periods were installed to allow supermarkets and retailers to re-orientate supply chains away from Great Britain.
The EU is due to extend the grace period on chilled meat products from Great Britain being sold in Northern Ireland later.
Belfast Harbour chairman David Dobbin said the organisation had "successfully weathered the Covid-19 crisis".
"Without doubt, 2020 was one of the most challenging years in recent memory with the Covid-19 pandemic impacting on every part of our society," he said.
"Belfast Harbour's crisis and mitigation plans worked well throughout the pandemic, allowing us to keep the port open on a 24/7 basis throughout the entire crisis, with service and trade uninterrupted, and to deliver a solid set of results."
Construction of the next development phase of the harbour's film studios is currently undergoing a tender process.