Covid-19: Mental health services in NI 'need £1.2bn'
By Robbie Meredith
BBC News NI Education Correspondent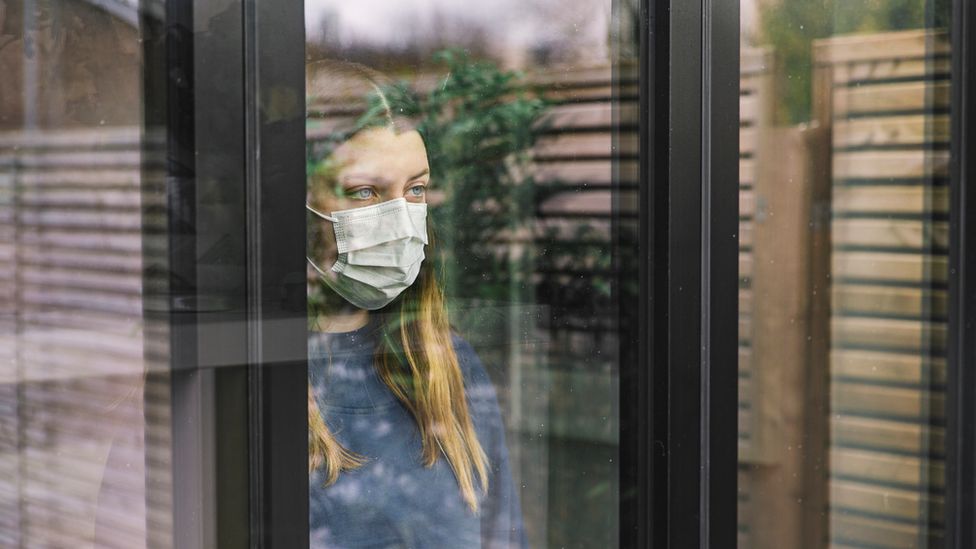 Referrals to mental health services are likely to rise significantly due to "the Covid-19 pandemic and restrictions to everyday life".
That is according to Health Minister Robin Swann, who has published a new 10-year Mental Health Strategy.
He warned an extra £1.2bn was needed to fully implement its recommendations.
He said his department does not have the money to move ahead "unless significant levels of existing activity are ceased".
Speaking in the assembly, Mr Swann said the long-term effects of the pandemic may lead to more than 30% additional referrals to mental health services over the next three years.
That would include 19,000 more referrals to adult mental health and over 5,000 more referrals to psychological services.
"The Covid-19 pandemic and restrictions to everyday life have had, and will continue to have, a significant impact on our population's mental health," he said.
Setting out details of the 10-year strategy, Mr Swann said that mental ill-health was one of the "greatest challenges" facing Northern Ireland.
'Mattresses on the floor'
He said mental health services, in hospitals and the community, were already under pressure.
"We hear of stories of patients who have to wait for very long periods in emergency departments under PSNI supervision as there are no beds available in mental health, and of patients on mattresses on the floor," he said.
"I have heard stories of patients desperately seeking help without being able to receive the help they need - patients as young as eight needing specialist help for eating disorders - older people starved of human contact without the ability to get help for the mental illness caused by loneliness.
The strategy sets out 35 actions for the long-term reform of services, including early interventions and ensuring people get "the right support at the right time".
Mr Swann highlighted a number of specific actions.
He said that funding for Child and Adolescent Mental Health Services (CAMHS) would increase as a proportion of funding increases for adult mental health services.
The minister also said there would be a greater focus on providing mental health services in community, and that there should be a "single mental health service" across all health trusts.
However, Mr Swann warned that reform of mental health services would need "additional and sustained" funding of £1.2bn over the next decade.
He said an additional £112m - £158m of funding a year was needed to fully implement the strategy as well as an one-off capital investment of £285m.
The Royal College of Psychiatrists welcomed the publication of the 10-year strategy, which it described as "ambitious".
Its Northern Ireland chairman, Dr Richard Wilson, said the college was "pleased to see a costed funding plan published alongside the strategy".
"Without funding, a strategy is simply a vision," he added.
"To deliver real change for people with mental illness and turn this positive vision into a reality, the executive must ensure that this much-needed money is delivered."
Previously, the British Medical Association has also warned "that the ambition of the strategy will be hampered by the ability of the department to fund it".
Mr Swann therefore said that the executive would have to make a "collective effort" to find the money to implement the strategy.
Asked in the assembly by the Sinn Féin MLA, Colm Gildernew, about staffing levels in mental health services, Mr Swann highlighted current high levels of vacancies.
"Over 20% of mental health nursing posts in HSC trusts are currently vacant," the minister said.
He also pointed to a combined locum and vacancy rate of 22% in psychiatry.
The strategy has been welcomed Northern Ireland's mental health champion Professor Siobhan O'Neill.
In a statement, she said that reform of mental health services was "much needed".
"I am particularly pleased that the strategy also contains plans for the prevention of mental illness, and early intervention so that people can get the support and help that they need in a timely manner."
"We must now demand that the executive work together to ensure that this mental health strategy is prioritised and funded in full."