DUP: Party college endorses Sir Jeffrey Donaldson leadership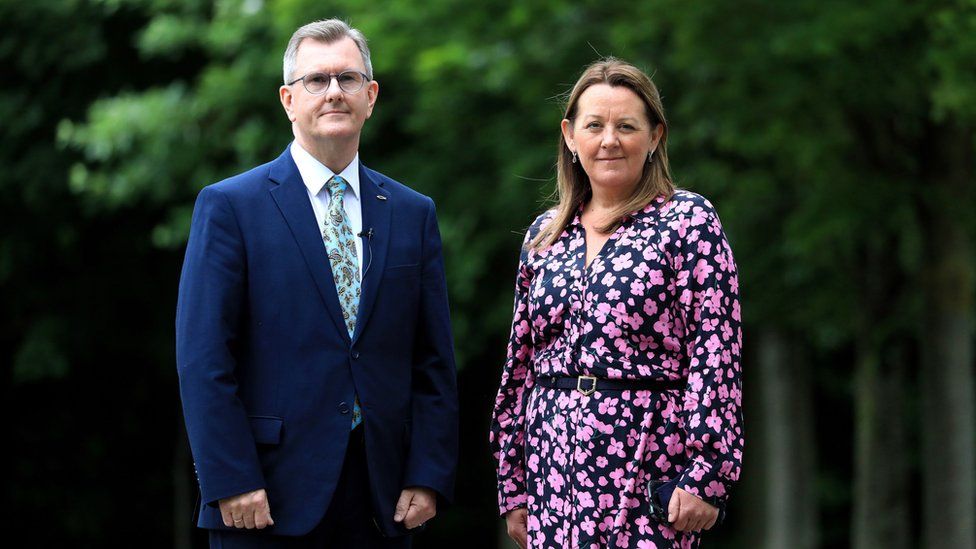 The Democratic Unionist Party's electoral college has endorsed Sir Jeffrey Donaldson as the party's next leader.
He was the only candidate to put his name forward for the position.
Sir Jeffrey received the backing of 32 out of 36 votes from the party's assembly members (MLAs) and MPs.
The Lagan Valley MP's leadership will have to be ratified at a meeting of the DUP executive, due to take place next week.
Sir Jeffrey will become the party's fifth leader in its 50-year history, and its third in just 50 days.
If there had been more than one candidate, the members of the electoral college would have voted on who should be the next leader.
North Belfast MLA Paula Bradley remains deputy leader of the party.
Edwin Poots did not attend Saturday's vote, but voted by proxy.
Speaking after the meeting, Sir Jeffrey said Mr Poots had not attended "due to prior commitments".
Sir Jeffrey said that his priority as party leader "will be to right the wrong that has been done by the imposition of this [Northern Ireland] Protocol".
He also said the Irish government should stop "cheerleading" for the protocol- the part of the Brexit deal that creates a border in the Irish Sea - claiming it was "dragging our politics backwards".
East Antrim MP Sammy Wilson said he thought the party was in a better position than it had been in recent weeks.
"We've got people returning, who said they were leaving. I think Jeffrey will be a unifying force," he said.
Mr Poots announced his resignation last week as the result of an internal party revolt after 21 days in post, having taken over from Arlene Foster.
Mr Poots in turn quit having lost the support of party colleagues after he backed a deal between the party, Sinn Féin and the UK government over provisions for Irish language legislation.
At a party meeting on 17 June, the vast majority of DUP assembly members voted against his decision to nominate Paul Givan as first minister at a special assembly sitting.
Mr Poots went forward with the nomination and resigned later that night.
After announcing last week that he would stand for a second time, Sir Jeffrey said he had the vision "to unite Northern Ireland and heal the divisions of the past".
He accepted the task was great, but added: "The overwhelming majority of people who live here want Northern Ireland to keep moving forward."
He had previously said he would leave his Westminster seat to run for the Stormont assembly so he could be Northern Ireland's first minister as well as his party's leader.
Such a move would trigger a by-election in his Lagan Valley constituency.
Sir Jeffrey said on Saturday that he wanted to lead the party in the assembly and look for an opportunity to do that.
Who is Sir Jeffrey Donaldson?
Sir Jeffrey, born in Kilkeel, County Down, became politically active as a constituency agent for the South Down MP Enoch Powell (above, left) in the mid-1980s before working as a personal assistant to the former Ulster Unionist Party (UUP) leader James Molyneaux.
After James Molyneaux retired as an MP in 1997, Sir Jeffrey was voted as his successor as MP for Lagan Valley, retaining the seat through six subsequent elections.
He is a member of the Orange Order and also served as a corporal in the Ulster Defence Regiment (UDR) during the Troubles.
In 2003, following long-standing opposition to the Good Friday Agreement and the leadership of David Trimble, he announced he would leave the UUP, later joining the DUP, along with Arlene Foster and Norah Beare.
He was appointed to the Privy Council, a body which advises the monarchy, in 2007 and stood down as an MLA for Lagan Valley in 2010.
He was awarded a knighthood in 2016 for political service.
Sir Jeffrey was defeated by 19 votes to 17 in the DUP leadership election to succeed Arlene Foster in May.