Covid-19: Robin Swann says 2019 normality a long way off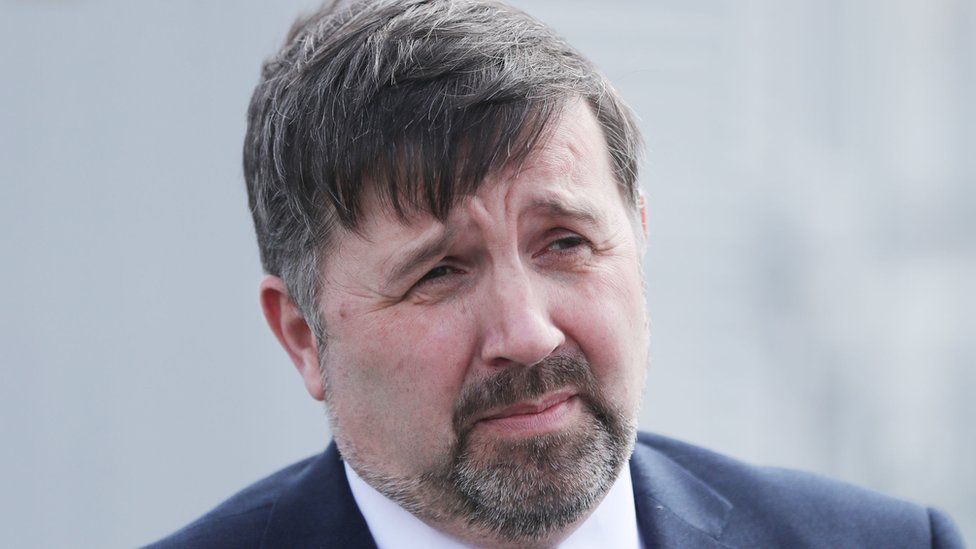 "Normality, as we knew it in 2019, is still some way off," the health minister has said.
The remarks by Robin Swann were in a briefing document from the Department of Health to the NI Executive.
Mr Swann said Northern Ireland is "not yet at a point where we can set a date for an end to social distancing".
The health paper also said testing for coronavirus over the past few days has indicated that up to 25% of new cases here may be the Delta variant.
The document warns of another possible "significant fresh surge" of positive cases and hospitalisations by late summer or early autumn.
It says the Delta variant, which originated in India, is more transmissible, and is associated with a higher risk of hospital admission.
Vaccination is working, it states, and "the more people we can get fully vaccinated the stronger our protection will be".
The Public Health Agency has said 111 probable and confirmed cases of the Delta variant have been detected throughout all 11 local council areas in Northern Ireland, 28 of them are in Kilkeel.
The NI Executive met on Thursday to discuss further relaxations of Covid restrictions.
Mr Swann said while the number of Delta cases remained small, there were "grounds for concern", and evidence from Great Britain showed its potential to spread quickly.
The use of face coverings was also expected to continue, he said.
Deputy First Minister Michelle O'Neill said there was cause for "worry".
"We're naturally worried whenever we look at predictions and modelling for what could potentially happen," she said.
"Some of the modelling suggests we will have a significant rise in positive cases."
Ms O'Neill said Chief Medical officer Dr Michael McBride said there should be clearer picture by mid July.
First Minister Arlene Foster said the Delta variant is more transmissible and "we need to make sure we continue to protect our citizens".
Stormont ministers have agreed an indicative date of 21 June for live music to resume across venues in NI.
However, it will need to be rubber-stamped by the executive next week, in line with health advice.
It is understood the Executive also agreed proposals to raise limits on social contact at home from 21 June.
This would allow 10 people from two households to meet indoors from that date. Currently only six people from two households can meet inside a home.
The number of people allowed to meet outdoors in a private garden could rise to 15 from any number of households on that date.
21 June has also been agreed as an indicative date for lifting the cap of 500 people at outdoor gatherings, instead replacing it with numbers by risk assessment.
Along with the other proposals on rules regarding live music in licensed and unlicensed venues, the changes could mean the return of some larger concerts, sporting events and festivals this summer.
Theatres may also be set to reopen on 21 June, if the executive gives the green light next week.
Queen's University Belfast virologist Dr Connor Bamford has said delaying the easing of restrictions may "put us in better stead going into the coming months".
He said some modelling of the new Delta variant suggested its spread could result in a significant rise in hospital admissions and deaths, despite a large portion of the adult population being vaccinated.
"There are still a lot of people at risk, without vaccines, with one dose of vaccine, and this is, of course, more transmissible," he told the BBC's Good Morning Ulster programme.
"I think that possibly delaying the relief of these restrictions might be the best thing to do in the next couple of weeks, until we have more information and more time for that public health acting to act and also to get more people with two-dose vaccinations."
Liam McFeely, singer with The Goodfellas, one of the north west's best-known wedding bands, said it was vital the return of live music got the go-ahead.
"People are on aeroplanes, they are in cinemas tonight, which is fantastic, but still no dancing, no signing, no music," he told BBC Radio Foyle.
"For some reason, for music and entertainment there was no happy medium, it was just stop, no dancing," he said.
Musicians, he added, have endured an "absolutely brutal, horrendous" time since March 2020. He estimated lockdown cost him "thousands of pounds" in lost earnings.
"We lost 60 weddings in three weeks, that's my livelihood, that was the beginning," he said.
"You keep things for a rainy day but when you have three kids at uni, the rainy days are every day".
Thursday's executive meeting was also Arlene Foster's last as Northern Ireland's first minister, as she prepares to step down.
Education Minister Peter Weir, Economy Minister Diane Dodds and Junior Minister Gordon Lyons are also due to leave their posts, as DUP leader Edwin Poots prepares to move his new team into office.
On Wednesday, the incoming Economy Minister Paul Frew said he wanted to see a "stocktake" of the coronavirus restrictions.
He said: "There are some restrictions that are still in place and have been in place over the past month that are not logical."