Covid-19: Number of Delta variant cases double in Northern Ireland
By Lesley Anne McKeown
BBC News NI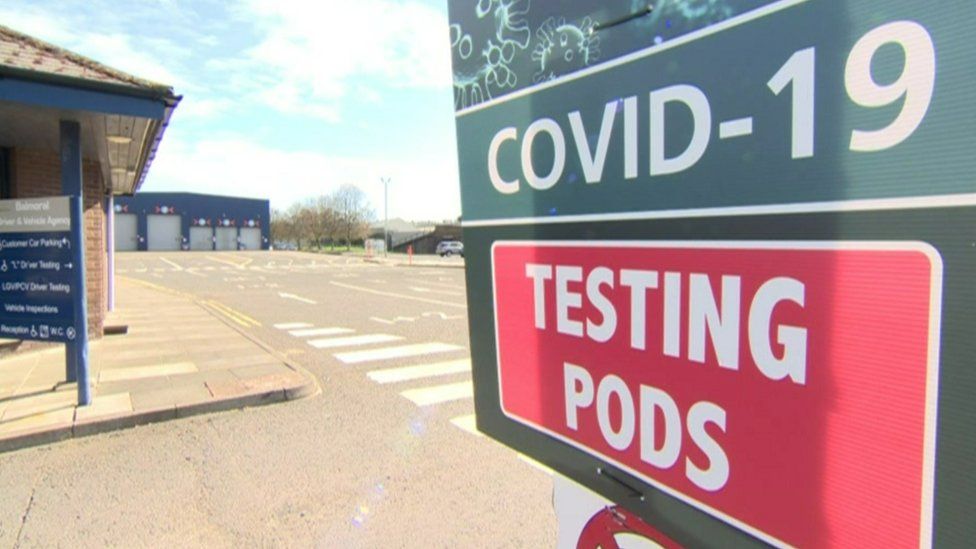 The number of suspected cases of the Delta variant of Covid-19 in NI has doubled to about 80, BBC News NI understands.
Sources have also said it has spread to different parts of the country.
The so-called Indian variant, now named the Delta by the World Health Organisation (WHO), was first confirmed in Northern Ireland in early May.
Last Friday, 26 Delta cases were confirmed by health officials, with surge testing taking place in Kilkeel.
Action was taken in the County Down town after a small cluster was detected.
More than 1,000 people have volunteered to be tested as part of the precautionary measures.
However specific genomic test results have not yet been confirmed.
The Public Health Agency (PHA) has said it will provide an update on the Kilkeel situation on Thursday.
Meanwhile, BBC News NI understands that Kilkeel Primary School has been closed for a deep clean.
For the past two days mobile teams have also been set up at Kilkeel High School to test staff and pupils.
In a Facebook post, the headmaster said the school had been shut after members of the school's community tested positive for Covid-19.
Year 13 pupils, who have already completed their exams, will not be returning to Kilkeel High before the summer holidays.
This virus likes nothing more than the public letting their guard down.
When people forget it is in the air, it swoops in and can bed down.
Last weekend after a number of cases showed the potential of being Delta positive, the Public Health Agency moved into Kilkeel in an attempt to contain the virus.
Their approach was impressive; it was the first time that such action had been taken here.
The agency made more than 1,000 house calls, and well over 1,000 people were also tested in an attempt to contain it.
Kilkeel High School was closed for a deep clean - now the local primary has followed suit.
All along officials have said it is important to try and keep one step ahead of the virus.
In order to do that the public should be kept informed as quickly as possible.
BBC News NI has asked the PHA for an update on Kilkeel - we were told one would be provided on Thursday.
Twenty-four hours can make a huge difference - it could mean the cancellation of indoor get togethers. even children's parties.
The public's response at the weekend to volunteer for testing showed most want to act responsibly.
But in order to do that they need to be informed and advised about the best course of action.
Elected representatives in the Kilkeel area have said there has been a positive response from the public.
Earlier this week, Dr Brid Farrell, assistant director of service development, safety and quality at the PHA, said: "This is a timely reminder to everyone throughout Northern Ireland to continue to carry out all public health measures to help stop the spread of Covid-19.
"Continue with good hand and respiratory hygiene, keep your distance of two metres from others where possible, wear a face covering where necessary, keep rooms well ventilated, and if you're offered the vaccine, book your appointment.
"Stopping the spread of the virus will help save lives."