Draining of Kilwaughter reservoir 'could be devastating'
By Maria McCann
BBC News NI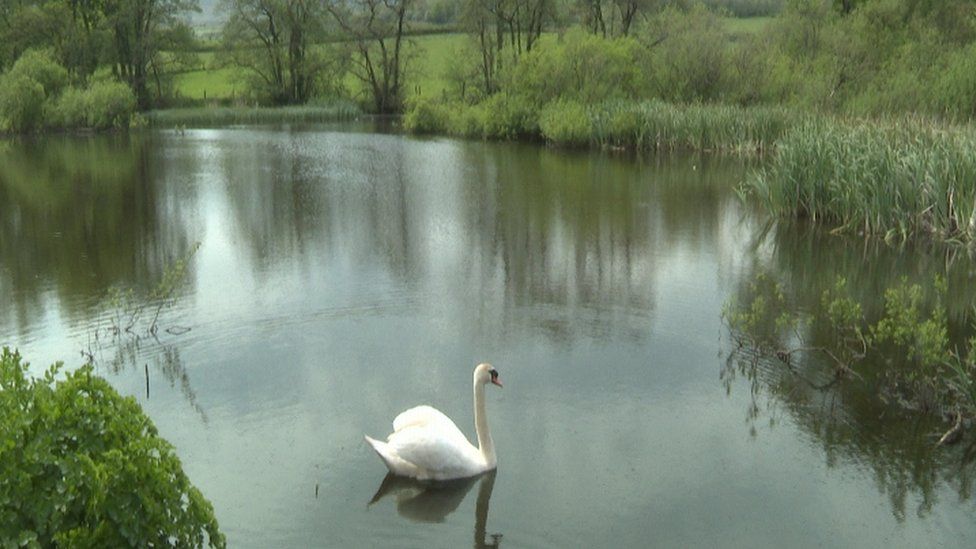 Concerns have been raised over plans to lower water levels at a lake near Larne in County Antrim.
Kilwaughter reservoir was to be partially drained after an engineer's report highlighted health and safety risks, including potential flooding.
Some residents said it would have a devastating impact on wildlife and biodiversity.
The company responsible has now said it will wait for an environmental assessment to be carried out.
A spokesperson for Kilwaughter Minerals said it had been in discussions with local political representatives, and had received guidance from the Department for Infrastructure.
The company said no works "will take place to reduce the level of the pond until an appropriate environmental assessment is completed".
'Untouched for 200 years'
Residents near to the reservoir had claimed animals such as nesting swans and their cygnets could be affected.
Ryan Greer manages the nearby Kilwaughter Castle Estate and is concerned about the plans.
"Dropping the water by more than half will have a disastrous effect on species that had been left to thrive in the area and further downstream," said Mr Greer.
"I think it will precipitate very dangerous changes to the ecosystem here.
"I'm not a biodiversity officer or expert, but this area has been untouched for 200 years."
The lake is privately owned by local quarry company Kilwaughter Minerals and a farmer.
Campaigners are asking the company, the Department for Infrastructure and Department of Agriculture, Environment and Rural Affairs to carry out a wildlife impact assessment before the water levels are lowered.
Debbie McAuley, who lives near the reservoir, said "they should be listening to the local community".
"It's where they work and where we live and we want a good relationship.
"While I understand there is legislation at play, I don't think it can work in isolation from the protection that's there for our wildlife."
Peter Graham lives about 100m from the lake.
"If anyone should be concerned about health and safety and the lake bursting its banks, it's me, but I'm not," said Mr Graham.
"It needs fixed rather than drained or lowered or removed.
"Once we lose the wildlife in the area, it's not coming back," he added.
In an earlier statement, Kilwaughter Minerals said the decision had been taken following a survey of the pond, commissioned by the Department for Infrastructure Rivers.
"All owners were informed that the water level must be lowered to avoid flooding, where a breach could endanger lives," the company said.
It said the reduction would take place in "small increments over a period of months, leaving the reservoir safe with circa 10,000 cubic meters of water".
The Department for Infrastructure said it "encourages all reservoir managers to act on the advice of specialist reservoir engineers who assist them in ensuring the safety of their reservoir in accordance with their common law responsibilities".
"The department also encourages reservoir managers to ensure that they obtain all relevant statutory consents in relation to works they may wish to undertake."