Ulster Museum: Willie Doherty's border exhibition opens in Belfast
By Chris Andrews
BBC News NI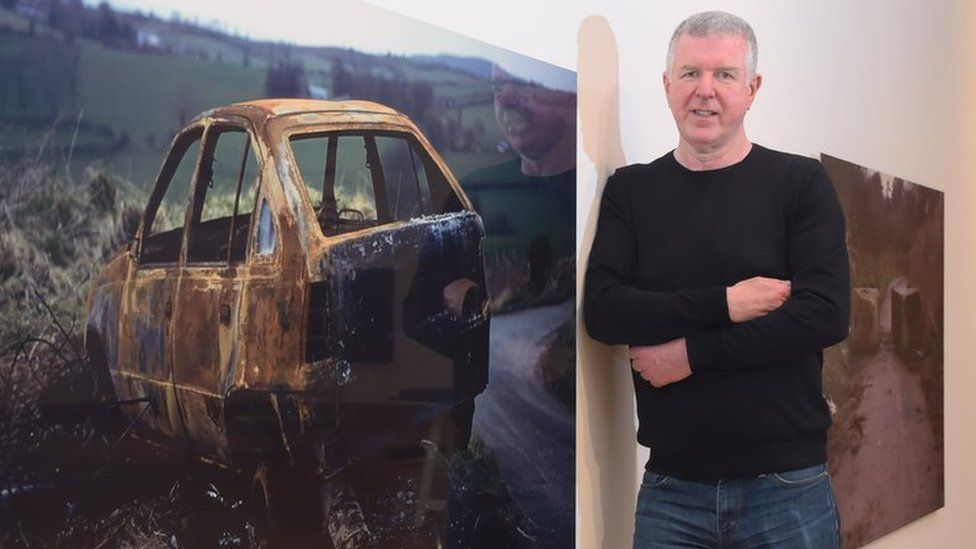 An exhibition on borders, which opens at the Ulster Museum on Friday, is designed to "challenge assumptions and thinking", according to its Turner Prize-nominated artist.
Where, by Londonderry-born Willie Doherty, features video, imagery and text to explore issues of division.
As part of the project, he travelled to the border between the United States and Mexico.
The display, delayed due to the pandemic, will run until 12 September.
After years of work, Mr Doherty told BBC News NI the subject matter had become increasingly topical with Brexit and the US government's approach to immigration.
However, the work also focuses on other ways in which borders can appear.
"The exhibition tries to embrace all of those ways in which borders live, both in terms of the physical reality of space and architecture and landscape, but also how we imagine borders, how we dream about borders," he explained.
"Hopefully the work and the exhibition challenge some of those assumptions and some of the thinking.
"It would be nice to think that the exhibition can be part of that broader dialogue that we all participate in."
Some of the imagery relates to violence and division in Northern Ireland but Mr Doherty said he had learned to develop its presentation to reduce the amount of "specific knowledge that is demanded of the viewer".
"Some of the dynamics around how people think of borders and how people think of those kind of restrictions and develop a sense of 'us and them', these are quite universal things," he said.
In visiting the US-Mexico border, the artist said he wanted "to go and have a look for myself and see what the infrastructure and dynamic was like".
He commented that the militarised border and the "sense of paranoia" that he witnessed had parallels to growing up in Northern Ireland.
"I didn't want to do it as a journalist, I wanted to find another way of doing it," he added.
"When you think of the conflict here in the 70s and 80s there is a repertoire of stock images, so I wanted to avoid those things and try to photograph the landscape where there was little sign of anything happening.
"When I go somewhere else I'm the visitor, so I have to renegotiate what that means."
Now living in County Donegal, Mr Doherty has been twice nominated for the Turner Prize, one of the most prestigious recognitions for the arts, in 1994 and 2003.
Like many in the industry, he said the pandemic had had an impact on both his creative process and his ability to display work.
It was during a relaxation of coronavirus restrictions in September that he managed to shoot a video which features in the exhibition, but the pandemic did cause him to miss out on visiting his work on display in Italy.
The Ulster Museum exhibition was curated in conjunction with Fondazione Modena Arti Visive, in Modena, Italy.
There its translated title was Dove.
"I worked with the curator by Zoom to install it, but it feels to me like that exhibition didn't happen because I didn't get to see it," he said.
"I guess it was OK, but it was a very strange experience."
That exhibition was curtailed because of restrictions and caused the Northern Ireland exhibition to be delayed from March to June.
He said it was hoped with the relaxation of restrictions there was a "fair chance" that it could remain open for the public to visit.