Brexit minister says NI Protocol operation is 'not sustainable'
By John Campbell
BBC News NI Economics & Business Editor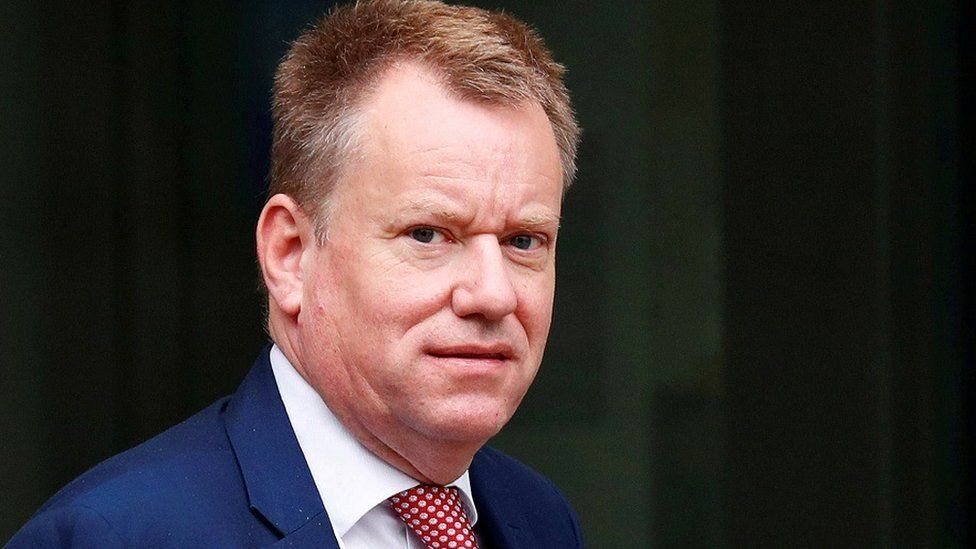 The UK's Brexit Minister Lord Frost has said it is hard to see that the way the Northern Ireland Protocol is currently operating "can be sustainable for long".
He was speaking after a visit to Northern Ireland.
The protocol is the part of the Brexit deal which creates a border in the Irish Sea.
It was agreed by the UK and EU in October 2019 and was subject to further negotiation in 2020.
It keeps NI in the EU single market for goods and means EU customs rules are enforced at its ports.
Lord Frost met businesses from several sectors including aerospace, food, retail, and life sciences.
He also visited the Border Control Post at Larne Harbour.
He said: "It's clear from my visit that the protocol is presenting significant challenges for many in Northern Ireland.
"Businesses have gone to extraordinary efforts to make the current requirements work, but it is hard to see that the way the protocol is currently operating can be sustainable for long."
He added that he hoped the EU would take a "pragmatic way forward" and that the UK government will "continue to consider all our options in meeting our overriding responsibility for sustaining the peace and prosperity of everyone in Northern Ireland".
UK and EU officials are currently engaged in low key talks aimed at simplifying the operation of the protocol.
Ireland's Foreign Minister Simon Coveney says there is pressure to come up with solutions by June, ahead of the loyalist marching season.
Speaking on Monday after a meeting with European Commission vice-president Maros Sefcovic, Mr Coveney said: "I think there is a pressure that we find a way to come up with solutions by some point in June, and I think the Commission is very much aware of that and I'm sure the British government is too."
He continued: "It's not for me as an Irish minister to be setting deadlines.
"My role in this is to work as part of the EU, but also to reach out to colleagues in London as well, and of course in Belfast, to find a sensible, pragmatic way forward here that everyone can live with."