Covid in Scotland: Some quarantine-free foreign travel to be allowed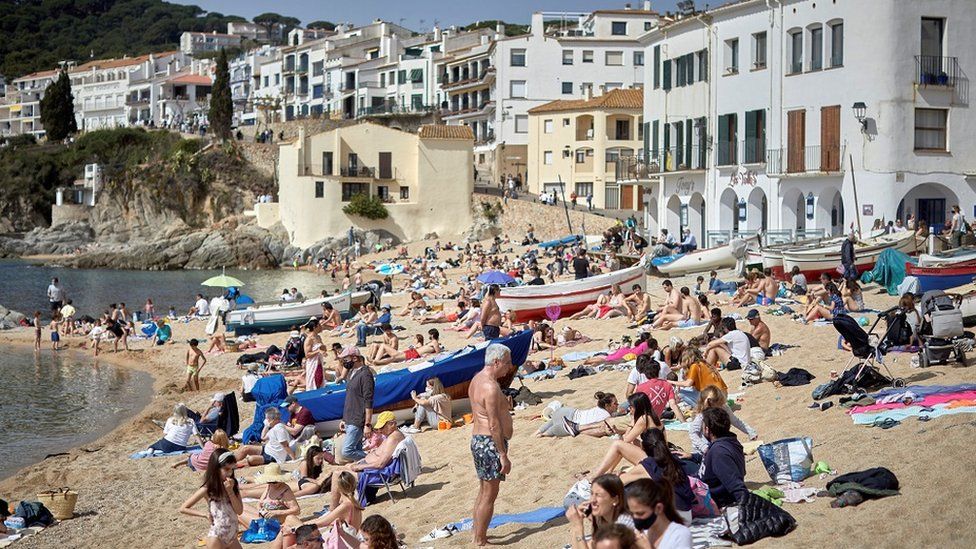 People in Scotland will be able to travel to some foreign destinations without the need to quarantine on their return, the BBC understands.
It will be part of a traffic lights system, similar to that in England, and will come into effect on 24 May.
Countries are to be classified as green, amber and red and a review will take place every four weeks.
The Scottish government said a Covid briefing would take place on Tuesday and it would not comment on reports.
The green list - operational down south from 17 May - includes Portugal, Israel, Singapore, Australia, New Zealand, Brunei, Iceland, Gibraltar, Falkland Islands, Faroe Islands, South Georgia and the Sandwich Islands, St Helena, Tristan de Cunha and Ascension Island. A passenger locator form is necessary plus pre-departure testing but no hotel quarantine or self-isolation is needed on return.
The England approach for the amber list also involves form filling, testing and no hotel stay, but self-isolation for 10 days would be required. Red countries would involve hotel quarantine.
'Light at the end of the tunnel'
People who do need to travel have to isolate in a hotel, at a cost of about £1,750, or at home for at least 10 days after arriving back.
At the moment you can travel anywhere in Scotland and stay in holiday accommodation but you cannot be overnight in someone else's home. Travel to England, Wales and Northern Ireland is also permitted.
Responding to the news of a traffic lights travel system for Scotland, Linda Hill, of LAH Travel in Ayrshire, told Radio Scotland's Drivetime: "It is light at the end of the tunnel and as an industry we welcome this.
"I think consumer confidence is still very low and I don't see a surge in bookings as it's still quite a difficult process to go on holiday in terms of tests before you go and when you come back.
"I absolutely want a four nations approach, I think it is the most sensible thing to do when it comes to international travel."
National clinical director Prof Jason Leitch told the programme a decision on changes to the foreign travel rules had not been made yet.
He said: "The UK Government has announced what those green, red amber countries are, around what will be allowed, and the first minister and her cabinet will be making that decision tonight and tomorrow, and she will announce it tomorrow lunch time."
Prof Leitch said the "vaccination programme has changed the equation a little" on overseas travel compared to last summer but there was concern "about variants in particular" and said that was why the English green list of countries was so small.