Doug Beattie declares bid to be next UUP leader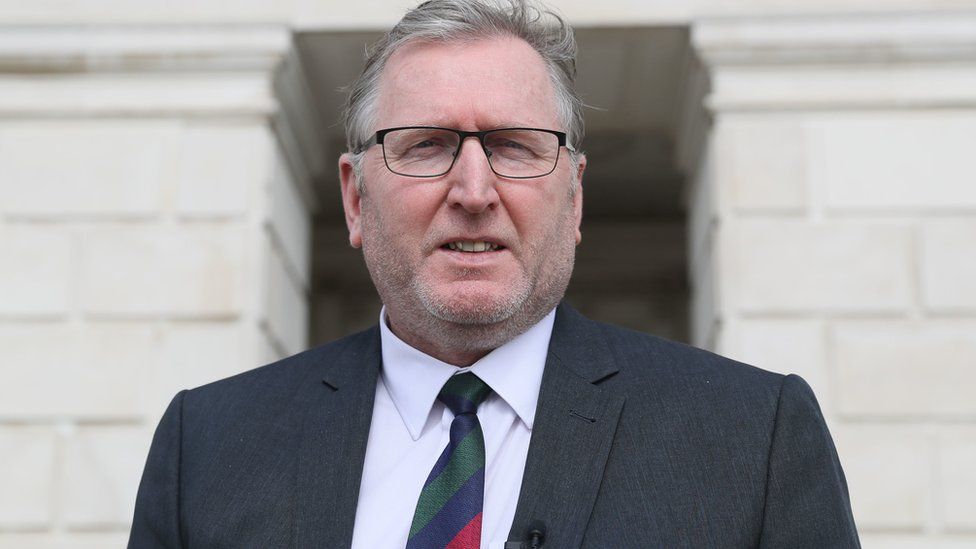 Upper Bann MLA Doug Beattie has put his name forward to be the next leader of the Ulster Unionist Party (UUP).
The party has begun the process of appointing a new leader after Steve Aiken announced his resignation.
Mr Aiken said the party was "not breaking through" and had "not been working as well as it should be".
Mr Beattie, a retired Army captain, said he was the right person to "rekindle the fortunes" of the UUP and give a clear vision for the future.
He told BBC Newsline he would have a different style and would be "able to reach out to all people in Northern Ireland regardless of what your religion is, sexual orientation or ethnicity".
Mr Beattie, who was elected MLA for Upper Bann in 2016, said people underestimated Mr Aiken, whom he described as a strong unionist with liberal views.
"I share [those views] with him," he added. "Maybe the presentation might be slightly different and maybe we have to work on how we get our message out to people."
Mr Beattie said the Northern Ireland Protocol, the post-Brexit arrangements for Northern Ireland which places a border in the Irish Sea, must be replaced.
He said it was damaging to the Good Friday Agreement but the party had an alternative ready to go.
"I do not want a hardened border on the island of Ireland. But neither do I want a border in the Irish Sea," Mr Beattie said.
Earlier, outgoing leader Mr Aiken said unionism needed to "get its act together" and there was now a time for reflection.
Mr Aiken will remain in charge temporarily until his successor is found.
A virtual meeting of the party's ruling executive will be held on Tuesday night to discuss the leadership process.
Mr Aiken has been in charge since November 2019.
Mr Aiken said the UUP continued to do what was right not only for unionists but for all in Northern Ireland.
He said his resignation as party leader was a "bittersweet moment".
"I am, however, self-aware enough to realise that our party, despite our strengths, is not breaking through," he said.
"I am also very aware of my limitations. And despite the successes over the last 19 months, I realise that a change of leadership is needed."
Mr Aiken said the UUP was a team in which all parts needed to work effectively.
"Quite frankly, it hasn't been working as well as it should be. That is down to me," he said.
"Rather than being the perceived problem, I want to be part of the solution."
Party chairman Danny Kennedy thanked Mr Aiken for his leadership, describing him as a "dedicated Ulster Unionist".
Lagan Valley assembly member Robbie Butler, who is the party's chief whip, has also been mentioned as a possible contender.
In his letter of resignation, Mr Aiken said he had taken the party as far as he could.
He said it had been a "privilege to lead in these difficult and trying times" and he took pride in the party's decision to take on the challenging health minister portfolio when Stormont was restored in 2020.
More than 20 DUP NI Assembly members and four MPs signed a letter voicing no-confidence in her leadership.
Responding to Mr Aiken's decision to step down, Mrs Foster said she found him "very straightforward and honourable" as a fellow party leader.