Steve Aiken resigns as Ulster Unionist leader
By Jayne McCormack
BBC News NI Political Reporter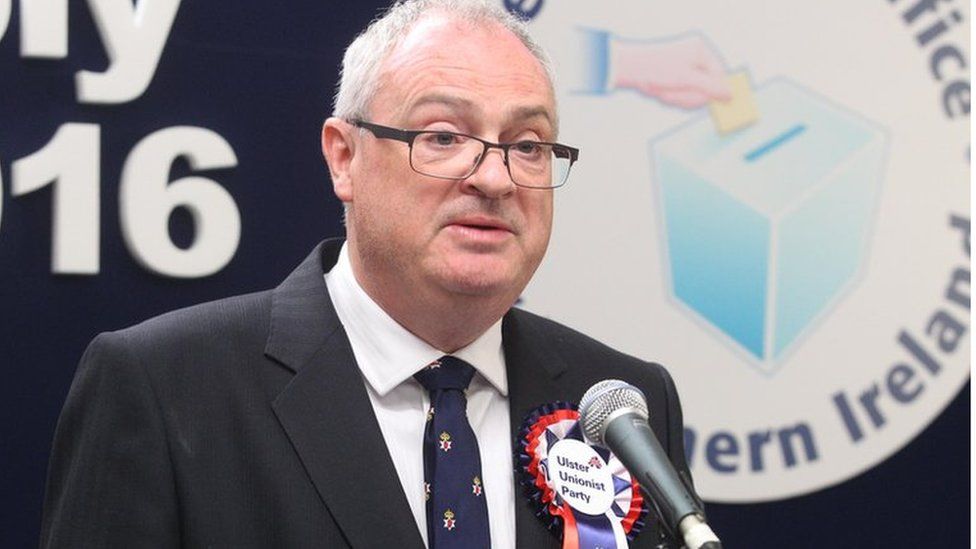 Steve Aiken has announced his resignation as leader of the Ulster Unionist Party.
The South Antrim assembly member has been in charge of the party since November 2019.
However, it is understood frustration with his leadership has been growing across all levels of the party.
Several sources told the BBC there was a "widespread view" that change was needed ahead of next year's Northern Ireland Assembly election.
It is understood discussions have been taking place for a number of months about concerns over the party's recent performance.
One Ulster Unionist source said it was not about a fight for the direction of the party but its entire "existence".
In his letter of resignation, Mr Aiken said he had taken the party as far as he could.
He said it had been a "privilege to lead in these difficult and trying times" and he took pride in the party's decision to take on the challenging health minister portfolio when Stormont was restored in 2020.
He said his party colleague and former leader Robin Swann had been successful in his efforts to tackle the coronavirus pandemic.
"Despite our successes, it has become clear to me that if we are to achieve the breakthrough in the forthcoming assembly elections, we will need to drive further ahead... to achieve our goals, we now need new leadership," he said.
He will remain in post until a successor is appointed and he will not be retiring from politics.
UUP chairman Danny Kennedy said he had no doubt Mr Aiken would be central to the party's attempts to restore its political fortunes.
He said Mr Aiken had always "sought to lead from the front".
"I have witnessed at close quarters your dedication to duty and the dignity you have displayed at all times as party leader, even in challenging circumstances," he said.
Robin Swann, who preceded Mr Aiken as leader, said it was a "rewarding and challenging" role to hold.
In a tweet, he said "most of all I thank him for his support and the trust he placed in me when he nominated me as health minister."
Northern Ireland is 100 years old.
Political unionism should be celebrating, but for them it's anything but a happy birthday.
To paraphrase Oscar Wilde, to lose one party leader is unfortunate, to lose two looks like carelessness.
But that is what the Democratic Unionist Party (DUP) and the Ulster Unionists have done.
Shifting demographics, uncertainty caused by Brexit, and a growing number of unionists who don't see these parties as sure-footed custodians of the union.
Add into the mix near panic over the looming assembly election and - boom!
Read more from Gareth here.
UUP assembly member for Upper Bann Doug Beattie, who is viewed as a potential successor to Mr Aiken, said the "loneliness of leadership is never easy".
"As my party leader, my colleague and my friend I want to thank Steve for his for service past, present and in the future," he tweeted.
Mrs Foster said she spoke to Mr Aiken earlier, and wished him and his family well for the future.
"In all our dealings, as party leaders, I found him to be very straightforward & honourable," she tweeted.
Alliance Party leader Naomi Long said the "time for analysis" after a second change in unionist leadership would come later.
"Despite our political differences, he's always respectful and courteous in any exchanges," she tweeted.
Traditional Unionist Voice leader Jim Allister said it was "an unsettled time within the unionist family" with imminent leadership change for the DUP and UUP.
However, he said he wished both Arlene Foster and Steve Aiken well and had found both "straightforward and honourable to deal with".
SDLP leader Colum Eastwood said he had "always enjoyed" working with Mr Aiken and wished him "all the best for the next chapter".
Taoiseach (Irish PM) Micheál Martin said he always valued his "discussions and engagement" with Mr Aiken.