Covid-19: What are the stats as restrictions ease further?
By Eunan McConville
BBC News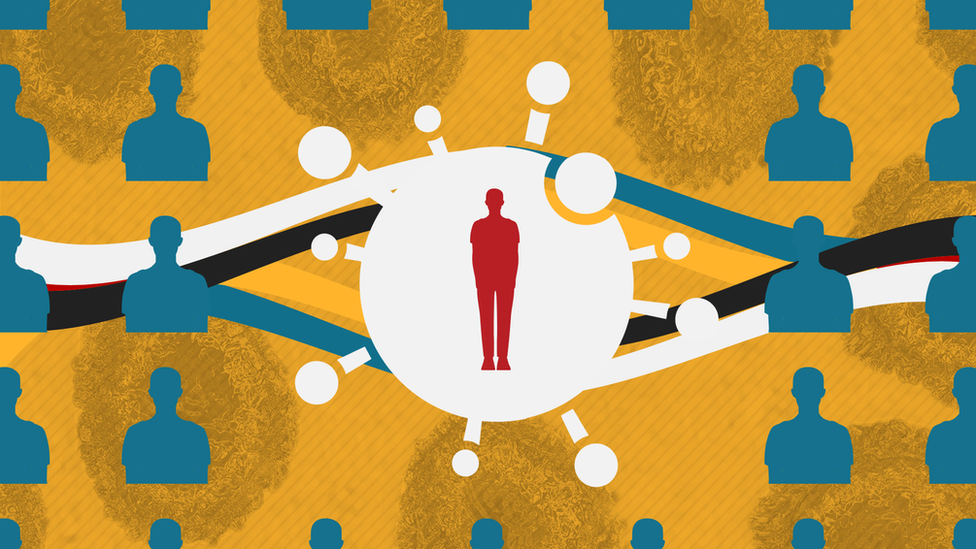 Northern Ireland is now - by stats and numbers associated with the pandemic - roughly in the same place it was in September last year, before we entered the long, hard winter surge.
And given the successful rollout of the vaccination programme, we're now in a much healthier place.
Infection rates are generally low, as are case numbers; we have fewer people in hospital with the virus and the death rate remains quite low.
Northern Ireland still has the highest infection rate in the UK.
But it's not necessarily a high infection rate.
Data from the UK government for the seven days up until 2 May indicates the following infection rates per 100,000 population:
UK - 21.2
England - 21.4
Scotland - 21.5
Wales - 9.9
Northern Ireland - 34
The Republic of Ireland does not publish its infection rate in the same manner, but it can be worked out. For the same seven-day period up until 2 May, it was 64.4.
Wales' rate is remarkably low and is undoubtedly tied to the very high vaccination uptake there.
But let's look closer at Northern Ireland's infection rate.
It may be the highest in the UK, but compared to previous rates it's still relatively low.
We entered 2021 with an infection rate of about 687 cases per 100,000 population - that's about 20 times higher than it is now.
What we've seen recently is that Northern Ireland's rate has been more or less static, while the rest of the UK has seen slow and steady decreases.
So why is Northern Ireland's rate stubbornly staying higher than those in Great Britain?
The answer may lie in the fact that the rate in the Republic is now markedly higher than Northern Ireland's - cross-border movement is probably affecting Northern Ireland's rate, especially in the north west.
The Derry and Strabane Borough Council area has one of the highest rates in the UK. In fact, according the UK government's data for the seven days up to 2 May, it had the highest at 99.2.
The rest of Northern Ireland's council areas have a rate of 50 or lower.
In short, the high rate in Derry and Strabane is pushing up Northern Ireland's overall rate.
Over the past week, almost a quarter of all infections in Northern Ireland have been in the Derry and Strabane area.
And, in fact, the majority of the infections in the borough have been in Londonderry city itself.
Just across the border, in east Donegal, you can find the areas of the Republic of Ireland with the worst infection rates in the state.
The Republic measures infection rates slightly differently than the UK, but right now, Letterkenny and Milford have infection rates about five times higher than Ireland's national rate.
So the figures indicate Northern Ireland's rate is being elevated by an infection hotspot in Derry, and most likely exacerbated by cross-border movement into another infection hotspot in east Donegal.
It is important to remember, however, that an infection rate is only one part of the picture.
At earlier points in the pandemic, a higher infection rate usually brought with it more hospitalisations and deaths.
However, this is now not necessarily the case - and that's thanks to vaccinations.
Northern Ireland will soon have a million people vaccinated.
The latest number for individuals with a first dose is 963,531.
The UK's vaccine rollout has been very successful with two thirds of all adults having had a jab.
And, obviously, Northern Ireland is part of that success.
According to Our World In Data - a data research project based at Oxford University - there aren't too many nations in the world with a better rate of vaccination.
Interestingly, one of the few places with a better vaccination rate than the UK is the Isle of Man.
The percentages of the adult populations in the UK and Ireland which have had a first dose are as follows:
UK - 66.6%
England - 66.3%
Scotland - 64.9%
Wales - 75.2%
Northern Ireland - 66.3%
Republic of Ireland - 32.7%
The speed at which first doses are being given out in Northern Ireland has been fairly steady over the past few weeks at about 5,000 a day.
Northern Ireland - like the other parts of the UK - has been doing very well on second doses of vaccine.
About half of those in Northern Ireland who have had a first dose have already had their second dose.
It will be interesting to see how this change in approach affects Northern Ireland's vaccination rollout - so far the majority of doses given out here have been AstraZeneca.
Recently the Department of Health has started to publish some vaccine uptake figures for age groups.
More than 43% of the 30-39 age group has now had a vaccine, although many of these people got their jab earlier in the rollout thanks to being eligible in another category.
Almost 20% of 18-29 year olds have had a vaccine dose, despite the fact this age group has not yet been called for vaccination.
This is because they met other criteria of eligibility such as being a healthcare worker, a care home worker, a carer or clinically extremely vulnerable.
The number of patients in hospital with Covid-19 has been around 70-75 for the past fortnight.
There have been small decreases and small increases during that time.
These numbers are quite small compared to the peak of the surge in January, when there were more than 1,000 patients in hospital with the virus.
We are also seeing quite a low rate of admission - about three admissions per day.
About a quarter of those being admitted recently have been young adults between the ages of 20 and 39.
This is a higher proportion than at any stage in the pandemic and most likely reflects the higher vaccination levels among older people.
The number of people in intensive care units (ICUs) with the virus has also been very steady for a few weeks - between five and 10.
Northern Ireland's death rate is - thankfully - quite low, with a fatality expected every three or four days.
Between 11 January and 17 January, 160 deaths were recorded by the Department of Health.
In the latest seven-day period, two deaths were recorded.
Moreover, our death rate has been at a similarly low level for nearly two months now.
Great Britain also has a very low death rate - indicating the effect the vaccination programme has had.
The Republic of Ireland's death rate is higher, but has been falling in recent weeks.
The pandemic certainly has not gone away, but we have made impressive and steady progress towards a return to normality.