Covid-19: Hospital and care home pandemic visiting rules ease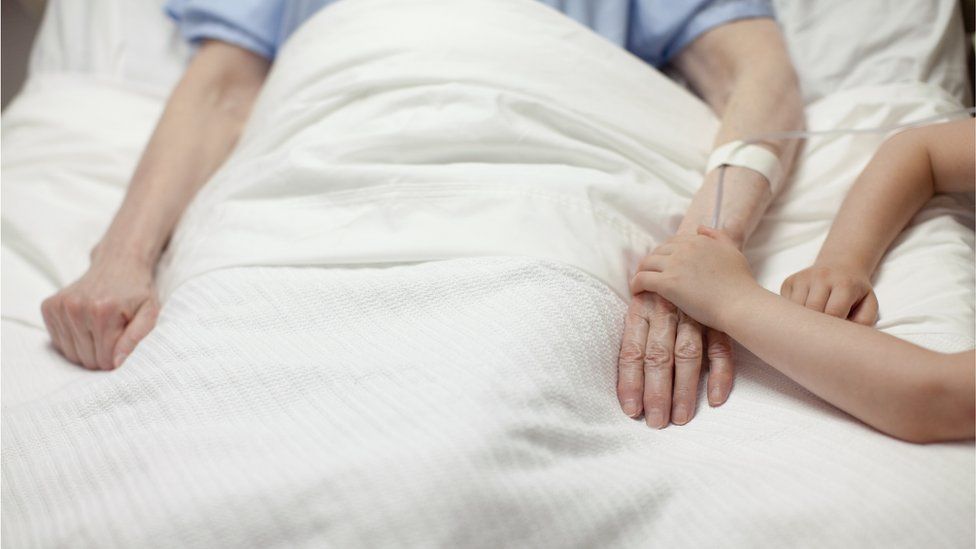 Changes to visiting rules in hospitals and care homes have come into effect across Northern Ireland.
From Friday, care home residents are able to receive two visits per week, each lasting an hour, as Covid-19 rules are relaxed.
Hospital patients can have one daily visit from two people from up to two households.
The first phase of changes to the Covid visiting guidance also includes relaxations for rules in hospices.
Women can be accompanied by a nominated partner for any pregnancy-related appointments, as well as from the induction of labour to up to three hours after birth.
Children are permitted to visit care homes, with hand-holding allowed, however aprons and masks still must be worn, according to the guidance.
Residents are also able to resume outdoor trips without having to isolate on their return, bringing Northern Ireland into line with other parts of the UK.
The changes are being rolled out in four-week blocks, with Health Minister Robin Swann saying "the time was now right" to carefully reintroduce visiting.
Restrictions could go in 16 weeks
The first phase will be reviewed in two weeks' time, when care home visits may be increased to three hour-long visits per week.
It is hoped that after 12 weeks, if conditions are right, close physical contact such as "brief hugs" could return for care home residents.
Depending on Covid data, after 16 weeks all restrictions could be lifted with no limits on the number of visits or visitors to care homes and no booking system required.
The changes come as Department of Health data shows that more than 1.4 million doses of a Covid-19 vaccine have been administered in Northern Ireland.
That figure includes 957,063 first doses and 459,763 second doses.
Uptake among the over 80s is at 100%.