DUP: Dodds will not bid for re-election as deputy leader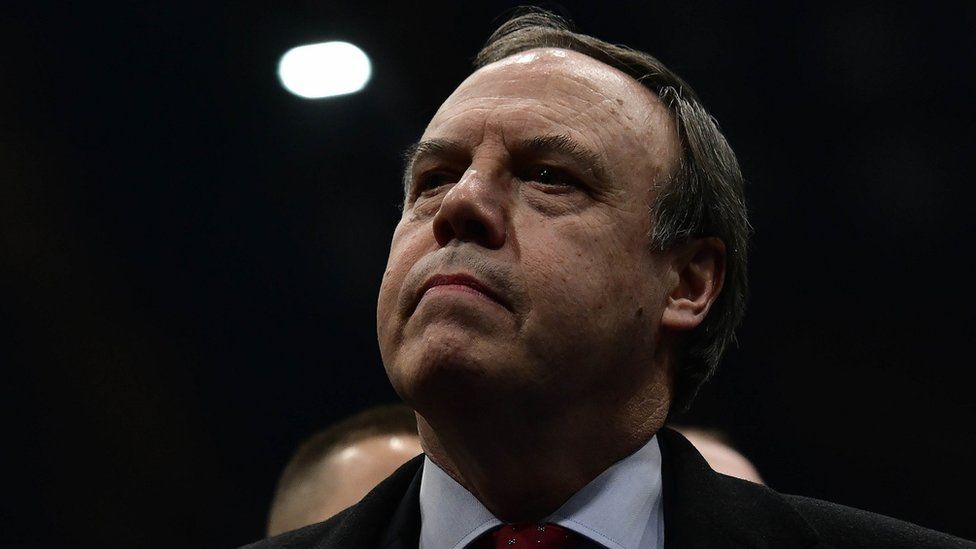 Lord Dodds has said he will not bid to remain deputy leader of the Democratic Unionist Party (DUP) in its leadership elections next week.
It means the party's top two roles are being vacated after leader Arlene Foster said she would resign on 28 May.
Lord Dodds has been the party's deputy leader for 13 years.
The peer and ex-North Belfast MP said he had always planned to step back as deputy leader "whenever the next election cycle occurred".
He said he would instead continue to use his position in Parliament to "advance the cause of the union".
It is the first time in the party's 50-year history that a leadership contest will take place.
Edwin Poots and Sir Jeffrey Donaldson are both bidding to succeed Mrs Foster.
This is a significant although not unexpected announcement by Lord Dodds.
He will soon relinquish the role he has held for more than a decade - another sign of the impending regime change at the top of the DUP.
His statement hints at wanting to remain involved in politics in some way but it is not clear if he might at some stage be tempted to make a return to the frontline.
Another thing isn't clear either: who will be in the frame to replace him as deputy leader?
No doubt discussions are well under way within both Edwin Poots's and Sir Jeffrey Donaldson's campaign teams about who to nominate ahead of the deadline on Thursday evening.
In a statement issued on Tuesday evening, he said that under the party's rules peers did not form part of the party's electoral college for leadership positions.
"It would be incongruous and inappropriate to do otherwise," he said.
He said he would use his position in the Lords to "articulate the views of unionists on the future direction of the United Kingdom and on issues affecting Northern Ireland more generally".
DUP East Belfast MP Gavin Robinson said Lord Dodds and the party were "synonymous".
He praised his colleague's "steadfast loyalty".
DUP MLA Gordon Lyons said Lord Dodds had given a "lifetime of service to our party, unionism and Northern Ireland".
The East Antrim representative tweeted: "I have no doubt that he will continue to be a determined and effective advocate in the House of Lords."
He grew up in Enniskillen, County Fermanagh and practised as a barrister before becoming an elected representative.
His political career has spanned more than 35 years, having first been elected to Belfast City Council in 1985.
He rose swiftly through the ranks of the DUP, both in the Northern Ireland Assembly and then at Westminster, until December 2019 when he lost his seat as MP in the general election.
His wife Diane Dodds is the economy minister in the Northern Ireland Executive.
The couple escaped injury in 1996 when the IRA shot and wounded the police bodyguard protecting Mr Dodds as he visited his son in Belfast's Royal Victoria Hospital.
The DUP politician came to prominent attention in Westminster along with other senior party members after the snap general election in June 2017.
Then-Prime Minister Theresa May had lost her majority in Parliament and needed the votes of the DUP's 10 MPs to ensure she could pass critical legislation, including on Brexit.
When Boris Johnson took over as prime minister later that year, Lord Dodds and other DUP politicians were hopeful: both men had given speeches at the DUP conference in November 2018.
Two months later, the DUP lost two seats in the Westminster general election - Lord Dodds was one of the casualties.
The prime minister won a large Commons majority, meaning the DUP had also lost its direct hold over the Conservative Party.