Sinn Féin's Martina Anderson and Karen Mullan stepping down
By Jayne McCormack
BBC News NI Political Reporter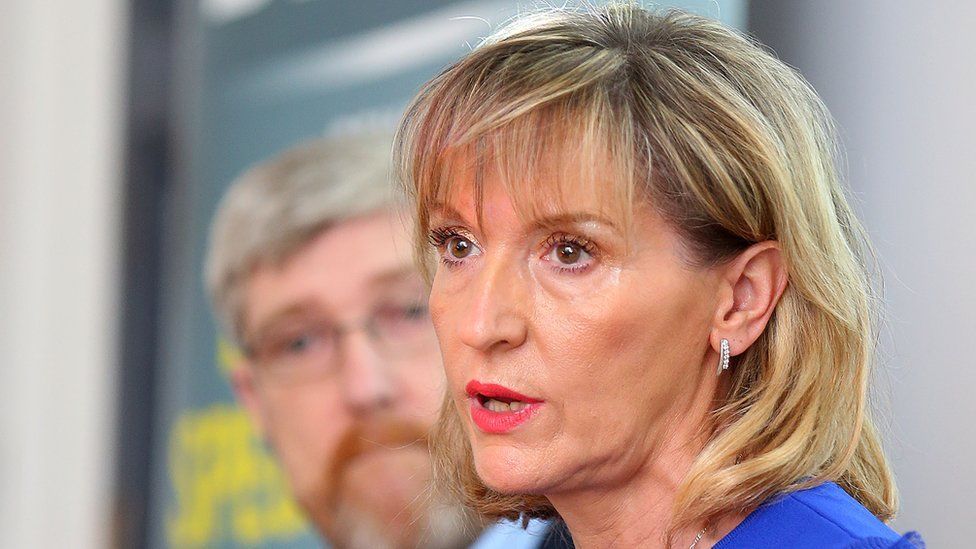 Sinn Féin MLA Martina Anderson has said she will not contest the next Stormont assembly election.
On Tuesday, Ms Anderson said the party recommendation after the review had come as a "body blow".
Karen Mullan, the party's other MLA for Foyle, has confirmed she too will not seek re-nomination.
I confirm that I will not be seeking a nomination to stand for @sinnfeinireland at the next Assembly Election. It has been a great privilege to represent and work for the people of Derry. I will continue to be a SF activist and I look forward to a new chapter in my life 💚

— Karen Mullan (@k_mullan) May 4, 2021
Ms Anderson's political career has spanned several decades, both at Stormont and Brussels.
She published a video on Twitter on Tuesday evening confirming that she would not run in the next election, which is due to take place in May 2022.
She said she had received solidarity from supporters "across Derry and beyond" urging her to stay on in the role and described it as a difficult time for her and Ms Mullan.
"The national leadership correctly wants to re-energise our base and since coming back from Europe I have sought to do just that," she said.
"Throughout my life as a republican I have always put our struggle first and so, in wanting what the leadership believe to be best for it, I have decided not to seek the nomination to contest the next assembly election."
Confirmation that I do not intend to stand at the next Assembly Election.

There is a privilege in being a public representative standing up for people. I will miss not doing that #LoveDerry pic.twitter.com/anRPIAhzod

— Martina Anderson MLA (@M_AndersonSF) May 4, 2021
She added that she would support whoever the party's Foyle membership selected as a candidate for the May 2022 election, to help build support in the constituency.
Sinn Féin president Mary Lou McDonald thanked Ms Anderson and Ms Mullan for their "tireless dedication and commitment" to the party.
She said Ms Anderson "has always led from the front as a minister, an MEP and MLA".
Sinn Féin vice-president and Deputy First Minister Michelle O'Neill said her party colleagues had demonstrated "great leadership with what was undoubtedly a personally difficult decision".
Ms Mullan was co-opted into the assembly in June 2017 to replace former politician Elisha McCallion, who had won the Foyle seat at Westminster.
Ms Anderson first joined the assembly in 2007, later becoming the party's MEP in 2012.
She was co-opted again as MLA for Foyle in January 2020, having lost her seat in Brussels when the UK left the EU.
In 2012, she was chosen to replace Bairbre de Brún as the party's MEP and retained the seat in the 2014 and 2019 European elections.
When European seats were abolished after the UK's exit from the EU, Ms Anderson was co-opted into the assembly to replace Raymond McCartney, who was retiring from politics.
Last month, the Irish Examiner reported that Ms Anderson and Ms Mullan had been asked to consider their positions.
It followed major losses in the last two elections.
Ms Anderson's time as an elected representative has not been without controversy.
Mr Kavanagh had served 14 years in prison for killing three people in an IRA bombing campaign in England in 1981.
At the time, Ms Anderson said her husband would continue to work and support the peace process.
'Apologised unreservedly'
She was also among a number of senior Sinn Féin politicians who were criticised for their attendance at the funeral of republican Bobby Storey in June 2020.
The funeral attracted 2,000 mourners when strict limits were in place, due to Covid-19 restrictions but Ms Anderson had accused the party's critics of "political point-scoring".
She had claimed the money was mainly for those who took part in what she described as "Britain's dirty war in Ireland" and would mostly go to "those involved in collusion" and British troops, for instance paratroopers involved in shootings in Ballymurphy in 1971 and on Bloody Sunday in Derry in 1972.
She later said the remarks were "clumsy" and not directed at victims.
The politician was also known for her outspoken views against Brexit.
In March 2017, during a debate in the European Parliament and referring to then-Prime Minister Theresa May, Ms Anderson said: "Theresa, your notion of a border, hard and soft, stick it where the sun doesn't shine 'cos you're not putting it in Ireland."