Covid-19: Rules on care home and hospital visits eased
By Lesley Anne McKeown
BBC News NI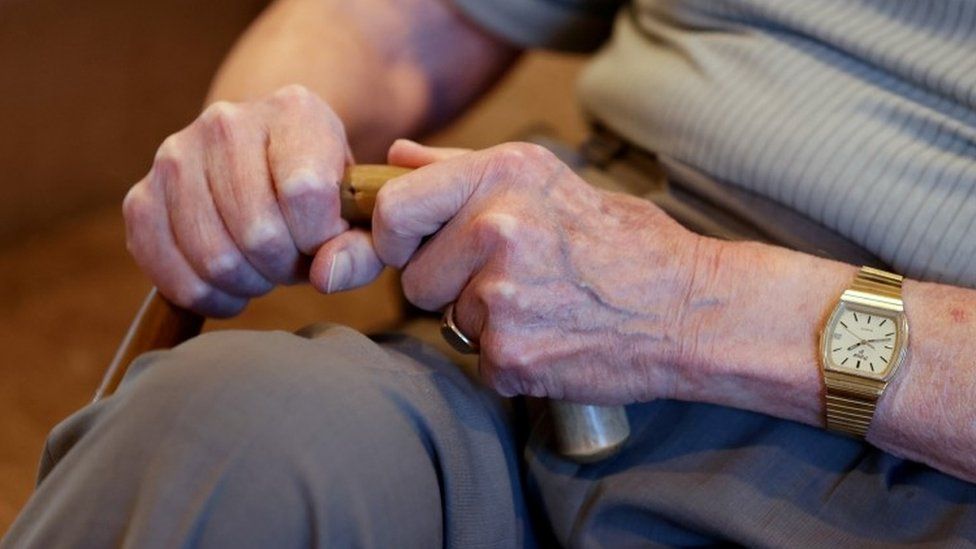 Changes to hospital and care home visiting in Northern Ireland will take effect from this Friday, the Department of Health has announced.
The new rules apply to care settings such as maternity, hospitals, hospices and care homes and will be rolled out in four-week blocks.
Health Minister Robin Swann said visiting had only been restricted because it was "absolutely necessary".
The time was now right to carefully reintroduce visiting, he said.
The first phase of changes will involve care home visits being increased from one to two a week, each lasting for one hour.
This could rise to three hour-long visits a week after a review in two weeks' time.
Children will also be permitted to visit and hand-holding will be allowed, although aprons and masks will still have to be worn according to the guidance.
Residents may resume outdoor trips without having to isolate on their return, bringing Northern Ireland into line with other parts of the UK.
The move has been welcomed as a "step in the right direction" by Older People's Commissioner Eddie Lynch.
"The importance of having frequent, personal contact with family and the impact this has on the health and wellbeing of older people is well documented," he said.
"I understand there will be some people who feel that the scale and pace of change is not quick enough.
"However, I believe this pathway offers a balanced and measured approach where visitation rights are being increased at a pace proportionate to the level of risk."
From Friday, hospital patients will be allowed to have one daily visit from two people from up to two households.
Women can be accompanied by a nominated partner for any pregnancy-related appointments as well as from the induction of labour to up to three hours after birth.
Julieanne McKeever's father Pat, who has dementia, is a resident in Owen Mor Nursing Home in Londonderry.
She told BBC Radio Foyle that she welcomes any opportunity to be able to see her father more often but said more detail was needed about the changes for visits will look like for them.
She said the "quality of time" they are able to spend together is more important than how long the visits last.
"[The staff] want the people in Owen Mor to see their families," she said.
"It must be very distressing for them to see us distressed because I am not the only one who goes in and comes out crying - it's very hard."
The changes come as Department of Health data shows that more than 1.3 million doses of a Covid-19 vaccine have been administered in Northern Ireland.
That figure includes 945,320 first doses and 438,228 second doses.
Uptake among the over 80s is at 100% while about 85% of those aged between 50 and 59 years old have had the jab.
In February, restrictions banning visits in all but the most limited circumstances were relaxed slightly to allow one visit by one person a week.
At that time, the health minister described the move as a "milestone".
At a briefing for journalists on Tuesday, Bob Brown, director of primary care and older people's services at the Western Health Trust, said easing the restrictions was about balancing the "human right to visit" with the risk of infection.
He said the process would be "cautious" and "sensible".