Covid-19: Unpaid carers feel 'forgotten' in lockdown
By Emily McGarvey
BBC News NI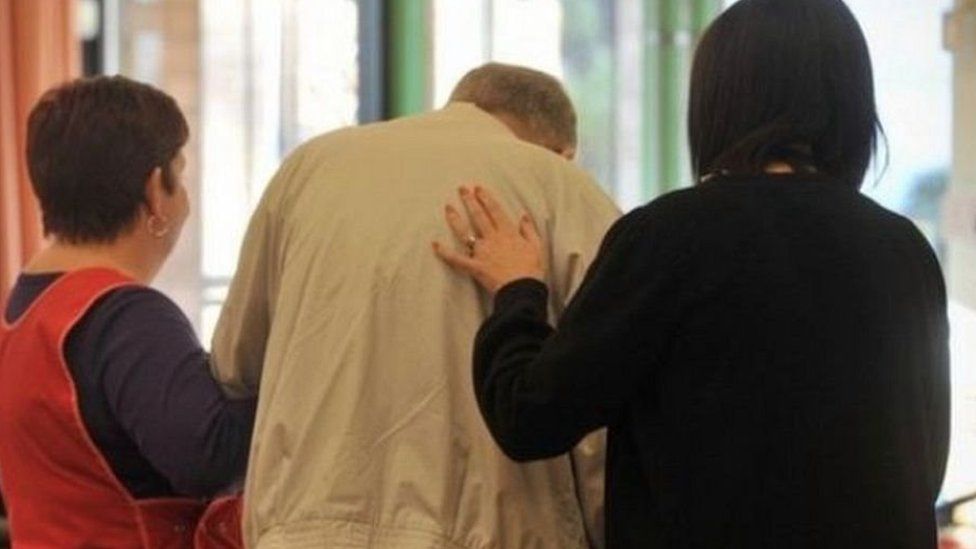 Unpaid carers say they feel forgotten despite helping to alleviate pressure on the health service during the pandemic.
Some have called on the government to increase allowances and improve respite services for carers.
There are about 220,000 carers in Northern Ireland, with more than a quarter providing more than 50 hours of care per week.
Carer's allowance is paid to about 50,000 carers in Northern Ireland.
Carer Alicia Lennon and her husband, Enda, from Newry, look after their two sons who have autism and complex intellectual learning disabilities.
Alicia has Multiple Sclerosis, a condition that causes her extreme fatigue and pain, but with the help of her husband they provide 24-hour care to their sons Keith, 20, and Nathan, 17.
"It's 24/7 and we've had no recognition, we're just thrown on the back shelf," Mrs Lennon said.
"We're invisible, our children are invisible and we've been thrown on the back burner."
She said she wants an action plan to restore essential respite services to ease her caring responsibilities.
Some services, such as day centres and support groups, were reduced or closed during the pandemic.
In the past, Mrs Lennon said her sons could spend several days per month in a respite unit but she said those services had stopped.
"Whenever you have a child with a disability you have to keep fighting for what they're entitled to, between education, occupational therapy, speech therapy, it's a constant battle," she said.
Mrs Lennon said the pandemic had highlighted difficulties she has faced for years as a carer.
She said she was offered 'direct payments' to arrange and pay for care and support services instead of receiving them directly through the local trust.
"I'd have to find someone, arrange advertising, insurance and they don't give you a list of anybody, you have to do the work yourself," she said.
A spokesperson for the Southern Trust said it is "not their role to recruit individuals as paid carers given that those managing direct payments would be their employers and doing so would restrict their choice, control and independence".
'We are a forgotten army of people'
Jim McDonnell is a father of five from Hilltown.
He cares for his 18-year-old daughter Caoimhe who has Down's syndrome and multiple learning and physical disabilities, as well as his wife Meabh who has degenerative spinal disease and several other disabilities.
He said he has fought for respite for his daughter.
"We are a forgotten army of people who are doing a job that is taking huge pressure off a very badly damaged health system," he said.
He said he would like to see a regional unit established in Northern Ireland for children with behavioural problems instead of "parents being pushed into taking direct payments".
Mr McDonnell said he has not had "one day off from caring responsibilities in the last 18 years" and fears getting ill because "there is no one to look after them".
He said he was offered a respite unit by his local health trust but it was too far from home.
"Carers need recognition for the job we actually do, we need support both financially and emotionally," he said.
"Families should be compensated for the facilities they've lost."
Alicia Lennon and Jim McDonnell live in the Southern Trust area.
A spokesperson for the Southern Trust said it was very aware of the profound effect of the pandemic on the delivery of health and social care services and the disruption on people using services and their families and carers.
"The Trust has had to take necessary actions at short notice to ensure that patient and staff safety remained our priority focus, some services had to be stopped, others have been scaled back with the redeployment of staff to support service areas with the greatest need."
The spokesperson confirmed there remained a reduction in some disability services due to requirements of the pandemic although other services had returned to full capacity.
"As the Covid environment improves it is anticipated that residential capacity can again be upscaled and that additional children assessed as requiring residential Short Breaks can avail of the service".
They added that the Trust, where necessary, will provide transport to any child where the family experiences difficulties associated with this.
Meanwhile, Emma, 22, from Holywood, said she had struggled to survive on carer's allowance during lockdown.
She said providing "round the clock care" for her mum was financially stressful.
Emma is entitled to a carer's allowance of £67.50 per week, which she said "isn't very much to pull you through".
"It works out at £1.90 an hour as a carer per week - it covers the essentials but it's not like it's something you can live off," she said.
Emma said she has to "save up" to afford dentist appointments or vet bills despite working eight hours in a retail job to top-up her income.
Emma is partially sighted, which means she cannot drive her mum to hospital appointments. She said her dad has to take annual leave from his job to do this.
"We don't have a service provided for us where someone will come and take my mum to her appointments, my dad works 60 plus hours a week just to pay the rent and he doesn't get a break," she said.
"They keep saying unpaid carers have saved the NHS money and pressure but where is our thanks?"
A spokesperson for the South Eastern Trust said a GP can, on occasion, arrange patient transport with the NI ambulance service, but added that this was not a service provided by health trusts.
A spokesperson for the Department for Communities said carer's allowance "is not, and was never intended to be, a carer's wage or a payment" and carers have access to a "full range of social security benefits" according to their circumstances.
A spokesperson for the Department of Health said it supported Carers NI during the pandemic by extending operating hours of its advice line, funded a leaflet drop to all homes in NI to help identify carers and point them to support and arranged for a carer's ID card to be issued to assist carers with shopping, exercise and travel during periods of restrictions.