Dungiven: Fireball bomb bid to kill police officer and daughter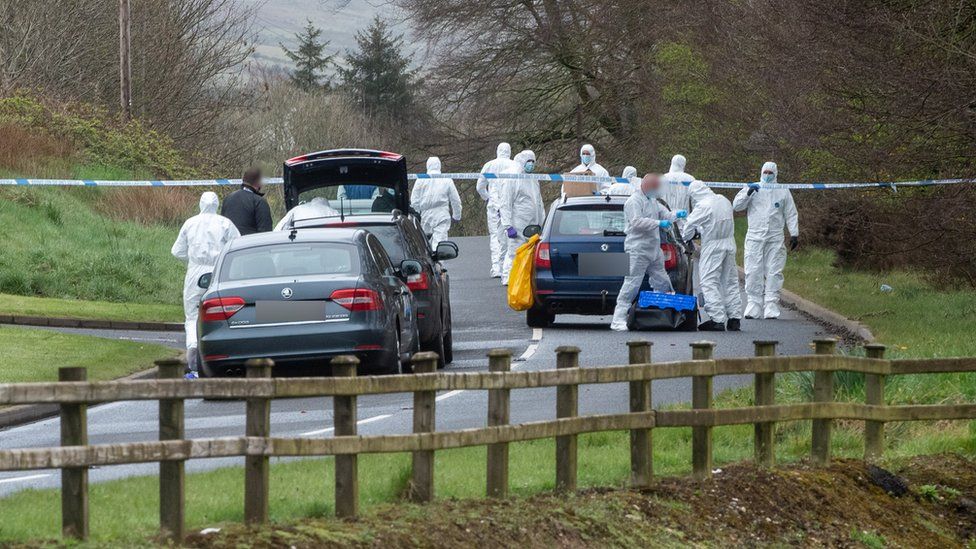 A bomb left near a police officer's car outside her home in County Londonderry was an attempt to kill her and her young daughter, police have said.
The explosive was attached to a container of flammable liquid next to her car in Dungiven on Monday.
"This was designed to cause a fireball which would have engulfed the victim's car and anyone in it or close by," said Assistant Chief Constable Mark McEwan.
Police believe the dissident republican group the New IRA was responsible.
"What is really distressing here is the terrorists placed the bomb at the rear of the car directly at the point where the victim's three-year-old daughter sits," said ACC McEwan of the Police Service of Northern Ireland (PSNI).
"This demonstrates the complete and utter disregard for the life of a mother and her toddler - this simply beggars belief."
First Minister Arlene Foster and Deputy First Minister Michelle O'Neill have described the attempted attack as "reprehensible".
"I do give thanks that she has survived this dreadful murder attempt," said Mrs Foster, the Democratic Unionist Party (DUP) leader.
"When I spoke to this lady earlier I gave her my prayerful support and indeed solidarity at this difficult time."
"To the republicans who sought to murder this young mother, your campaign is futile, you will never succeed."
ACC McEwan said dissident republicans were "still intent on recklessly targeting honest hardworking members of our community".
"They have no concern at all for those that are killed or harmed in the process," he said.
"It's time for people to examine their own conscience and ask themselves whether they support groups who are attempting to kill a three-year-old child and her mother.
"We will be unrelenting in our efforts to bring these people to justice."
Police Service of Northern Ireland (PSNI) Chief Constable Simon Byrne said it was an "outrageous attack" on the officer and her family.
Part of Ballyquin Road, which had been closed while police examined the scene, reopened on Tuesday evening.
This sounds like some kind of supercharged incendiary bomb.
It maybe has echoes of more of the improvised devices of the Troubles than what we have come to associate with New IRA attacks of recent years.
In this instance, the police have not disclosed how this bomb was to have been triggered. That is not unusual. They can often hold certain information back and it remains unclear how this bomb was to have been set off.
But for the PSNI this is a secondary fact. They say it was designed create a huge fireball smothering those in its vicinity in flames.
Last summer we saw the alleged leadership of the New IRA arrested following an MI5 bugging operation. Ten people were remanded in custody, accused of 50 serious offences under the Terrorism Act.
However, the group has been re-organising and despite that setback has remained dangerous. The threat level has stayed at severe and in its recent Easter message the New IRA vowed to continue its campaign.
But until today you had to go back more than a year since the last New IRA attack on police.
While the guard has not been down, the PSNI will undoubtedly be concerned the organisation has resurfaced in terms of attacks on its officers.
Deputy First Minister Michelle O'Neill described the attempted attack as a "shocking and deplorable attempt on the life of a police officer that will rightly be reviled across the community".
"Those behind this reckless attack have absolutely nothing to offer society and have shown a callous disregard for the entire community," said the Sinn Féin vice-president.
"They seek only to drag our communities backwards; they have no place in our society and they should disband."
Justice Minister Naomi Long said it was a "despicable and cowardly act".
The Alliance Party leader added: "When a device explodes, it does not discriminate. It does not pick and choose who it injures or who it kills.
"The people who sneaked around in the dark to plant this device have shown an utter disregard for human life, not only for this officer but for others living in the area or who may have been passing by."
The Police Federation for Northern Ireland said the officer's dedication "to serving the community" was in stark contrast "to those who offer nothing but death and destruction".
"Society has moved on and those engaged in such activity need to be consigned to the past," the federation added.
Northern Ireland Secretary Brandon Lewis said: "I want to convey my support for the officer concerned.
"Those who try to attack public servants have nothing to offer the communities they claim to represent."
Ulster Unionist leader Steve Aiken said it was a "cowardly attempt on the life of someone who is courageously putting her selflessness to the good of all of our community".
SDLP leader and Foyle MP Colum Eastwood said the attempted attack was disgraceful.
"Those responsible and their warped agenda are putting police officers and our community in danger," he added.