NI riots: Fourteen police hurt in another night of violence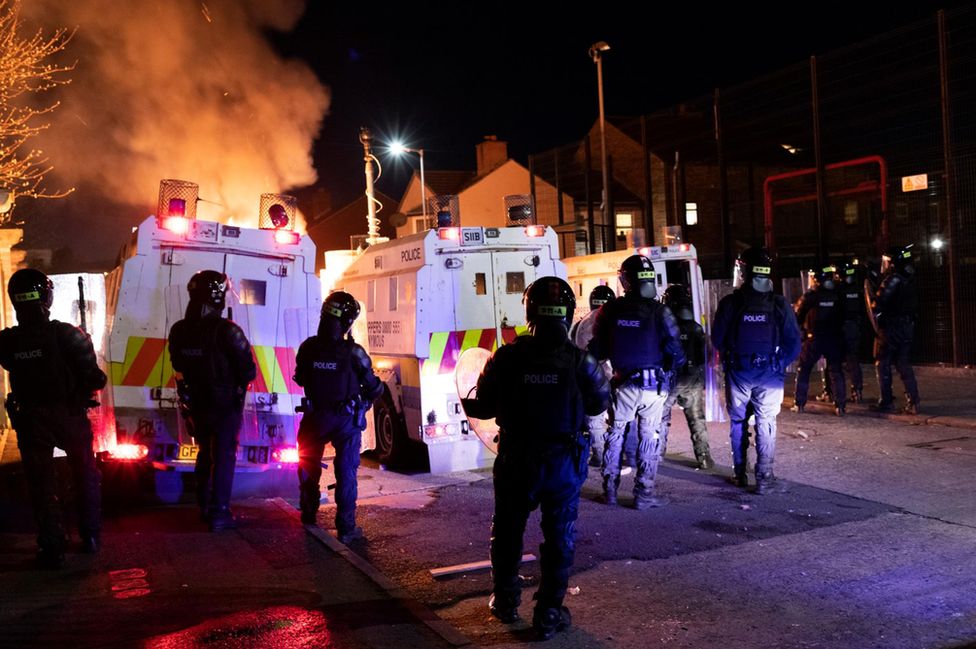 Fourteen police officers have been injured during another night of "disgraceful" rioting in Belfast.
The worst violence on Friday night happened in the loyalist Tiger's Bay area and petrol bombs were also thrown in the nearby nationalist New Lodge.
It was the 12th night of disorder in recent days, during which time a total of 88 police officers have been hurt.
Taoiseach (Irish PM) Micheál Martin has warned against a "spiral back" to violence in Northern Ireland.
The taoiseach said the "most visible success" of the peace deal had been that a "whole generation of young people have grown up not knowing or experiencing the violence that accompanied the Troubles".
Mr Martin added: "We owe it to the agreement generation... not to spiral back to that dark place of sectarian murders and political discord."
Three 14-year-old boys were arrested during the disorder on Friday and have been released pending further inquiries.
There was also three hours of "senseless" trouble in Coleraine, County Londonderry, which police said had left people in a residential area "petrified in their homes".
Analysis: Kevin Sharkey, BBC Newsline reporter
The death of the Duke of Edinburgh and the anniversary of the Good Friday Agreement provided a backdrop to the latest rioting in Northern Ireland.
Even though many loyalist protests arranged for Friday evening were cancelled as a mark of respect for Prince Philip, dozens of loyalist and nationalist youths engaged in violence.
The loyalist Tiger's Bay and the nationalist New Lodge communities live side by side.
During the violence the police created a buffer zone to keep the mobs apart - when they couldn't attack each other they attacked the police.
On Saturday morning, the 23th anniversary of the Good Friday Agreement, the streets of north Belfast were scarred by the violence of the night before.
There was sustained rioting against the police in Tiger's Bay in north Belfast for several hours on Friday.
Police were attacked with petrol bombs, stones and other missiles and two officers were seen being helped back to their vehicles after being injured.
A burning car was rammed against a police Land Rover and bins were also set alight.
Officers were attacked in New Lodge early in the evening but there was a lengthy lull before the attacks on police lines intensified at about 23:00 BST.
"This was reckless and dangerous criminal behaviour," said Ch Insp Darren Fox who added that 14 officers had been injured.
Most of the injuries were minor although one officer was knocked unconscious and required hospital treatment.
Evidence was being gathered and "those identified will face the full rigour of the law", said Ch Insp Fox.
'Instantly got a bad feeling'
Rioters attempted to set fire to a car belonging to a press photographer after throwing a large rock through its passenger-side window.
Andrew Johnston, 22, who was asked to cover the violence for a Turkish news agency, said he would not be deterred from his work.
He parked his car on Limestone Road, which crosses North Queen Street where much of the rioting took place.
"At the time police Land Rovers had blocked off the bottom of Tiger's Bay so I presumed rioters wouldn't get past that point," he said.
When he returned to the street at about midnight police in riot gear were surrounding a car.
"I instantly got a bad feeling - I knew the way the police swooped around a car that it was most likely mine.
"When I saw it pushed out onto the road, I couldn't believe it - the inside of it was a mess and the door was badly damaged."
The photographer said he expects the repairs to his car to cost about £1,000.
"I'm always willing to listen to people from all walks of life so I would like others to show some respect to photographers as well," he said.
"I'm not out to capture anyone - I'm purely out to document the situation."
'Prevent these ugly scenes'
In Coleraine about 40 people, many of them masked teenagers, build a road block and set it on fire.
Petrol bombs were thrown at police and some of their vehicles were damaged but no officers were hurt.
The Police Service of Northern Ireland appealed to "parents, guardians and community leaders to use their influence" to prevent a repeat of "such ugly scenes".
Caoimhe Archibald, a Sinn Féin assembly member (MLA) for the East Londonderry constituency, said: "There is no place for this destructive and senseless behaviour."
SDLP MLA Cara Hunter said the "reckless violence" did not "reflect the warm and welcoming people of Coleraine".
Independent unionist MLA and former Stormont justice minister Claire Sugden said the violence in Coleraine had been "nothing more than anti-social behaviour and attention seeking - which is sad in itself".