PSNI say 41 officers injured during NI rioting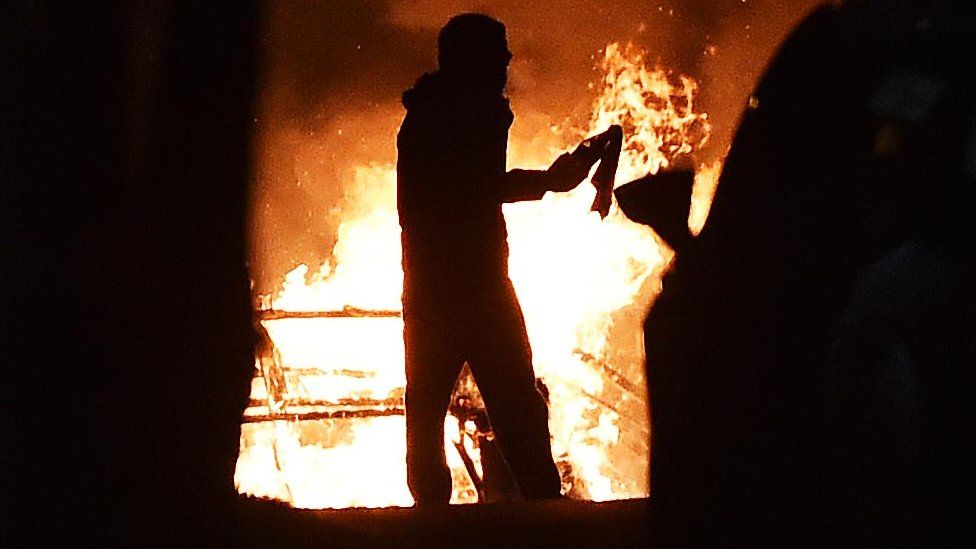 Forty-one police officers have been injured as a result of violence in Northern Ireland in recent days.
On Monday, petrol bombs were thrown in Carrickfergus, a car was set alight in Londonderry and nine officers were injured in disorder in Ballymena.
Police said the officers were injured after they tried to engage with people present at an un-notified parade.
In total, 10 arrests have been made across Northern Ireland during disorder over the past week.
"It is right that people speak out, but it is right that we say to those young people that two wrongs don't make a right," she said.
Mrs Foster said she had spoken to the chairman of the Police Federation for Northern Ireland to offer her support to rank-and-file officers.
"The chief constable needs to resign, and needs to resign quickly. Confidence is gone in his leadership, and confidence is gone in his senior management team."
On Tuesday evening, about 80 loyalist protesters took part in a peaceful demonstration at the Antiville roundabout in Larne, while police looked on.
The A8 was closed in both directions for a short time but has since reopened. There were reports of minor trouble in nearby Linn Road in the town.
During the disturbances on Monday night, police said petrol bombs and masonry were thrown at officers "as they worked to restore order in the areas".
A stretch of the M2 in Ballymena was also closed for a time after debris and bins were thrown onto it.
Social media footage showed a number of masked men taking part in a loyalist band parade in the Jervis Street area of Portadown.
The police and political parties have repeatedly called for calm, with the disturbances blamed on loyalist frustrations over a PPS (Public Prosecution Service) decision not to prosecute people who attended the large-scale funeral of republican Bobby Storey in June 2020, as well as concerns about the NI Protocol in the Brexit deal.
The leaders of the DUP, UUP and TUV have called for Chief Constable Simon Byrne to resign over the PSNI's handling of the funeral, which was attended by a number of senior Sinn Féin politicians, including Deputy First Minister Michelle O'Neill.
The NI Protocol has increased checks and caused disruption for some goods moving between Great Britain and Northern Ireland.
There has been a concern that loyalist anger would eventually make its way onto the streets.
You could say the writing was on the wall - literally - since January and growing tension over the Irish Sea border.
But there is a melting pot of grievances, largely bottled up by lockdown.
This ranges from policing, to politics to societal problems.
The rioting was low-level, relatively scattered and localised - there is no sense of a broader, joined-up orchestration.
And then there were incidents - unlawful marches - where there was no violence at all.
In short, no one reason sparked successive days of unrest.
Several agendas are at play, including the South East Antrim UDA kicking back at the PSNI after a clampdown on its criminality.
Once on the streets, will things gather momentum?
Or will a combination of police action against rioters and a de-escalation of tension and political rhetoric calm things down?
Ch Supt Davy Beck said he believed there were a number of "small disaffected groups that are linked to criminality that are involved in orchestrating and promoting this violence".
He said while there were tensions across communities there was "no justification for violence and attacks on police officers and members of public".
"When our officers have arrived to deal with situations they are met with petrol bombs, debris, wheelie bins and that takes a degree of orchestration - which is evidence this is not spontaneous," he added.
The senior police officer said he did not want to see young people being criminalised.
"Not only did their reckless and criminal behaviour place the lives of our officers in danger, but such senseless behaviour shows the blatant disregard those responsible have for the safety of others by throwing debris onto a motorway.
"It is extremely fortunate no one was seriously injured, or worse."
The assembly is to be recalled on Thursday morning to discuss the violence.
The Alliance party secured the 30 signatures needed for the recall.
During the Easter weekend, officers were injured during violence in Belfast, Newtownabbey, Carrickfergus and Derry.
The Police Federation said some of those who were hurt had potentially "career-impacting" injuries.
Police said the officers injured in Ballymena on Monday were expected to be able to return to duty on Tuesday.