Bobby Storey funeral: Sinn Féin accused of 'arrogance and self entitlement'
By Colm Kelpie
BBC News NI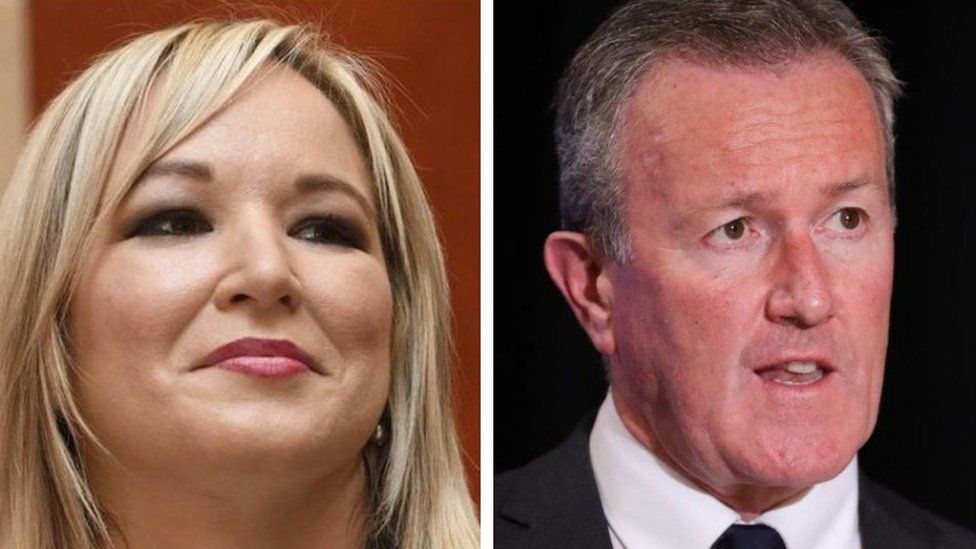 Sinn Féin has been accused of showing arrogance, self-entitlement and privilege over its actions in relation to the funeral of Bobby Storey.
MLAs passed a motion censuring party ministers after it was announced there would be no prosecutions.
The funeral in June attracted 2,000 mourners at a time when Covid restrictions were in place.
The actions of 24 Sinn Féin politicians were examined, including Deputy First Minister Michelle O'Neill.
The BBC understands Her Majesty's Inspectorate of Constabulary is to examine the Police Service of Northern Ireland's (PSNI) role in the funeral. An announcement is expected later.
The attendance of many senior Sinn Féin politicians at his funeral in west Belfast, at a time when strict limits on gatherings were in place, caused a political furore.
Mrs Foster said he had lost the confidence of the unionist community, but he has rejected calls to step down.
In the assembly on Thursday, the deputy first minister apologised "for the hurt that has been caused to so many families who have lost a loved one".
"I am truly sorry that my actions have contributed to the grief or heartache that has been felt and experienced by many people who have lost a loved one during this pandemic. That was never my attention," Ms O'Neill said.
"For that, I offer my heartfelt and unreserved apology to those families who have lost a loved one."
Sinn Féin Finance Minister Conor Murphy, who also attended the funeral, said he regrets the political division it caused.
"I want to say sorry to the wider community and more particularly to apologise fully and unreservedly to those families who were hurt by my actions."
But First Minister Arlene Foster said the wake and funeral procession were clear acts of "premeditated breaches of the Covid regulations".
"The message from Sinn Féin was clear: ourselves alone, ourselves first regardless of the cost of undermining the public health messaging," Mrs Foster said.
"The prioritisation of Roselawn (cemetery) over other grieving families was hurtful, ignorant and callous in the extreme, acts of arrogance, acts of self entitlement, acts of privilege.
"Sinn Féin calls for equality, respect and integrity, but actually demonstrates the opposite."
Mrs Foster said the police had "abdicated" their responsibility.
The motion, proposed by the SDLP, passed unanimously on an oral vote, but has no binding consequences.
The first speaker in the debate, Infrastructure Minister Nichola Mallon of the SDLP, said Sinn Féin made the choice "not to stand with the people but put themselves above them".
"This is no longer about a funeral. It is now an issue of why Sinn Féin believes they are above the restrictions, above the law, above the public health advice," Ms Mallon said.
"We are here today, to hear Sinn Féin account for their actions, to answer the question countless citizens across the north are asking - why is it one rule for the political elite in Sinn Féin and one rule for the rest of us?"
Ulster Unionist Party (UUP) MLA Doug Beattie said Sinn Féin had spoken for just four minutes in a two-hour debate.
"Not good enough. We needed to hear more, and we heard nothing. It was doubling down on the position you were in before we came here today.
"Policing and justice has been damaged. We cannot lay the blame on the rank and file police officer who gets a set of regulations that we write, interprets them, and then on the sharp end of justice, he has to deliver and he will make mistakes."
Justice Minister Naomi Long appealed for Sinn Fein to "step up", make a fulsome apology and give "some comfort at this late stage to the families affected".
"There are many wrongs in this world that cannot be prosecuted in court, but we can still apologise for those wrongs," Ms Long said.
The assembly began sitting at 12:00 BST.
The motion, which recalled the assembly early from its Easter recess, called for assembly members (MLAs) to "condemn" Ms O'Neill and Mr Murphy, who attended the funeral, for "their actions which have caused immense hurt and undermined the executive's public health message".
The recall motion had the support of the DUP, Ulster Unionists (UUP), Alliance and the Green Party.
Opening the debate, assembly Chair Alex Maskey, of Sinn Féin, said he was professional, competent and well within his abilities to preside over the debate, after a point of order raised by DUP MLA Jonathan Buckley.
We've had some heated and passionate exchanges in the chamber, not least from those MLAs who've lost loved ones and friends during the pandemic and were unable to attend their funerals.
They had pointed remarks for both Deputy First Minister Michelle O'Neill and Conor Murphy, both of whom attended Bobby Storey's funeral last year.
Even before the debate started, Sinn Féin MLA and Speaker Alex Maskey was challenged for his impartiality, and that set the tone.
Ms O'Neill was challenged several times across the chamber floor to apologise for her attendance at the funeral.
She didn't do that, but she did say sorry for the hurt caused.
This is a non-binding debate which means there is a vote in the chamber, but there will be no effect on Sinn Féin because this simply registers other MLAs' anger at what happened.
In the absence of a court case, it's another chance for MLAs to deliver their verdicts.
Ahead of the debate, SDLP MLA Matthew O'Toole said the recall would provide a "forum for accountability".
The South Belfast MLA said the motion, which does not have any binding consequences, was not "political game play" but was about holding Sinn Féin ministers to account.
He said people who make the laws "should be held to the same rules as the rest of society".
On Wednesday, Mrs Foster stopped short of saying whether DUP members of the board would step down, but did not rule it out.