Bobby Storey funeral: Arlene Foster calls on PSNI chief to resign
By Colm Kelpie
BBC News NI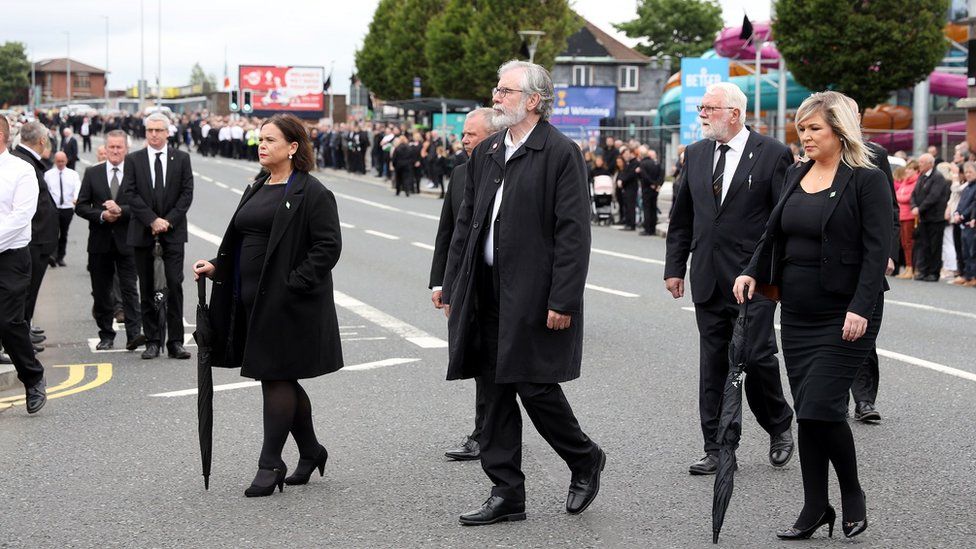 Northern Ireland's first minister has called on the PSNI's chief constable to resign after it was announced there would be no prosecutions in relation to the funeral of Bobby Storey.
Arlene Foster said Simon Byrne's position was now "untenable".
The funeral last June attracted 2,000 mourners - including Deputy First Minister Michelle O'Neill - at a time when Covid restrictions were in place.
The actions of 24 Sinn Féin politicians were examined, including Ms O'Neill.
Mr Storey, 64, was a senior republican figure and had formerly been the head of intelligence for the IRA in the 1990s.
The attendance of many senior Sinn Féin politicians at his funeral in west Belfast, at a time when strict limits on gatherings were in place, caused a political furore.
A police file has been with the Public Prosecution Service (PPS) since December.
Mr Byrne said on Tuesday afternoon that he would not resign and that the force has policed impartially.
The first minister said she telephoned Mr Byrne and told him to resign. She said she regretted his decision not to, and that she would be speaking to Northern Ireland Secretary Brandon Lewis later.
SDLP Stormont recall push successful
Meanwhile, it has been confirmed that the Stormont Assembly will be recalled from Easter recess to debate a motion of censure against Sinn Féin.
It follows a recall petition proposed by the SDLP and supported by the DUP, UUP, Alliance and Green Party. A recall petition requires signatures of 30 MLAs in order to be successful.
It is understood MLAs have been told by the Speaker Alex Maskey that the assembly will be recalled on Thursday 1 April at 12:00.
On Tuesday, Director of Public Prosecutions Stephen Herron said he acknowledged the widespread public concern over attendance at the funeral.
But he added the Health Protection (Coronavirus Restrictions) Regulations (Northern Ireland) 2020 had become "extremely difficult to navigate" because of various amendments, and were in some respects "inconsistent".
He added organisers of the funeral and the police had engaged against "the backdrop of evolving regulations".
This was done, Mr Herron said, to ensure a balance was struck in the funeral arrangements "between respecting the sensitivity of the occasion and minimising any risk to both public health and safety".
"Prosecutions can only be brought where the available evidence provides a reasonable prospect of proving, beyond reasonable doubt, a breach of the criminal law."
'Insurmountable difficulty'
He added: "As a result of the factors considered we have concluded that the prosecution could not prove any breach of the regulations to the required standard."
Mr Herron said the "lack of clarity and coherence within the regulations and the prior engagement between organisers and the police" would "pose an insurmountable difficulty" if prosecutions were brought.
"This is because they could all avail of a defence of reasonable excuse in terms of their actual or reasonably perceived compliance with a complex set of regulations and/or their reliance on the prior engagement with PSNI," he added.
"The law as it applied to the Storey funeral was changed significantly on the evening before the funeral and further amended two days later."
Mr Herron said the law relating to permissible conduct in the course of the pandemic was "not always clear cut and this can be challenging when it comes to enforcement of what are essentially health regulations in a criminal justice context".
'Public display of arrogance'
Mrs Foster said it was a bad day for justice, policing, and the rule of law.
She said the engagement between the Police Service of Northern Ireland (PSNI) and the funeral organisers was a factor in no prosecutions being made.
"The position of the chief constable is now untenable and I am calling on him to resign. Sadly, it is now clear confidence cannot be rebuilt with him in post."
She said there was a crisis of confidence in policing.
"I think this is the most bizarre situation we have found ourselves in Northern Ireland in quite some time," she said.
Mrs Foster said Sinn Féin had acted as though the party was above the law.
"To claim ignorance of the law is no defence when you helped legislate those very same regulations," she said.
"Hundreds lined the streets dressed in white shirts and black ties and attended a political rally in Milltown Cemetery when the limit on public gatherings was 30.
"There was a complete lapse of leadership and a public display of arrogance by Sinn Féin's elected representatives. Public health rules were undermined and irreparably damaged."
Simon Byrne can soldier on if he wants to soldier on - but if he does, how can he rebuild the unionist community's confidence in him?
That confidence was at a pretty low ebb even before today's PPS decision.
There is a meeting of the Policing Board on Thursday and I'm hearing from DUP sources that this is something they're not going to drop quickly, even if Mr Byrne has made it clear that he's not for quitting.
We need to remind ourselves that it is not unusual for the PSNI to engage with individuals ahead of large-scale events, and this funeral is no exception.
What a lot of people within unionism are struggling to comprehend is a full understanding of what went on in those conversations to such an extent that it has compromised a prosecution.
There may be momentum growing for a further investigation, maybe though the Police Ombudsman, to get to the bottom of what went on before the funeral.
It is bizarre, though, that we're in a situation where the PSNI is taking a lot of flack and the PPS has simply issued a statement.
It was the PPS which reached this decision - a decision the PSNI has been at pains to say it disagrees with - and the police have found themselves on a hiding to nothing.
Deputy First Minister Michelle O'Neill said she wanted to once again apologise "for the hurt that has been caused to so many, including to Bobby Storey's own family who have been thrust into the headlines at a time of immense grief".
"Nine months ago I laid my dear friend Bobby Storey to rest. I accept and understand that many people, particularly those who had lost loved ones during the last year, felt that by my actions, I gave the impression that the rules did not apply to us all equally. Let me say clearly they do," Ms O'Neill said.
"No funeral is more important than any other. No family or community is any more important than any other. All grief is devastating."
Meanwhile, Justice Minister Naomi Long said she did not agree with the call for Mr Byrne's resignation.
She said he was being used as a "lightening rod" for people's anger.
"I don't believe it is the chief constable's fault that we have found ourselves in this position," she said.
"It is wrong that we should direct our anger towards him and the police."
She also said it was not the fault of the PPS.
Mr Byrne said enforcing the coronavirus regulations has been a "consistently challenging and often uncomfortable role for my officers".
He said police did recommend prosecutions in the case.
"The PPS decision points to the ambiguity and changing nature of the coronavirus regulations in force immediately before and on the day of the funeral which, in their view alone, amounted to an insurmountable hurdle to a successful prosecution," he said.
'We did not turn a blind eye'
"The decision not to prosecute does not change our view that what happened last summer when large numbers of people chose not to 'stay at home' at the height of a global pandemic was unnecessary, irresponsible and insensitive. It was wrong."
The chief constable said that if he was to resign, it would undermine his successor.
"Sometimes decisions don't go the way people want," he said.
"Public servants need to be held to account, yes, but every time something doesn't go the way of somebody's point of view, and if we have to resign, there's no continuity."
Mr Byrne said no deals were done with the organisers of the funeral.
"We did not turn a blind eye," he added.
The Policing Board said it would have an opportunity to question Mr Byrne at its meeting on Thursday.
The police investigation into suspected breaches of pandemic regulations began in July, with Mark Webster, the deputy chief constable of Cumbria Police, providing independent oversight.
It is understood all of those interviewed were Sinn Féin politicians.
Two people are facing prosecution in connection with attendance at the funeral of former Sinn Féin councillor Francie McNally in mid-Ulster in April 2020.