South East Antrim UDA: 'A criminal cartel wrapped in a flag'
By Jennifer O'Leary
BBC NI Spotlight reporter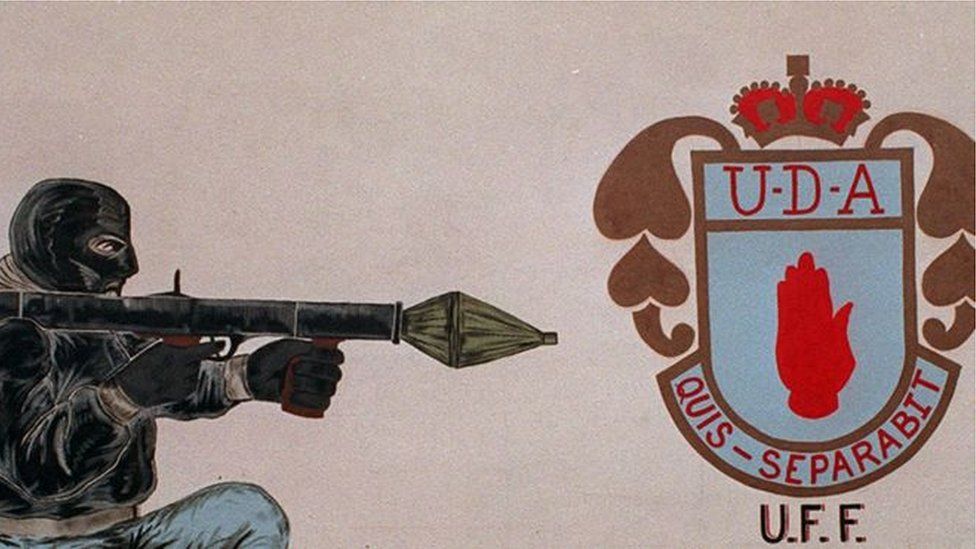 A Northern Ireland group, which includes representatives of loyalist paramilitaries, recently withdrew its support for the Good Friday Agreement.
The move, some say, does not signal a return to violence. However, some communities in Northern Ireland still live in fear of violent loyalist paramilitary gangs and risk brutal consequences for doing or saying anything that gang members perceive as offensive.
This week, a BBC Spotlight programme on the murder of Glenn Quinn investigated the savagery at the heart of one of Northern Ireland's largest loyalist gangs - the South East Antrim Ulster Defence Association (UDA). Here, reporter Jennifer O'Leary writes about how the group continues strike fear into communities.
Carrickfergus is a town that once inspired a classic Irish folk song about longing.
The 47-year-old had no connections to any paramilitary gang, but was beaten to death in his home in January 2020 after being threatened by the group.
His perceived "crime" was a throwaway remark he made privately, when he criticised an attack by the South East Antrim UDA on a friend's business.
The gang is a standalone faction of the UDA.
Formed in 1971 from a number of loyalist vigilante groups, the UDA's stated aims were to protect unionist communities from attacks by republican paramilitaries, but it went on to kill hundreds of people during the Troubles using a cover name - the Ulster Freedom Fighters.
The UDA was only proscribed - or declared illegal - in 1992 and, as the Troubles ended, the group began to fracture.
"The South East Antrim UDA were part of the UDA inner council," explained Jim McDowell, a former editor of the Sunday World newspaper.
"But then what happened was that the UDA began to splinter into criminal gangs, criminal fiefdoms."
'Cartel wrapped in a flag'
Security sources say that with more than 2,000 members, the South East Antrim UDA is one of Northern Ireland's largest paramilitary gangs.
Former PSNI superintendent Ken Pennington said he considers them to be "a criminal cartel that have wrapped themselves in a flag".
"They will extort, they will assault, they will hold back their community in order to sustain their own business," he said.
"And if they are a defender of anything, it is their own criminal interests."
According to a recent MI5/police intelligence assessment shared with Spotlight, the South East Antrim UDA "has access to arms" and is "heavily involved in drugs supply, community coercion, intimidation and other criminality".
Spotlight made contact with a former senior PSNI officer who was at the forefront of policing efforts against the gang. He was interviewed on the basis of anonymity.
"These people are completely ruthless, I believe that it would put my life in danger," he said.
"Drugs is the big one. They have a number of supply lines. I know some comes in from Europe.
"The vast majority of it comes in from down south, from one of the well-known crime gangs down there.
"When we look at what they try and portray themselves to be, defenders of their area, I can't see how that ties in with dealing drugs in a community."
The South East Antrim UDA's tally of violence spanning two decades includes a roll call of unsolved murders.
Rev Philip McAlister officiated at his funeral.
"It was very tragic, on the day of the funeral, to have a large police presence around the church," he said.
"I think that the powers that be know exactly which individuals are involved. It's very difficult to deal with the issue of their control, because of the fear that they just instil into people."
Money drives the South East Antrim UDA's criminal interests, made off the backs of communities who are ruthlessly subjected to a code of silence.