St Patrick's Day: Police issue 135 fines in Covid-19 enforcement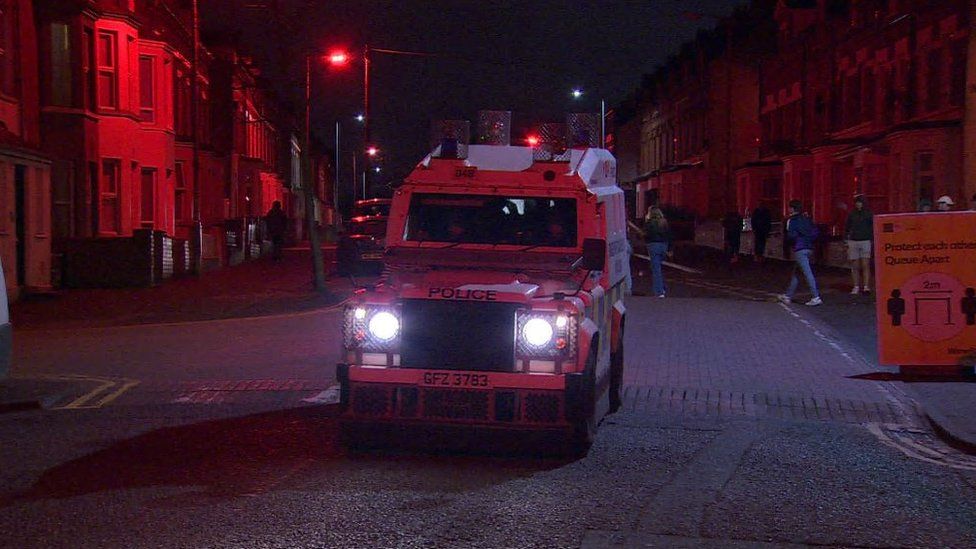 Police issued 135 Covid fines as part of a large-scale operation to enforce Covid-19 restrictions on St Patrick's Day across Northern Ireland.
However, police have said that people mostly heeded the collective message to celebrate the day responsibly.
There had been concerns about house parties taking place and possible Covid-19 regulation breaches.
Police said they went to nine properties in the Holyland area and issued a total of 55 Covid notices, with some people being fined £200.
Two other people will be reported to the Public Prosecution Service.
It took less than an hour after police arrived for the area to be cleared.
PSNI Assistant Chief Constable Alan Todd said he was "happy" that the vast majority of people across Northern Ireland headed the message and celebrated St Patrick's Day while adhering to the health regulations.
"We had a comprehensive policing operation in place yesterday to help ensure that this St Patrick's Day was peaceful and safe," he said.
"Whilst we did note large numbers in some parks and beauty spots, officers implemented our four Es strategy, Engage, Explain, Encourage, and lastly Enforce, and encouraged people to return home where necessary, including a number of groups in Botanic Gardens in Belfast."
He said there had been incidents of anti-social behaviour and alcohol had been seized from young people and those drinking in public spaces.
Meanwhile in the Republic of Ireland, 21 people were arrested at anti-lockdown protests in Dublin.
It came as part of a Gardaí (Irish police) operation to prevent lockdown protests, which were being planned on social media.
Thirteen men and three women arrested by 15:00 GMT on Wednesday. Ten people have been charged.
More than 2,500 Gardaí have been deployed at checkpoints and arterial routes across the country.