Coronavirus: Two further Covid-19-related deaths in NI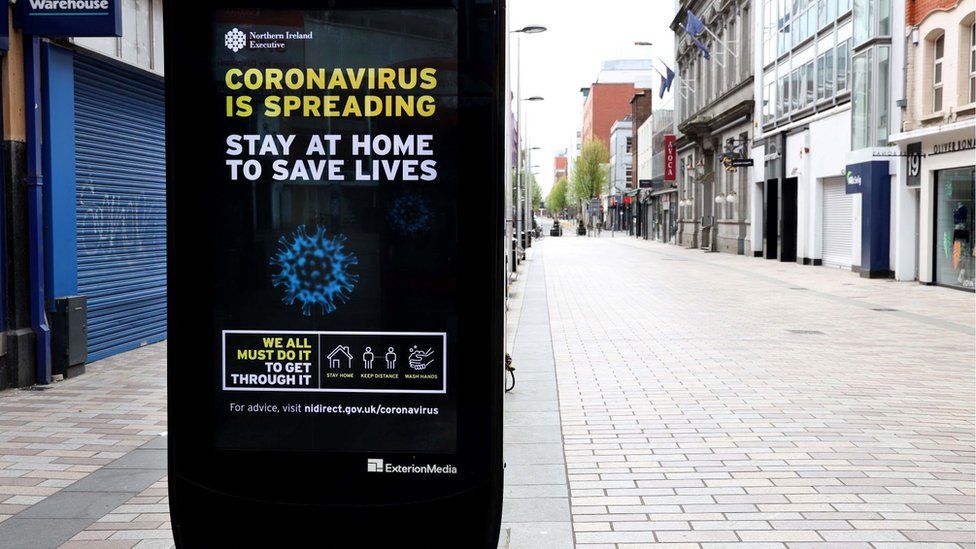 A further two deaths related to Covid-19 have been reported in Northern Ireland, according to the Department of Health.
That brings its total during the pandemic to 2,052.
There have been 112,357 positive cases of the virus recorded in NI after an additional 184 cases were confirmed.
Hospital occupancy rates, according to the latest figures, stands at 95%, while there are 28 active outbreaks in NI care homes.
It shows there are 307 Covid-19 inpatients across Northern Ireland's hospitals, a daily fall of 28.
Thirty-six patients remain in intensive care, while there are 31 coronavirus patients requiring ventilation.
That is about 27% of the overall population and about 35% of the adult population.
On Friday, the Northern Ireland Statistics and Research Agency (Nisra) recorded another fall in the weekly number of Covid-19-related deaths.
The virus was mentioned on 78 death certificates in the week to 19 February, bringing Nisra's death toll to 2,751.
A further 13 Covid-19 related deaths and 738 cases have been reported in the Republic of Ireland.
There has been a total of 4,313 coronavirus-related deaths and 218,980 cases confirmed in the country since the beginning of the pandemic.
PSNI warning over Portrush 'car cruise'
Meanwhile, the Police Service of Northern Ireland (PSNI) has urged people not to take part in a planned "car cruise" in Portrush on Sunday.
Insp Rory Bradley said police were reminding people to adhere to coronavirus restrictions, which "stipulate that no person may leave or remain away from a place where they normally live without excuse".
The PSNI said it will have additional officers on patrol in and around the north coast over the weekend.
Insp Bradley added that people who are showing disregard should expect "swift enforcement".
"We will always engage with people first explaining the guidance and the law and encourage people to comply, judging each case on its own merits.
"However, where we are left with no choice but to enforce, we will take this measure in order to protect the most vulnerable members of our communities and help protect our NHS."