House prices in Northern Ireland rise 5.3% in a year
By Clodagh Rice
BBC News NI Business Correspondent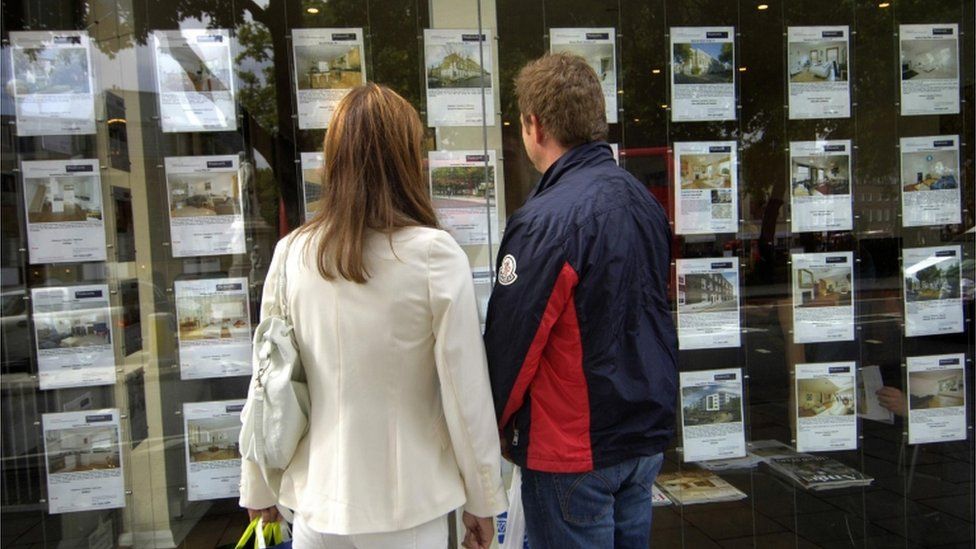 Houses prices in NI at the end of 2020 were 5.3% higher than the same time in 2019, according to the latest figures.
House viewings are permitted during the latest Covid-19 restrictions, after the market was effectively closed between March and June last year.
In spite of the economic shock the pandemic had on employment, house prices are still rising.
Jordan Buchanan, chief economist at PropertyPal, said activity in the housing market was "rather remarkable".
"Housing markets right across the world are reporting rising prices, which is counter to the expectation during one of the biggest economic recessions of our lifetime," he said.
"Last year the UK economy contracted by about 10% - if we think back to when the pandemic first hit back in March almost no-one was predicting house prices would be rising at 5% so it has come as a surprise to many."
He said private and social renters had been more exposed to job losses than traditional owner-occupiers and that wealthier people were contributing to the trend.
"For instance, sales of four- and five-bed houses have increased by nearly 50% on PropertyPal over the last year, which is because of that impact on inequality," he said.
'It sold in about five days'
Stamp duty - the tax paid by people buying properties - has been suspended in Northern Ireland on the first £500,000 of property sales since July but that is due to end on 31 March 2021.
People who are in work are not spending on things like holidays - they are saving more and lifestyle changes mean some are looking to move.
Diane Allison has lived in east Belfast for 30 years and is now moving to the Ards Peninsula.
"We saw the house that we really, really wanted - it was a bit further out but because of the pandemic and working from home we realised we could actually make it work so we went for it," she said.
She said her house "sold in about five days".
"I didn't realise it would happen so quickly - from the moment the sign went up and it went online the phone was ringing continually."
While the stamp duty holiday has boosted sales, one estate agent has said it was not the only reason demand had remained strong.
Simon Brien said: "A lot of people sitting at home were realising they wanted a change of lifestyle or wanted more space.
"Really from summer last year it has been exceptionally busy and that carried right through December and January which is traditionally a much quieter time of year.
"The stamp duty holiday has prompted a lot of people to try and complete before the end of March but by no means has that been the only driver."