Brexit: NI port operators warn of grace period end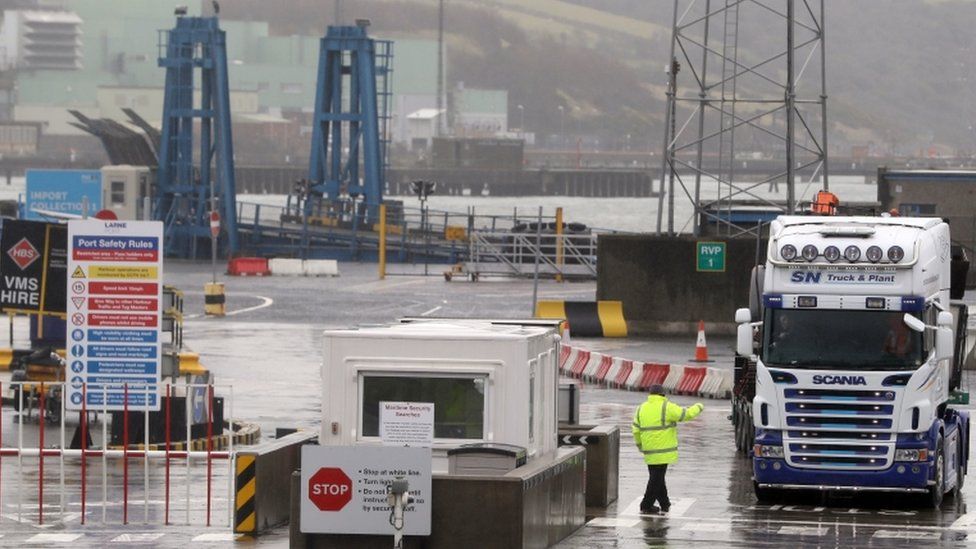 A Northern Ireland port operator has questioned whether businesses in Great Britain will be prepared for the end of Irish Sea trade border "grace periods".
MLAs have been told how ports in NI are benefiting from extra freight traffic which is no longer travelling through Dublin because of checks.
The first of the grace periods ends at the start of April.
NI's four port operators gave evidence to Stormont's Infrastructure Committee about the effect of the NI Protocol.
The grace periods were agreed by the UK and EU to allow businesses in NI to adapt to new rules on customs and product standards which came into force on 1 January.
The operators said it was too early to assess the fallout from the border on traffic volumes moving through Belfast, Larne, Warrenpoint and Londonderry ports.
On Wednesday, the committee also heard how businesses, traffic and haulage have been affected by the closure of hospitality and other sectors because of Covid-19 restrictions.
David Holmes, chief executive at Warrenpoint Port, said the full impact would only emerge when the grace periods end.
He said it was clear businesses in Great Britain were not prepared for the end of the transition period and that "begs the question how prepared will they be for the end of the grace periods".
Earlier Stormont Economy Minister Diane Dodds said she was "not against a short Swiss-style deal" to ease Brexit trade issues across the Irish Sea but warned it would have to apply UK-wide.
But then, on Wednesday afternoon, DUP leader Arlene Foster said that a Swiss-style UK-EU deal to resolve Brexit trade issues across the Irish Sea would not be a full solution.
She added that the arrangement would only deal with one aspect of checks, while requiring the whole of the UK to follow some EU rules.
"It would only be part of a solution, and only if the UK government would buy into the entirety of the UK aligning, so for us what we're really interested in is a long-term solution.. and that's not it," the first minister told BBC News NI.
Mrs Foster said the UK internal market was "being ruptured" by the protocol, and that the promise of GB-NI unfettered access needed to be delivered by Boris Johnson.
The protocol keeps NI in the EU single market for goods to ensure free trade across the Irish border but many unionists have criticised the knock-on effects of disruption and extra paperwork for transporting some goods from Great Britain to NI.
The Swiss model is a suggestion to align animal and plant health regulations between the UK and the EU to avoid the need for checks on many forms of trade.
Mrs Dodds said she was "not against anything that will bring any short-term relief", including not being opposed to "a short Swiss-style deal in and of itself".
But said she did not believe such a proposal would "fly" with the Conservative government as the UK would have to "slavishly follow" some EU rules in spite of Brexit.
On Tuesday, she had dismissed the idea of a Swiss-style deal in the assembly and said she "believes in the sovereignty of the United Kingdom".
She explained: "If the Swiss wanted to turn right, they had to ask for permission from Brussels".
Speaking on Wednesday, she said: "What it will require - and what I was reflecting yesterday - was the fact that the whole of the UK would have to sign up to that, so the whole of the UK will have to follow EU rules."
The DUP has written to all MPs asking them to support calls to scrap the protocol.
It comes ahead of a debate in parliament next week after a DUP petition secured more than 100,000 signatures.
The letter, seen by BBC News NI, sets out a range of trading areas the party outlines have been disrupted since the protocol took effect on 1 January.
The answer to the "problems of the protocol lies in its replacement", it said.
Ulster Unionist leader Steve Aiken said anything which eased trade issues should be backed.
"The protocol has to go but one of the things we should do is be looking at everything we can do to minimise what's happening right now," he said.
"If there's going to be some form of recognition of agricultural produce that means that a large chunk of that Irish Sea border disappears, why wouldn't you want to support that?" Mr Aiken questioned.
Mr Aiken criticised those are "wedded to this idea of a hard Brexit when in fact you could be doing something to help reduce the Irish Sea border".
Unionist opposition to the protocol remains firm, but detail on what they want to replace it with remains fuzzy.
The idea of a Swiss-style deal has grown legs after the UK Environment Secretary George Eustice sounded open to it when questioned last week.
Having initially dismissed it, Diane Dodds has now changed her tone, though she stressed that anything stripping back the purpose of Brexit was unlikely to get support from Tory MPs.
There is also another problem for political unionism: their involvement in resolving the issues is constrained by having to rely on the big beasts in London and Brussels.
All the Stormont parties say they are committed to working through the problems with the protocol, but they are totally at odds over how it should happen which makes it difficult for the executive to present a united front in discussions with the UK and EU.
Business leaders and civic society groups will hold meetings with NI Secretary Brandon Lewis and EU Commission Vice-President Maros Sefcovic on Thursday, amplifying pressure to find a way forward.
Alliance Party MP Stephen Farry said "there is a growing consensus" that a Swiss-style "could be on the table".
"The more the UK is prepared to acknowledge and have a system of alignment with the EU around food and animal movements then we can soften and reduce most of those checks down the Irish Sea," he said.
Mr Farry said this is "not about unpicking Brexit".
He explained: "Countries as far away as New Zealand have a better means of dealing with the EU on food and animal movements than Great Britain does."
SDLP MLA Matthew O'Toole said the protocol provides many "opportunities" for NI producers, however, he said it was worth exploring "practical, workable alternatives" to ease disruption.
"No-one seriously thinks that any hypothetical trade deal is going to replace the market that GB producers have already lost by leaving the EU single market," he added.