Netflix begins filming first major production in Belfast
By Robbie Meredith
BBC News NI Education and Arts Correspondent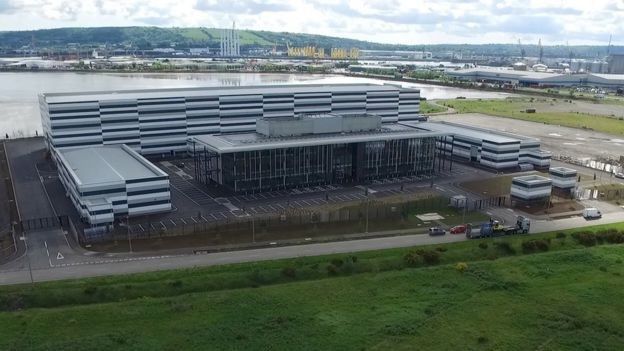 The streaming giant Netflix has begun filming its first major production in Belfast.
The School for Good and Evil has gone into production at Belfast Harbour Studios.
The film is based on Soman Chainani's best-selling novel series about a school where boys and girls learn to be fairy-tale heroes and villains.
It will be directed by Paul Feig, who directed hit films including Bridesmaids and Last Christmas.
The chief executive of Belfast Harbour, Joe O'Neill, said the production would be filming in the studios for around seven months.
"We're absolutely delighted to secure Netflix, given the size and scale of the organization and I hope it's the first of many productions that we can secure from them," he told BBC News NI.
"I think when anyone's developing or if anyone was developing a business case for a screen and media hub with production stages, you would have Netflix right up at the top as your target.
"They produce around 70 to 80 movies a year so clearly we hope that if they have a very positive experience here working in Belfast and Northern Ireland that once The School for Good and Evil finishes that they'll commit to further productions."
Mr O'Neill said he estimated that around 350 people would be employed on the film and he said "the majority" would be local crew.
"A lot of them will be continuity rules in that regard, in that we just wrapped up at the end of 2020 our last production called The Northman and a lot of the team that was working on that will continue to work on the Netflix production," he said.
The Northman, starring Nicole Kidman, Alexander Skarsgard, Bjork and Ethan Hawke, is a Viking revenge thriller which recently completed filming in Northern Ireland.
The chief executive of Northern Ireland Screen, Richard Williams, also said that securing The School for Good and Evil was a major boost to Northern Ireland's screen industry.
"Netflix is the world's largest subscription streaming service with millions of subscribers worldwide and an outstanding track record for offering very high quality, original programming; for another global player like this to choose Belfast as its base is a great start to the new year," he said.
Meanwhile, Mr O'Neill said that Belfast Harbour expected to be able to build a major expansion to its studios this year.
"We are out to tender for that project at the moment and hopefully we'll get our tenders back in February and then take our final investment decision," he said.
"It's very much part of our ambition to develop the second largest hub in the UK outside of Greater London for screen and media.
"And when we do complete that expansion, we should be that in scale terms at least."