Brexit: Why are the shelves empty in some supermarkets?
By Chris Andrews
BBC News NI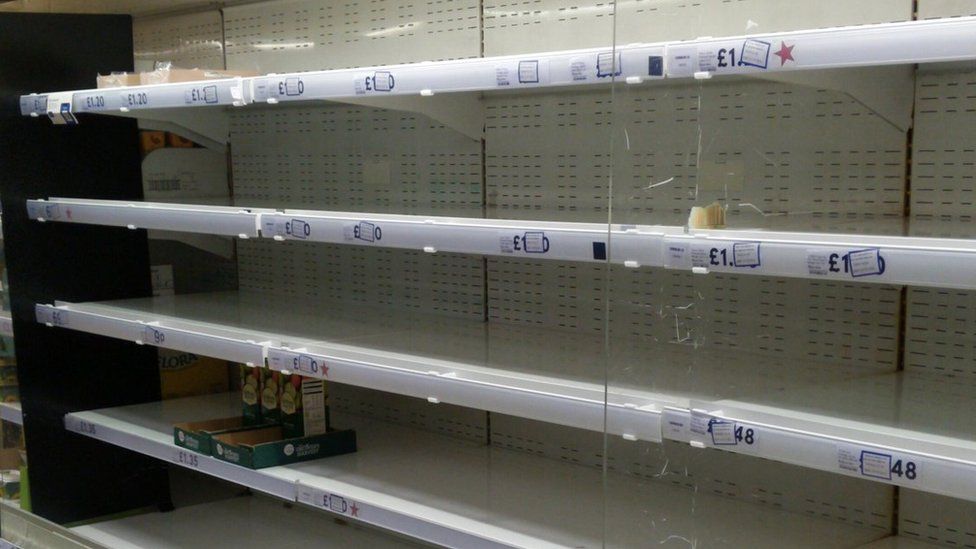 New Brexit arrangements have caused disruption to fresh produce reaching supermarket shelves in Northern Ireland, some of the leading shops have confirmed.
From 1 January 2021, checks have been placed on goods arriving into Northern Ireland from Great Britain.
There have also been delays at the Port of Dover.
Asda, Sainsbury's and Tesco have told BBC News NI that some products have faced delays or are in limited supply.
Sainsbury's said: "A small number of our products are temporarily unavailable for our customers in Northern Ireland while border arrangements are confirmed."
The supermarket chain said it was prepared for this, and had been stocking alternative products in the meantime.
Sainsbury's added it was working hard "to get back to our full, usual range soon".
Tesco said it was facing "a short delay" on certain products.
"We're working with suppliers to get these back on the shelves as quickly as possible and direct customers to alternatives where we can," said a spokesperson.
The company added that it had a "good supply of products coming into Northern Ireland".
It is understood that Asda expects there to be shortages of a small number of fresh fruit and vegetable items while a backlog is cleared caused by issues at Dover in December.
Some product limits have been placed on items at Asda as a result.
BBC News NI has learned the supermarket does not blame availability issues on additional paperwork, which is required for lorries to cross from Great Britain to Northern Ireland.
This is required after a new regulatory and trade border was created as part of the UK government's Brexit deal with the European Union.
Marks & Spencer and Co-Op have told BBC News NI they are still receiving deliveries as normal.
Wholesale firm Makro said it had a "good supply of products coming into Northern Ireland", however, confirmed it had also experienced a "short delay on certain products".
A UK Government spokesperson said: "As we have seen over the last year the UK has a large, diverse and highly resilient food supply chain.
"No lorries have been turned back at Northern Irish ports and supermarkets report healthy supplies into Northern Ireland stores.
"We continue to work closely with traders as they adapt to the new arrangements."
Meanwhile, an independent greengrocer in County Fermanagh said he expected his supply lines to remain secure.
John Gillen, from Enniskillen, said many new customers had come to his shop, which has been based in the town for more than 50 years, as they could not find some items at the larger supermarkets.
"All the Spanish products such as tomatoes and peppers are getting very scarce and expensive," he explained.
"You also have mangetout, baby corn, fine beans, avocados, mangos, they are very hard to get at the minute.
"I have a secure enough supply line, at the minute I'm ok."
Mr Gillen said some of these imported items were not his biggest sellers, and most of his fruit and vegetable stock was sourced locally.
He said it would not be "the end of the world" if some items were difficult to find.
"We'll get through this," he added.