Coronavirus: Extended period of remote learning for NI schools
By Jayne McCormack
BBC News NI Political Reporter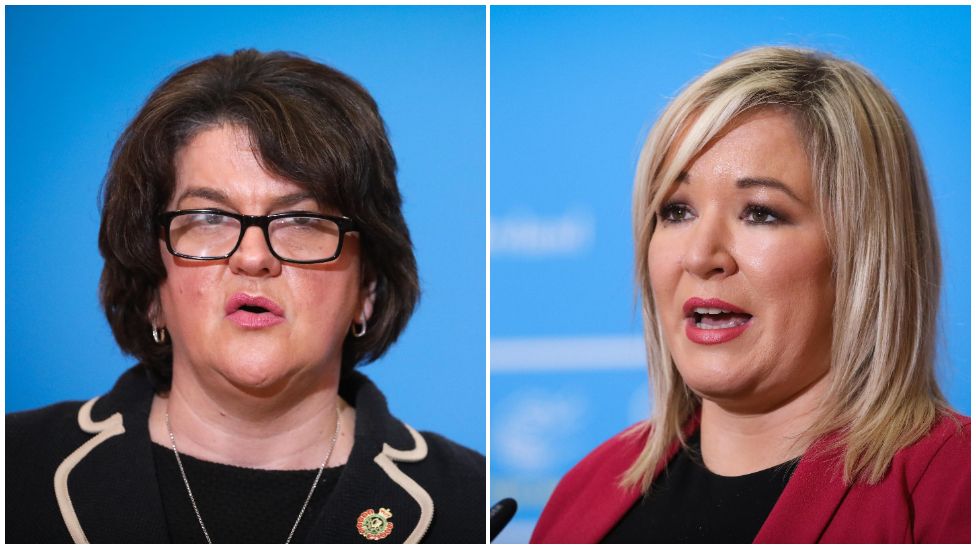 There will be an extended period of remote learning for schools in Northern Ireland, the executive has said.
The Stormont executive also plans to give its stay at home guidance legal force, with new restrictions on travel.
Deputy First Minister Michelle O'Neill said details would be formalised on Tuesday.
The health and education ministers will bring separate papers on the issues to the executive at the meeting, she added.
The first transfer test, used by many grammar schools to select pupils, is due to take place on Saturday but there have been calls from some teaching unions and political parties for the test to be cancelled this year, in light of the uncertainty with the pandemic.
Recommendations on exams in Northern Ireland are also expected to be brought forward by the executive on Tuesday.
It is understood ministers will update the assembly on Wednesday about their decisions.
First Minister Arlene Foster said the new restrictions were unfortunate, but necessary.
She said she believed the stay-at-home message will be in place "for the rest of January, probably into February".
"We will of course review it, as we're legally bound to do every couple of weeks."
She added that ministers would "much prefer" for face-to-face education to continue, but said they had to "take into account the very serious situation that we find ourselves in tonight."
Both organisations which organise transfer tests will be making announcements on Tuesday, she said.
"We'll wait to hear what they have to say. They do of course have to abide by public health advice, but they are private organisations and they will make their own announcements."
The Irish government is considering a proposal to close schools for the rest of January.
On Monday, the Department of Health reported that a further 1,801 people had tested positive for the virus in the past 24 hours.
There have also been 12 more Covid-19 related deaths.
These latest figures from the Department of Health bring the total number of deaths to 1,366, while 79,873 people have tested positive for the virus since the pandemic started.
More than 12,000 cases have been reported in the past seven days, more than double the week before.
The seven-day rate per 100,000 people is now 660 positive cases, compared to 200 per 100,000 two weeks ago.
In the Republic of Ireland on Monday, an additional 6,110 confirmed cases of Covid-19 were announced, with six further deaths linked to the virus.
Speaking on BBC Radio Ulster's Evening Extra programme, Dr Michael McBride said Scotland's measures were "prudent and sensible".
Up to 11,000 people aged over 80 across Northern Ireland are set to receive the this week, with some of the first doses delivered at a GP surgery on the Falls Road in West Belfast on Monday afternoon.
The SDLP has called for the assembly to be recalled on Tuesday to discuss the rolling out of the vaccine.
It can be recalled if at least 30 MLAs sign a petition.
On Monday, Justice Minister Naomi Long welcomed the opening of Northern Ireland's first Nightingale venue, which will be used for courts and tribunals business.
The facility was approved by a meeting of the executive on 17 December, and will sit in the International Convention Centre in Belfast (ICC).
Activity at the centre will be phased in, in line with Covid-19 regulations.
In other coronavirus-related developments on Monday: