Thousands of sheep 'stuck in limbo' over Brexit regulations
By Conor Macauley
BBC NI Agriculture & Environment Correspondent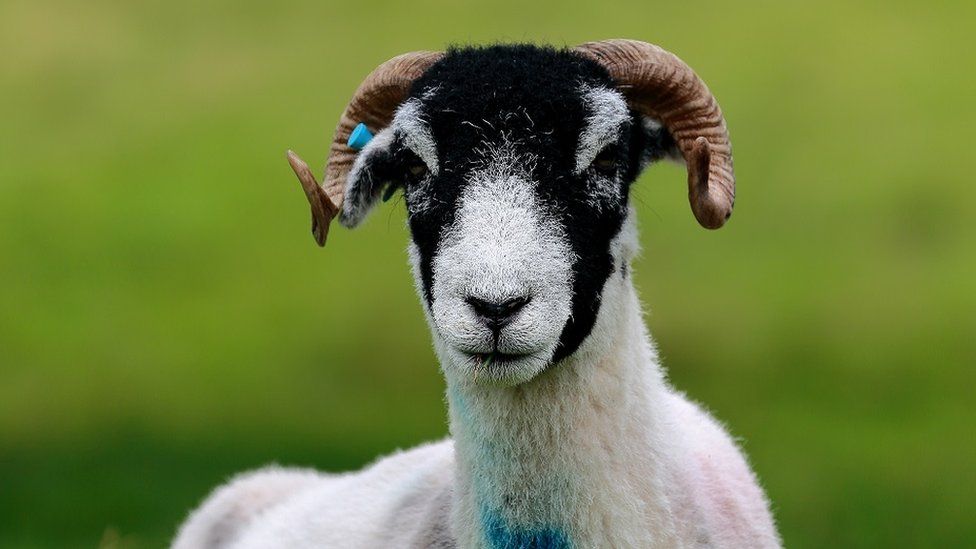 Thousands of sheep bound for Northern Ireland are stuck "in limbo" in Great Britain due to Brexit complexities.
There is an annual trade across the Irish Sea which sees up to 10,000 animals travel.
They are mostly breeding stock, but strict new rules will apply at the end of the Brexit transition.
They mean that ewe lambs, bought and paid for by NI farmers at autumn sales, may not be able to come in as usual in spring.
It is estimated that up to 5,000 such animals might be involved and in total the wider trade in sheep of up to 8,000 animals a year could be halted.
The head of the National Sheep Association in Northern Ireland said his phone had been ringing constantly since the issue came to light in recent days.
Edward Adamson said he knew of one farmer who bought several hundred ewes and was not now sure what would happen with them.
"These animals have been bought and paid for and are sitting in limbo not allowed to come into Northern Ireland," Mr Adamson said.
The animals must remain in Britain for a set period after sale to comply with existing disease quarantine rules and would traditionally be imported in the first three months of next year.
The complication arises because the UK is leaving the EU, but Northern Ireland remains subject to its animal health regulations under the Northern Ireland Protocol.
That means that sheep being brought into Northern Ireland from Great Britain must meet rules on animal imports from a third country.
There will be an even more stringent application of the rules to prevent the introduction of sheep diseases into the single market.
Because the animals cannot move until the spring, they will be caught by those enhanced regulations.
They include a requirement that only sheep from flocks which are monitored for certain diseases over several years are imported.
That monitoring has traditionally not been done on the breeds which Northern Ireland farmers favour so the animals can't comply with the import regulations.
Mr Adamson said there needed to be a derogation to allow this year's sheep to come in, before attempts were made to address the wider issue.
A spokesperson from the Ulster Farmers Union said it was "deeply concerned" over the import regulations.
The spokesperson added: "These procedures will have serious implications for NI's sheep industry. The main worry arises from the export health certificate requirements which specifies that exported sheep must come from a flock monitored for scrapie.
"Approximately 9,000 sheep are imported from GB every year. Their worth is extremely high, not just in monetary terms but because of the value they add to the breeding cycle of NI's ewe flock.
"Our members are extremely anxious about what they need to do next, as many have already paid for sheep from GB in good faith and have no idea if they will get them home now or not".