Pat Finucane killing: US representatives call for public inquiry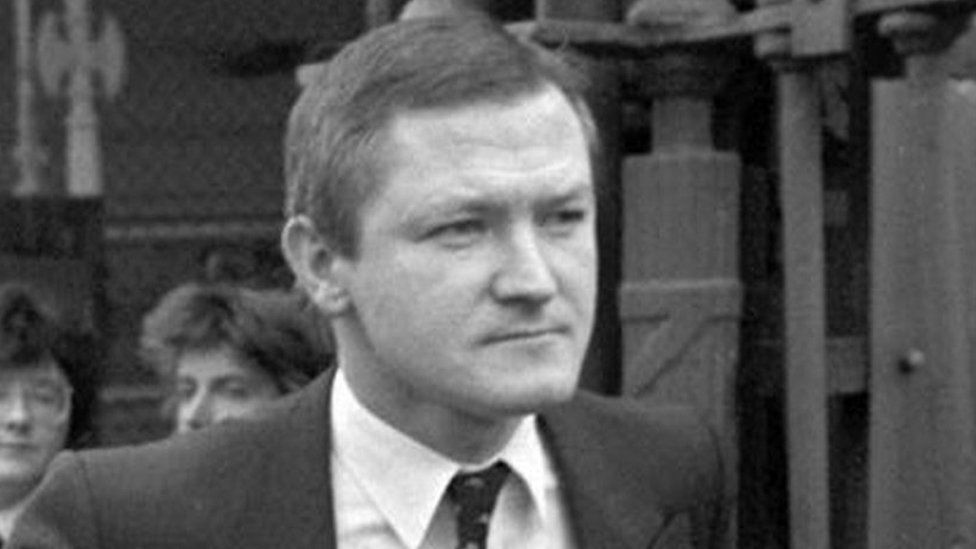 Twenty-four members of the United States Congress have called for a public inquiry into the murder of Pat Finucane.
The solicitor was 39 when he was shot dead by loyalist paramilitaries in his north Belfast home.
His family have campaigned ever since for a public inquiry to establish the full scale of security force collusion.
The 24 signed a letter to Prime Minister Boris Johnson calling for such an investigation to be confirmed.
On Thursday Taoiseach (Irish Prime Minister) Micheál Martin confirmed he had also contacted Mr Johnson about the issue.
Mr Finucane, was a high profile solicitor who represented both loyalists and republicans - including prominent members of the IRA.
He was shot dead by loyalist paramilitaries, the Ulster Defence Association (UDA), in front of his wife and their three children.
In 2012 a government-commissioned review found agents of the state were involved in the killing and it should have been prevented, but also said there had been "no overarching state conspiracy".
Mr Finucane's widow Geraldine has campaigned for a public inquiry for many years.
The letter from the 24 members of the House of Representatives states: "The British government has refused to live up to its responsibility".
"Now, nearly 15 years later, and several years after former Prime Minister David Cameron acknowledged "shocking levels of collusion" - and issued an apology to the Finucane family - we remain astounded that the British government has refused to live up to its responsibility, and is violating its commitments to establish the inquiry."
The letter goes on to say an inquiry is "the only way to get to the truth and best serve public and international interests".
It has been welcomed by Mr Finucane's son John, who is the Sinn Féin MP for North Belfast.
24 members of U.S. Congress have today released a letter to British Prime Minister calling for an independent public inquiry into my father's murder, stating that they are "astounded" that British Govt has not yet done this.

My family & I strongly welcome their continued support pic.twitter.com/tGpFiAqC2s

— John Finucane MP (@johnfinucane) November 26, 2020
In October Northern Ireland Secretary Brandon Lewis pledged to make a decision by the end of November on whether or not to order an inquiry.
He also apologised for the time taken to reach a final decision.
Mr Lewis's announcement that he would make a decision on the inquiry by the end of November came in a case brought by Mrs Finucane over the government's delay in acting on a finding that his death was never properly investigated.
On Wednesday, he told BBC Newsline that the government would "deliver on that promise".
"We committed through the court, and with the court, that we would make a decision and be clear about that before the end of the month, and we will deliver on that promise to the court and to the family," he said.
But justices ruled out ordering a public inquiry of the type demanded by the family and said it was for the state to decide "what form of investigation, if indeed any is now feasible, is required".
What is a public inquiry and why are they held?
Public inquiries are set up to uncover the truth following scandals or perceived injustices.
The test that must be satisfied in order to hold an inquiry is that it is of "public concern".
While often chaired by a judge, a public inquiry is not a court of law and cannot determine liability.
The aim is that public inquiries are independent.
The government decides whether to hold an inquiry in the first place, appoints its head, and has to agree what it is going to cover.
Inquiries can then make recommendations about how things should change but governments do not have to accept them.