Integrated education: DUP MLA says all schools should be integrated
By Robbie Meredith
BBC News NI Education Correspondent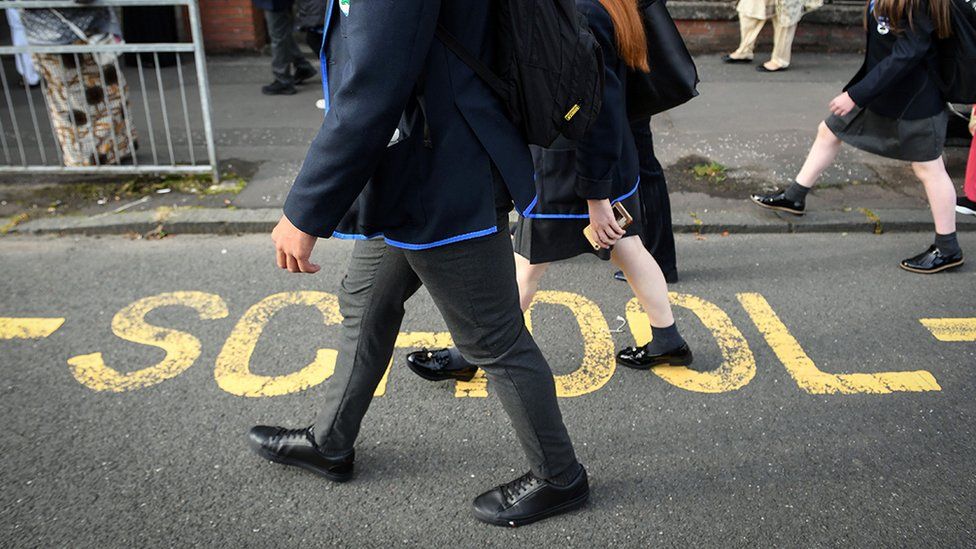 All schools in Northern Ireland should be integrated, according to a DUP member of Stormont's Education Committee.
Maurice Bradley also said that segregation was being "kept alive by politics".
"In my opinion, all schools should be integrated and we do not need another tier of education in the country," he said.
The committee took evidence about integrated education on Wednesday.
MLAs heard from Colm Cavanagh, who co-authored a review of integrated education for the Department of Education (DE) in 2017.
Around 7% of pupils in Northern Ireland are taught in integrated schools, which aim to enrol approximately equal numbers of Catholic and Protestant children, as well as children from other religious and cultural backgrounds.
Recent DUP manifestos, including the 2017 Westminster election manifesto, have called for "increased shared education across all education sectors".
Questioning Mr Cavanagh, Mr Bradley said that he was a "strong supporter" of integrated education, "but certainly not in its current form which I believe is wrong".
"In my opinion, all schools should be integrated and we do not need another tier of education in the country," he said.
"If we can learn together then we can live together as well.
"What would be the benefits of one education system with a shared curriculum and all the existing sectors merging into one sector?" he asked Mr Cavanagh.
"That would be what I'm working for," Mr Cavanagh replied.
"I've no difficulty with how it's operated, how it's structured, what it's called or who manages it but get the children into the same desks."
'Segregation kept alive by politics'
Mr Bradley then told Mr Cavanagh that segregation was being maintained by "divisive" politics.
"I believe that segregation is actually being kept alive by politics which by nature itself is divisive," he said.
"In your experience, is there a political will, never mind within the education system, for real meaningful change throughout Northern Ireland?
"Do you think our politicians - myself included - have the backbone to actually get this over the line?"
Mr Cavanagh replied that he was hopeful, but that there were an increasing number of people in Northern Ireland who identified as neither unionist, nationalist or republican.
"There's now this very large group in the middle who say we're neither and those are the people who'll have the casting vote in the future of Northern Ireland," he said.
In response to a question from the SDLP MLA Justin McNulty, Mr Cavanagh said that running separate school systems was "the economics of fantasy land".
"The budget that you're scrutinising every year is £2bn and we spent most of that, we spend most of £1bn on the controlled sector and most of £1bn on the Catholic maintained sector," he said.
"Any accountant would tell you that's the economics of fantasy land, would you not get them into one system?"
The chair of the education committee, Alliance MLA Chris Lyttle, welcomed that review.
"For an education system to separate children as young as five on the basis of community and religious background is socially and financially flawed," he said.