Coronavirus: Three NI households allowed to meet over Christmas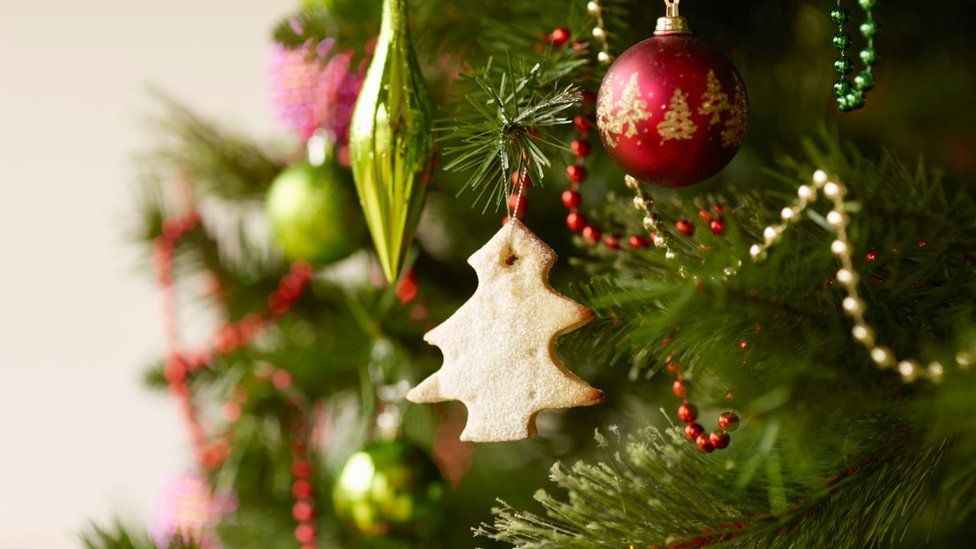 People from three households in Northern Ireland will be allowed to meet indoors for five days over the Christmas period, the first and deputy first ministers have said.
The decision will apply to all four devolved nations.
Three households will be allowed to bubble from 23 to 27 December.
The UK government has said anyone travelling to or from Northern Ireland can travel on 22 and 28 December, but "only meet with their Christmas bubble" between 23 and 27 December.
The Stormont Executive will meet on Thursday to consider the arrangements for Christmas in more detail.
First Minister Arlene Foster said she hoped the announcement would give people space to plan over the holiday period.
She added that it was difficult to "balance" Christmas festivities with managing the spread of the virus.
Deputy First Minister Michelle O'Neill described Tuesday's announcement as a "message of hope", but urged people to be responsible, safe and mindful of healthcare workers.
"There is a risk associated with allowing people to come together," she said.
Northern Ireland's Chief Medical Officer Dr Michael McBride said he had "no doubt" that Northern Ireland would see increased cases after the Christmas period.
However, he said the authorities needed to "balance" that risk with recognising that Christmas is "a very important time of year" for families who have had a difficult time in 2020.
He added they recognised "that people will come together irrespective of the advice that we give and it's important therefore that we give advice to the population to ensure that they can come together in as safe a way as possible".
Dr McBride urged the public to follow the rules, saying that "what none of us wants, is to be in the very difficult situation - which we can't rule out - of advising the executive that a further period of restrictions is required in the new year."
Politicians like announcing good news, which might explain why we got our first joint press appearance of Arlene Foster and Michelle O'Neill since tensions between their two parties over the Covid-19 lockdown erupted several weeks ago.
The announcement will come as a relief to many, but the relaxation is not designed to be a blank cheque.
Ministers are relying on public buy-in and compliance with these festive rules.
There are still plenty of questions about how this will work - particularly with an influx of students expected home in the coming weeks.
Some people will likely already have booked their flight or boat to Northern Ireland for Christmas, probably not within the tight 22-28 December travel window being mooted.
Then there's the added complexity of choosing who makes a bubble and the worry of having to cut out some family or friends, at a time which is traditionally all about coming together.
Each Christmas bubble will be allowed to meet at home, at a place of worship or in an outdoor public space.
It will also mean families can travel from one part of the UK to another without any sanctions.
But the four governments have said existing, more restrictive rules on hospitality and meeting in other venues will be maintained over the Christmas season.
The first minister said she recognised many people were looking forward to Christmas "get-togethers" as it had been a difficult year due to the pandemic.
"We hope that this clarity from ourselves today will give people that space to do a little bit of planning," added Mrs Foster.
The Republic of Ireland is due to set out its plans for socialising and travel over Christmas later this week.
Ms O'Neill said the executive also wanted to look to the Irish government for a "common approach" to managing the situation together.
"It's important to be honest - in a pandemic there's so little to be certain about but it's our intention to allow families to have some space over Christmas," she added.
Eleven further coronavirus-related deaths were reported in Northern Ireland on Tuesday, bringing the Department of Health's overall death toll to 947.
Six more deaths were reported in the Republic of Ireland, bringing its death toll to 2,028.
How will the Christmas bubbles work?
When a Christmas bubble is formed it must remain fixed and must not be changed; households within it have to be exclusive.
People can gather in private homes and overnight stays will be permitted.
People sharing a bubble can also meet up in places of worship or in an outdoor public space.
But people will not be allowed to meet with their Christmas bubble in hospitality settings or other entertainment venues.
You can meet people outside your bubbles, but this must be done in line with existing regulations.
At present, six people from two households in Northern Ireland can meet in a private back garden, while no more than 15 people can gather in a public space.
What counts as a support bubble?
A support bubble counts as one household - so for this Christmas period this bubble can join with two other households.
Those households can be any size.
The executive has already said this will not be a normal Christmas, and recognises that that the arrangements will not work for everyone.
But the first and deputy first ministers said they presented an opportunity to allow people in Northern Ireland to have some more contacts with family and friends over the Christmas season.
The UK government has advised that in the two weeks that follow an individual's last meeting with a Christmas bubble, people should reduce their contact with others as much as possible.
Students planning to return to their family home for Christmas are not counted as people from a different household, according to Dr McBride.
"For students travelling home, that will be their household so they will become a member of that household," he said.
"So then they can combine with two other households."
He urged students who had access to Covid-19 testing at their universities to avail of it and advised everyone travelling home for Christmas, not just students, to limit their contacts in the 10 to 14 days leading up to their journey.
He warned the public that older and extremely vulnerable people are "at no less risk from this virus in the Christmas period than they were at any other period".