Coronavirus: Food bank demand during Covid-19 'concerning'
By Ali Gordon
BBC News NI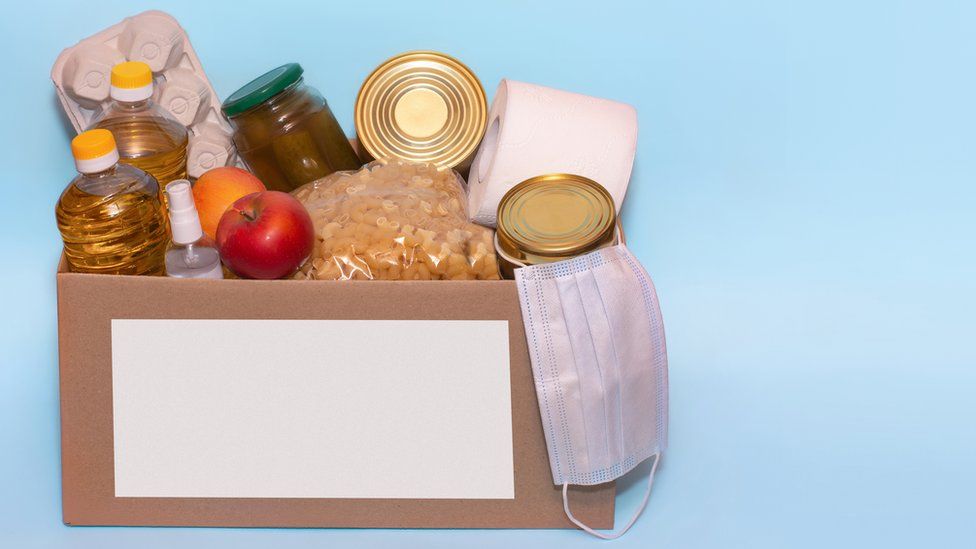 People in parts of Northern Ireland are using food banks more than ever during the coronavirus pandemic.
The reasons can vary from leaving abusive relationships, to unemployment and court backlogs caused by the pandemic.
Demand at one food bank in Magherafelt, County Londonderry, has more than quadrupled since this time last year.
In south Belfast, a food bank experienced its busiest ever week last week in the six years it has been open.
But as the Covid-19 pandemic continues, those who run food banks predict usage will increase.
The food bank Hope Magherafelt has given out almost 850 emergency packs since the beginning of lockdown, compared to about 200 over the same period in 2019.
"We don't want people to need food banks," manager Jenny Thompson told BBC News NI.
"We don't want there to be food banks because that means there is food poverty but I expect us to get busier over the next couple of years as we see the effects of Covid.
"We would usually only see families once or twice but now we are finding that more people need to use the food bank a little bit longer."
Bruce Gardiner-Crehan, who runs the South Belfast Foodbank, says the rise in people using food banks is "really concerning".
There has also been a shift in the demographic using the service.
"South Belfast, particularly around the Holylands, has a lot of asylum seekers and refugees and there are a lot of rentals, HMOs [houses in multiple occupation]," he said.
"When we set the food bank up six years ago, we knew a lot our clientele wouldn't necessarily be from Northern Ireland from birth but, since lockdown, we've seen a big shift to more local, indigenous people.
"On the one hand, we are pleased that people come to us and that we can provide a service that is of use.
"But, on the other hand, we don't celebrate that anyone needs to come to a food bank because that means they are really in desperate need. It's bittersweet."
He said that, in recent weeks, his food bank have supplied "kettle packs" for people living in hostels with limited kitchen facilities, and helped "a beautiful family" whose damp house was causing health problems that meant the mother could not work.
"We don't to create a dependency - we want people to stand on their own two feet - but sometimes people need a little bit of help," he added.
"We try to signpost people to help them find the right support for them so that they do not have to rely on foodbanks forever.
"We try to be as empathetic as possible because the volunteers all know that it could be any one of us."