Coronavirus: Nisra records 42 deaths in past week
By Jayne McCormack
BBC News NI Political Reporter
Forty-two Covid-19-related deaths were registered in Northern Ireland in the week up to last Friday, official figures show. 
That is 25 more than the previous week, according to the latest bulletin from the government statistics agency, Nisra. 
It is the highest weekly number of deaths recorded by the agency since May.
Its death toll now stands at 972 up to 23 October, including 547 in hospital.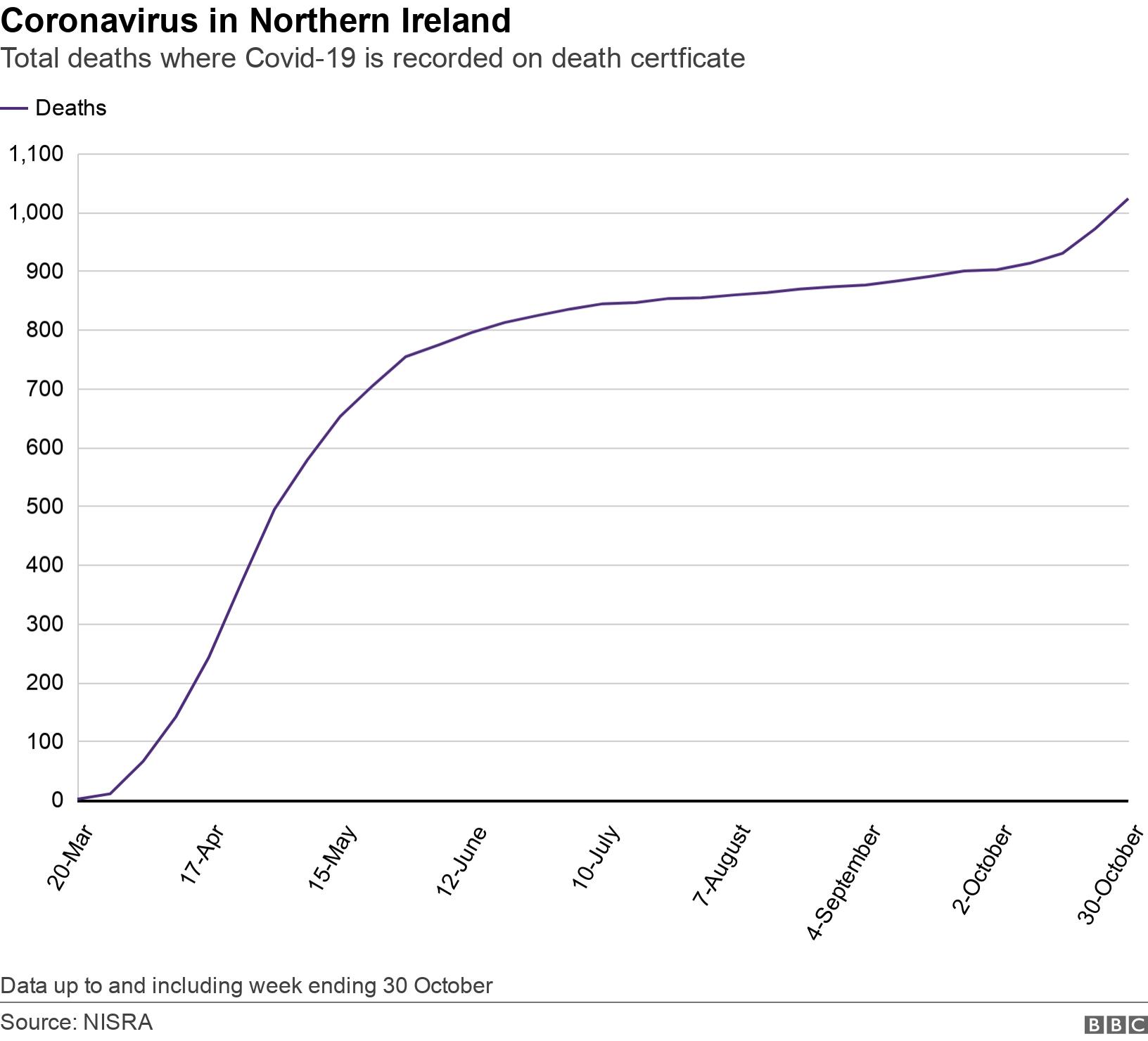 Nisra counts deaths where the virus is mentioned on a death certificate. 
The comparative Department of Health figure for the same date was 643.  Its measure is based on a positive test result having been recorded.  
Nine deaths related to Covid-19 were recorded by the Department of Health in Northern Ireland on Friday, bringing the total number to 697.
A further 566 cases of the virus were reported. A total of 37,782 positive cases have been recorded in Northern Ireland since the beginning of the pandemic.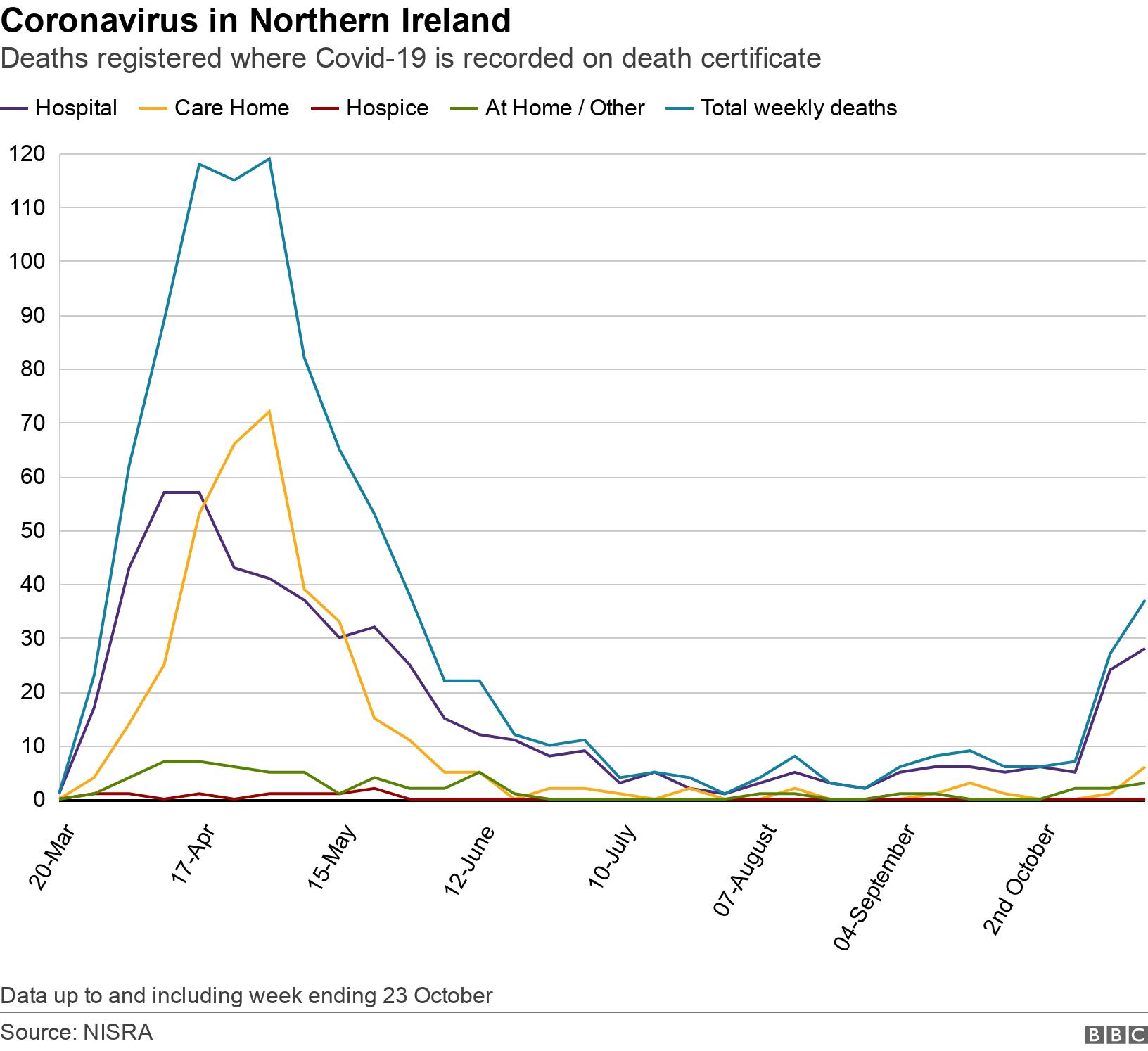 It also details the deaths of 88 people normally resident in care homes. 
Taking that figure into account, and the 363 people who died in care homes, it means care home residents account for almost half of all Covid-19-related deaths in NI (46.1%). 
In the week to last Friday, six Covid-related-deaths occurred in a care home.
Eight people died in hospices (0.8%) and 61 at residential or other locations (6.2%).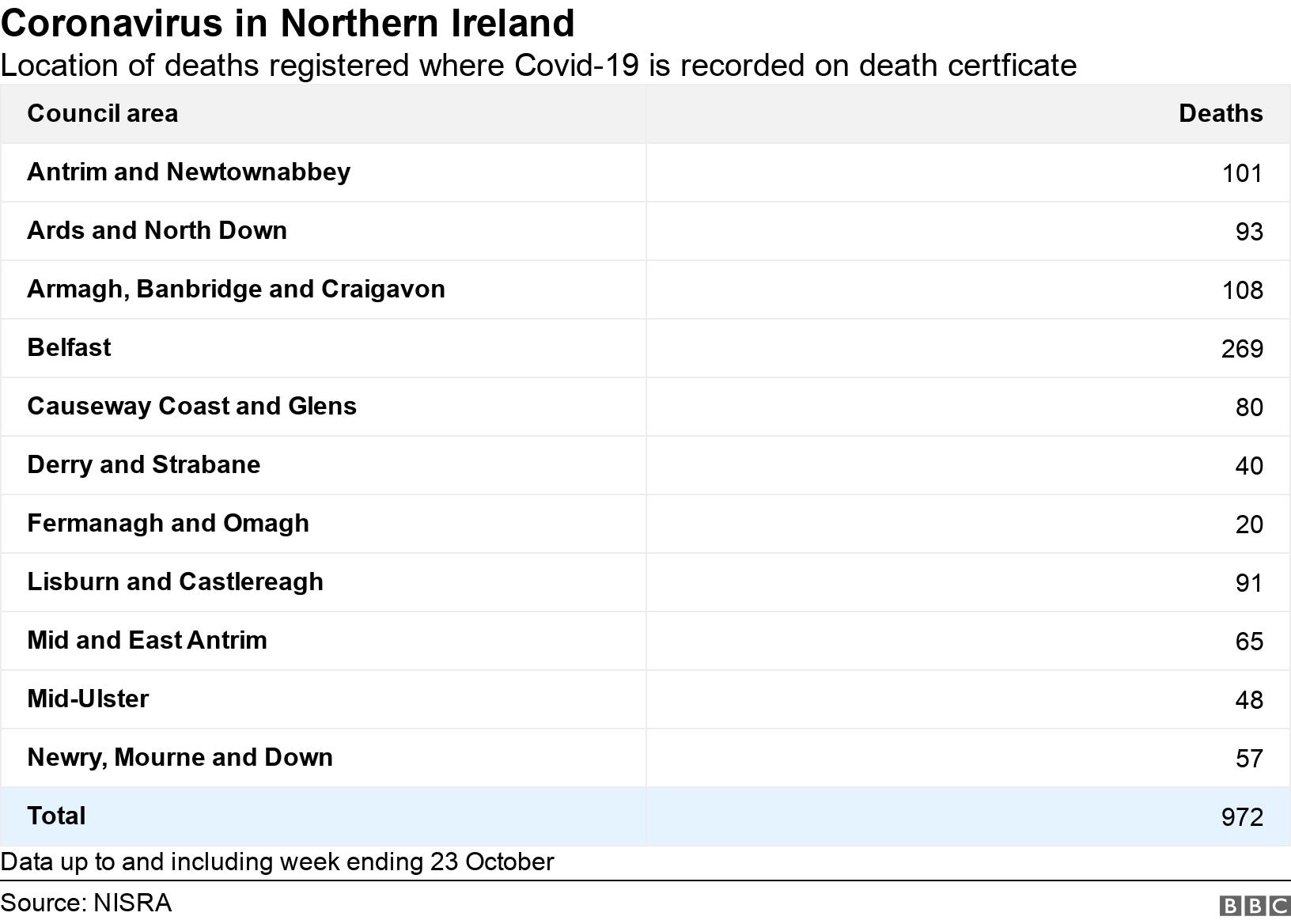 People aged 75 and over account for 79% of all Covid-19-related deaths, with 28% of people who have died having a Belfast council area address.
The provisional number of all deaths for the week ending 23 October was 391.
That is 113 more than in the previous week (278) and 105 more than the five-year average of 286.
Excess deaths are those above what would normally be expected at the time of year, averaged over five years.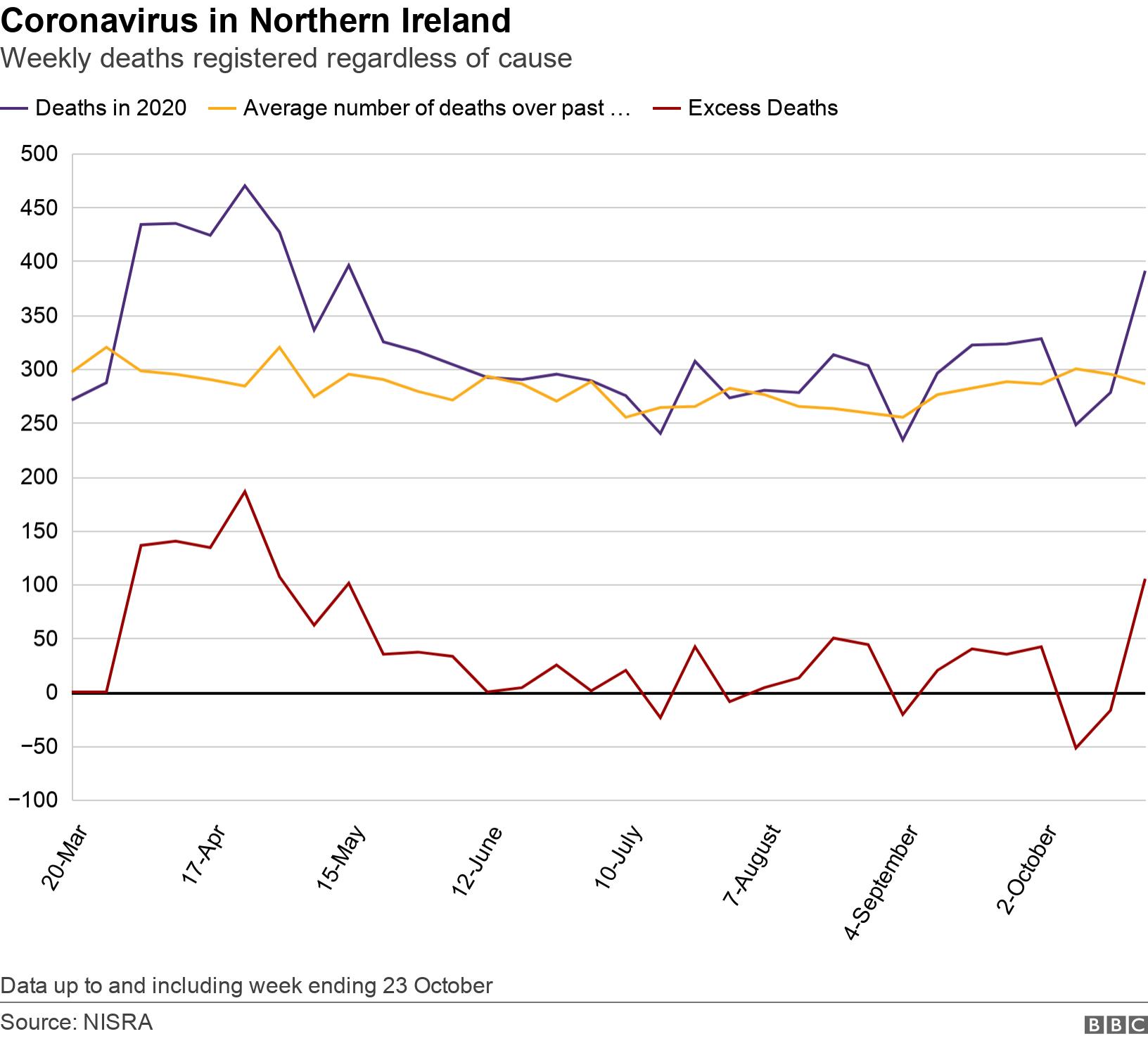 Nisra found 1,393 excess deaths have been registered in the past 30 weeks. 
Survey indicates cases rising
Meanwhile, the latest results from a survey by the Office of National Statistics show the number of Coronavirus infections is continuing to rise.
The survey is carried out nationally by the ONS, working with University of Oxford, the University of Manchester, Public Health England (PHE) and Wellcome Trust.
It estimates rates of infection, based on households providing swabs on a rolling basis.
The survey started in England in May, and began collecting data in Northern Ireland in late July.
More than 6,000 households here have been invited to take part, with over a third providing at least one swab.
The survey estimates 24,300 people in Northern Ireland had Covid-19 in the week from 17-23 October - with a 95% credible interval.
That means there's a 95% certainty the true figure lies between 12,600 and 43,700 people.
The figures are confined to infection within the community or private households. Infections reported in hospitals, care homes or other institutional settings are excluded.
That estimate equates to around 1.32% of the population.
The survey says its modelling suggests the number of cases has increased in recent weeks, and this latest six-week reporting period is based on 11,624 swabs taken from 54 people across 39 households.