Stormont: Climate bill due before NI Assembly
By Conor Macauley
BBC NI Agriculture & Environment Correspondent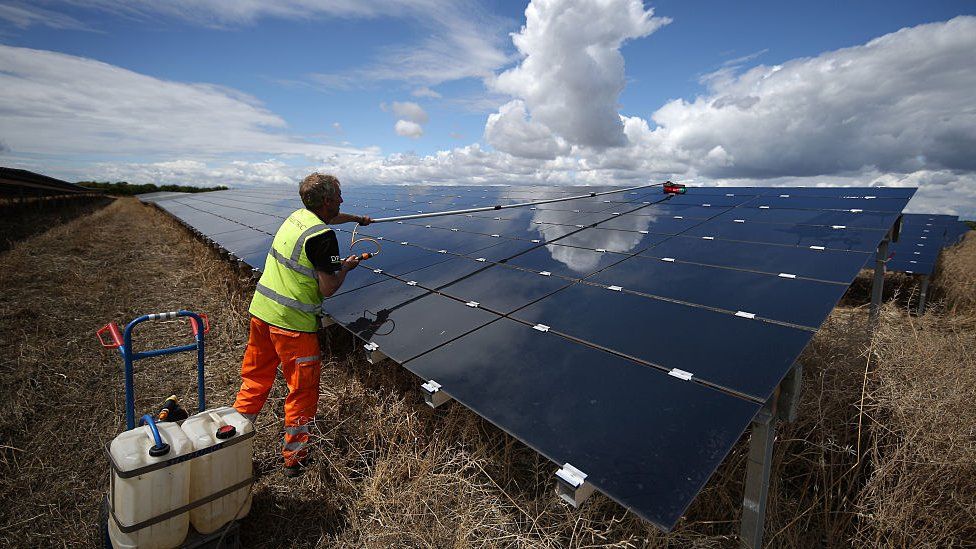 An "oven ready" climate change bill is to be presented to the Northern Ireland Assembly.
In July, the Environment Minister Edwin Poots called a motion for legislation within three months "ridiculous".
A group of legal experts, scientists, academics and environmentalists are presenting draft legislation for consideration.
It is being taken forward as a private members bill but has cross-party support.
Green Party leader Clare Bailey is the lead sponsor, but virtually all the other parties, with the exception of the DUP, are co-sponsoring it.
Ms Bailey said the bill was needed as Northern Ireland was "falling behind on a raft of climate targets and indicators".
The draft legislation declares a climate emergency and proposes a series of targets to cut carbon emissions.
Mr Poots said he was "happy to consider any proposals put forward" and called for a "balanced approach to tackling climate change."
He claimed he was finalising a discussion paper on a future climate change bill consultation and that it would be released in "the next number of weeks."
"I have written to all of my Executive colleagues requesting that they highlight what steps they are taking in their departments to contribute to reducing Northern Ireland's carbon footprint," he said.
"I have also had discussions with the Environment Minister in the Republic of Ireland around this important issue to gather information on how they intend to tackle this issue.
The minister said he had asked for advice from the UK Climate Change Committee on what Northern Ireland's contribution to the UK's 'net zero' 2050 emissions target should be.
"I want to consider this information to ensure our emissions reduction targets are credible and evidence based," he said.
The bill envisages Northern Ireland being carbon neutral by 2045 by cutting emissions across energy, transport, business, waste management and agriculture.
As well as targets for greenhouse gases, it sets out plans for measures to tackle issues around water, soil quality and biodiversity loss.
It also establishes a climate commissioner, who is independent of government, to oversee the work.
Before it can become law, it would have to be accepted by the speaker's office and allocated space on the legislative timetable by Stormont's business committee.
It would then have to progress through all stages of legislative scrutiny and be passed before the current assembly term runs out in 2022.
Climate Coalition NI chair Dr Amanda Slevin, of Queen's University Belfast, said the bill was a "cross-community initiative" and would build on a commitment within the New Decade, New Approach agreement to reduce greenhouse gas emissions.
"The bill will establish the necessary legislative basis for multi-level climate action and offers opportunities for a just transition to a sustainable, low-carbon future for Northern Ireland," she said.
Northern Ireland is the only part of the UK that does not have its own climate legislation, although it does contribute to wider UK targets on emissions reductions.
During the debate, Edwin Poots said the assembly shouldn't be "bounced into" legislation and it needed to take into account Northern Ireland's particular circumstances, including a heavy reliance on agri-food, a major contributor of greenhouse gases here.
He has previously described climate change as his top priority and said his officials were engaged in scoping work on a Northern Ireland climate change bill.