Coronavirus: New support scheme announced for NI firms
By Jayne McCormack
BBC News NI Political Reporter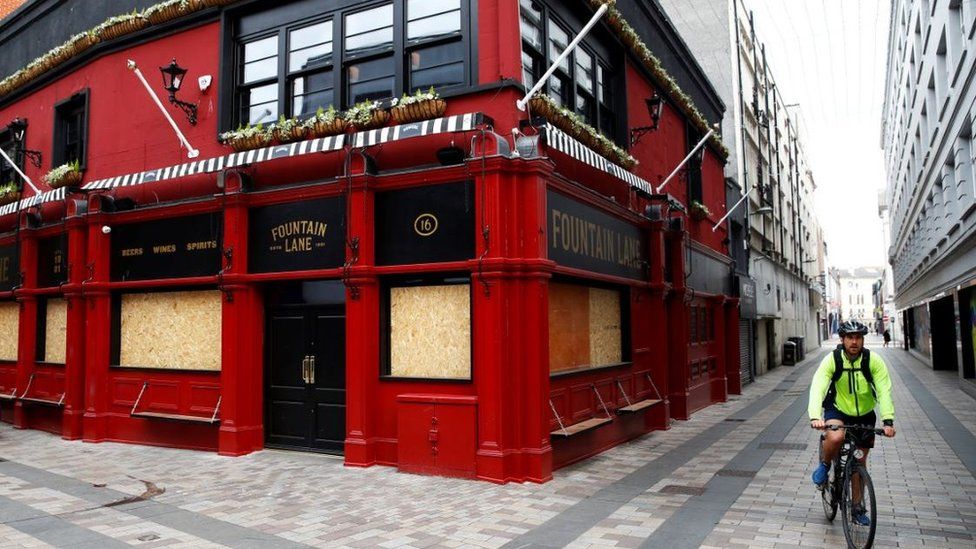 NI businesses forced to close due to new coronavirus restrictions will be able to access additional financial support, the executive has confirmed.
Finance Minister Conor Murphy said he would roll out the scheme in Derry City and Strabane to all 11 council areas.
It will see payments available to businesses every fortnight that they are closed, on a tiered level.
Mr Murphy said it would not resolve the matter long-term, but would provide "immediate support".
The scheme, set to cost £35m, will open for applications from Monday.
Mr Murphy made the announcement at Thursday's Stormont press conference.
It will see small businesses receive £1,600 every fortnight that they are in lockdown, medium businesses £2,400 and large firms getting £3,200.
Small businesses with a Net Annual Value (NAV) of up to £15,000
Medium businesses with a NAV of £15,001 to £51,000
Large businesses with NAV of £51,001 or more
The finance minister said it would not change the difficult economic outlook that businesses in Northern Ireland are facing.
Hospitality businesses there have been under additional restrictions since 5 October.
Some businesses will also be able to continue to avail of the UK government's furlough scheme but that runs out at the end of October.
First Minister Arlene Foster also addressed the press conference and said she wanted to provide further clarity on some of the new restrictions.
Hair and beauty salons have to shut and gyms face additional measures too.
Mrs Foster confirmed that hotels will have to close their doors on Friday night to all but a few exceptions.
There will be exemptions for them to offer rooms to essential workers such as workers who need hotels for work-related purposes and "staff on the front line battling Covid".
It will also apply to people who are unable to return to their main address, those in emergency situations and vulnerable people for the four-week period.
She added that if people are resident in a hotel by 18:00 on Friday, they can remain in the hotel but that bars will not be allowed to open.
Self-catering accommodation and holiday homes will also be permitted to remain open.
The first minister also set out that other places are not covered by the new restrictions:
Taxis can still operate
Gyms and swimming pools available for individual use - with personal trainers but no classes
Music lessons and tuition can be provided from home, as it is only close contact services prevented by new measures
The executive has promised updated guidance explaining the rules will be posted on the government's NI Direct website as soon as possible.
Businesses in Northern Ireland have been calling for additional support from the executive to help with the next wave of the pandemic.
From 1 November, the government's Job Support Scheme will allow employees who work for firms forced to close because of restrictions to have two-thirds of their wages paid for by the government.
Deputy First Minister Michelle O'Neill has said the scheme did not go far enough.
"Two-thirds doesn't amount to very much, so we're very much asking the British government to intervene," she said.
"Alongside that what we need to see is a scheme that helps businesses stay afloat during this period."
Wednesday saw new measures announced for all of Northern Ireland, with schools closing for two weeks from Monday.
By contrast, output fell by 10% in the five years that followed the 2008 recession.
Roger Pollen, from the Federation of Small Businesses in Northern Ireland, said urgent clarification was needed on the new restrictions.
"We're calling on politicians to come out today with very clear guidance and let people know where they stand because what we are seeing is businesses in the supply chain now having to get rid of food they had lined up for hotels and restaurants and that's such a heart-rending situation," he told the BBC's Good Morning Ulster programme.
On Thursday, the Department of Health recorded a further 763 cases and four more deaths with Covid-19.
There have now been 23,878 cases since the pandemic began - a quarter of which have been reported in the past week.
In the Republic of Ireland, a further 1,205 new coronavirus cases were confirmed on Thursday, as well as three additional deaths.