ReefLIVE: Plans for £12m aquarium in Belfast approved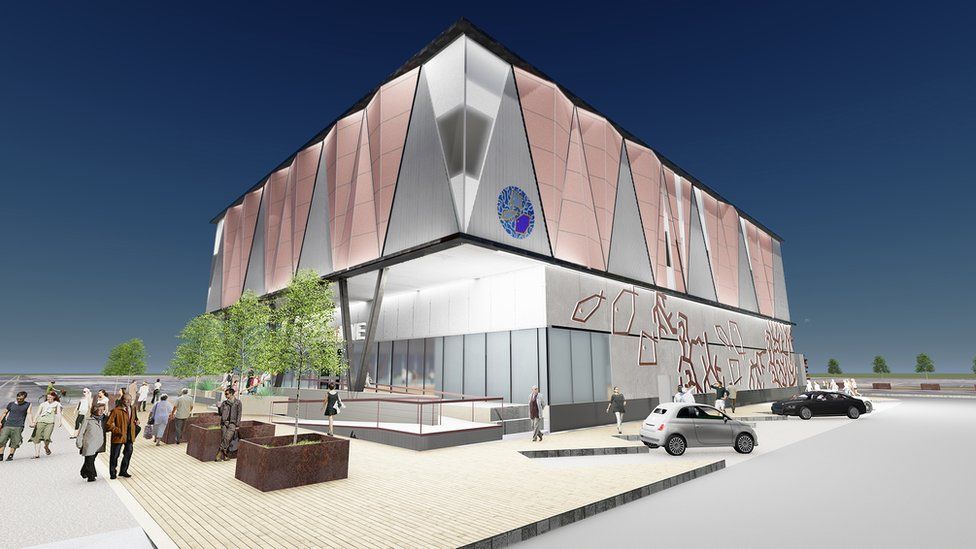 Plans for a £12m aquarium in Belfast have been approved by Belfast city councillors.
The move comes despite concerns raised by Ards and North Down Council, which said it would impact NI's existing aquarium - Exploris in Portaferry.
On Wednesday, the council's chief executive wrote to Infrastructure Minister Nichola Mallon asking her to urgently review the application.
ReefLIVE Ltd will be built on Queen's Road in Belfast's Titanic Quarter.
Councillors on Belfast city council's planning committee approved the project on Wednesday night, hours after Ards and North Down Council raised objections.
The committee also approved an outline planning application to redevelop more than ten acres of Belfast city centre, known as the Tribeca project.
The Exploris aquarium, with its marine exhibitions and a seal sanctuary on the shores of Strangford Lough, has attracted visitors to Portaferry for several decades.
Earlier on Wednesday, Ards and North Down Council Chief Executive Stephen Reid had urged Infrastructure Minister Nichola Mallon to "call in" the application for the Belfast aquarium.
In a letter, he said that the council was "very concerned" that the Belfast project would negatively affect Exploris and have "wider ramifications for the town of Portaferry, its hinterland and the borough".
"There seems to have been no regard given to the fact that there are current challenges regarding recruitment of specialist aquarists, and the council is concerned regarding potential shortages in the labour market and potential staffing of Exploris," the letter added.
The Department for Infrastructure (DfI) said it is "currently considering" the concerns raised by Ards and North Down Council.
A department spokesperson said: "No further comment can therefore be made at this stage."
After the project was approved, Chief Executive of the Belfast Chamber of Commerce Simon Hamilton tweeted that it was good news and would "create an additional tourism asset" for Belfast.
However, Ulster Unionist councillor on Ards and North Down Council, Philip Smith, said Exploris needs to be protected, "despite new competition".
Keith Thomas, Managing Director, reefLIVE Ltd said: "We are thrilled with Belfast City Council's decision to approve our aquarium which has received a tremendous amount of public support since its original announcement last year.
"Our commitment to building our first reefLIVE aquarium in Belfast is testament to the City's track record for tourism excellence and an unwavering confidence that sustained investment in Northern Ireland's tourism and leisure sector will prove vital for the region's recovery in a post-Covid world."
On Wednesday councillors on Belfast city council's planning committee also approved an outline planning application to redevelop more than ten acres of Belfast city centre.
The £500m Tribeca project was given the go ahead, despite objections from campaigners.
Its focus is on the streets between St Anne's Cathedral and Royal Avenue which includes historic buildings like the North Street Arcade.
The Tribeca project is the latest attempt to regenerate this part of the city.
Castlebrooke Developments wants to redevelop the area with a mix of office space, retail, and accommodation.
But the project has run into difficulties - with the main sticking points around the provision of social housing, public space, and demolition of built heritage.
A revised application came before the council's planning committee on Wednesday night.
Councillors had asked for more information on certain issues, and after three hours of discussion, they voted to approve the application by eight votes to five.
The acting chairwoman of campaign group SaveCQ said the committee's majority decision did not serve the "best interests of the people of Belfast".
The proposal, Agustina Martire said, "remains fundamentally flawed".
She said: "The current scheme relies heavily on Grade A offices and one bedroom residential accommodation - the former which is likely to go the same way as the retail sector and the latter which is unsustainable if we want to create a resilient city.
'Moving in right direction'
But the scheme's approval by councillors was welcomed by Destination Cathedral Quarter Business Improvement District (BID).
Its vice-chairman Les Hume told Good Morning Ulster: "At this point in time I think we are moving in the right direction.
"Let's welcome this, let's get people's livelihoods going and value them and give them a sense of worth and purpose and recognise that our city is a good place to be.
He added: "We are fairly content at this stage that they (developers) have made enough changes to actually really deliver what councillors and others are looking to see in that area".