Coronavirus: NI employers proposed 2,000 redundancies in July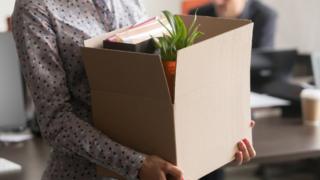 Employers in Northern Ireland proposed almost 2,000 redundancies in July, according to official figures.
A further 163 redundancies were proposed in the first 10 days of August.
That brings the total number of proposed redundancies between the start of March and the end of July to more than 6,000.
Companies are required to notify the government when they plan to make more than 20 people redundant.
There were 1,904 redundancies proposed in July.
Northern Ireland Statistics and Research Agency (Nisra) says the redundancies were concentrated in retail, hospitality, manufacturing and transport.
Meanwhile, employment in the whole of the UK fell by the largest amount in over a decade between April and June.
Employment decreased by 220,000 in the quarter, said the Office for National Statistics.
This was the largest quarterly decrease since May to July 2009, in the depths of the financial crisis.
'Holding out'
There is a time lag between proposed redundancies and confirmed redundancies because of the amount of notice employers must give employees.
Last month saw 610 confirmed redundancies.
The figures also suggested one in five (184,000) workers were on furlough last month.
The number of people in work between April to June 2020 was 870,000, that's down 7,000 over the quarter.
The number of people receiving unemployment-related benefits in July rose by 500 to over 62,000.
That is a slight increase on last month but still more than double the figure from March.
Nisra says the rise can be attributed to people becoming unemployed or having their hours reduced.
Lisa Wilson, a senior economist at the Nevin Economic Research Institute, said the labour market in NI was "holding out pretty well" due to the successful government interventions such as the furlough scheme.
She said those interventions were being drawn back and the true impact of Covid-19 on the labour market would be seen in the next quarter of data once employers make decisions about whether to bring employees back or not.